There's not a player on the Redskins who doesn't understand what the final nine games of this season mean.
A reversal of form from the 2-5 start not only preserves dignity but jobs. The ability to turn disappointment into success could allow for continuity, growth, stability.
The fulcrum for change must be Jason Campbell. A five-year veteran in the final year of his original contract, Campbell, like every other quarterback, guides this team's destiny. The nine games ahead could dictate his future, whether it is here or somewhere else. As if he didn't have enough on his mind.
"I try not to get caught up in it and wonder what will happen after the season or from week to week," he says. "You try not to let your mind wander and worry about things that are far off."
He labors under uncertain conditions. He almost always has. It is his unfortunate fate to have been selected in the draft under the aegis of one coach while trying to succeed under another. This is not often a great formula.
Look at the Buffalo Bills. In 2004, they traded back into the first round of the draft to get in on a hot quarterback class. Eli Manning, Philip Rivers and Ben Roethlisberger were already gone. They selected J.P. Losman.
Two years later, the Bills changed coaches. Injuries and inconsistency hampered Losman and the new staff fell in love with Trent Edwards. Losman is playing now in the United Football League, trying to rebuild his career.
Look at the Cleveland Browns. They drafted Brady Quinn in 2007 under Romeo Crennel. Now Quinn and Derek Anderson take turns getting their heads handed to them under Eric Mangini.
Look at the Oakland Raiders. They took JaMarcus Russell No. 1 overall in 2007 while coached by Lane Kiffin. Now Tom Cable runs that bedeviled ship and Russell has thrown two touchdown passes this season.
Heck, look at the Redskins. In 2002, with Steve Spurrier coaching, they chose Patrick Ramsey at the bottom of the first round. Spurrier didn't seem to care whether they had drafted Patrick Ramsey, Ramsey Clark or the Ramsey Lewis Trio. Spurrier left after '03 and Joe Gibbs did not have much use for Ramsey.
In 2005, the Redskins traded back into the first round to choose Campbell. He didn't take a snap in his first 25 games before becoming the starter in 2006. Gibbs retired after the '07 season, leaving Campbell in Jim Zorn's hands, in a different offensive scheme.
Campbell's passer rating of 85.8 ranks him 17th in the NFL. Russell, at a withering 48.3, is 34th. Quinn has not thrown enough passers to qualify in this numbers game but his passer rating of 62.1 only looks good in comparison with Anderson's, which sits at 36.2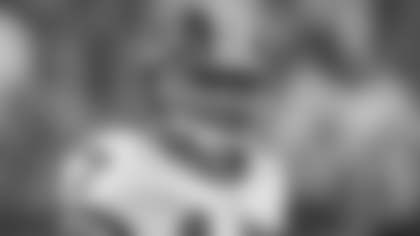 High achievement is not always within the reach of the player. These organizational changes retard development. Systems don't always fit. There are a multitude of reasons for failure.
Does the team run the ball effectively? How's the offensive line? Can the receivers fight for the ball? Quick quiz: Name Oakland's marquee receiver. Now Cleveland's. Now Washington's.
Stumped, eh? Oakland's top pass-catcher is tight end Zach Miller. The wideout with the most catches? Rookie Louis Murphy, with 16. No. 1 pick Darrius Heyward-Bey has five.
Cleveland? Rookie Mohammed Massaquoi has 19 catches. Washington? Tight end Chris Cooley has 29 receptions. Top wideout Santana Moss has 28.
Now compare them with the leaders. Steve Smith of the New York Giants tops the pack with 53 catches. The Indianapolis Colts' Reggie Wayne has 51. Next comes Larry Fitzgerald of the Arizona Cardinals with 47.
Building around the quarterback is easier said than done. The comparisons will fly on Sunday when the Redskins play the Atlanta Falcons, who turned their franchise around a year ago with the addition of a new general manager, a new coach and a new quarterback in No. 1 pick Matt Ryan.
Ryan is coming off the first two-game losing streak of his short career. Campbell and the Redskins sit perched on a slippery slope of three consecutive defeats. Campbell is rated slightly higher than Ryan, who has thrown seven interceptions in the last three games.
Ryan can expect to play in the same scheme for a number of years. Campbell has seen more change than a busy panhandler. Ryan is the Falcons' linchpin, with the full confidence of everyone from the owner on down. Campbell must keep fighting to be exactly that. Ryan's offensive line is healthy, Campbell has a pieced-together group.
It is the rare quarterback who finds a home in the perfect offense and stays in it long enough to succeed.
Throughout his tenure in Green Bay, Brett Favre played in one offense and coaches who followed Mike Holmgren kept the system. Same for Tom Brady with the New England Patriots when offensive coordinators Charlie Weis and Josh McDaniels exited. Peyton Manning has known one style and one offensive coordinator, Tom Moore, in 12 seasons with the Indianapolis Colts, even though he has played for three head coaches (Jim Mora, Tony Dungy, Jim Caldwell).
Hall of Famer Sonny Jurgensen describes such quarterbacks as "fortunate" because they play in systems that suit their skills and stay true year after year to their core values.
Wish the others luck. They need it.
BROWN OUT: The owner meets with angry fans. The newly-hired general manager gets escorted out of the building. The coach can't accurately say how he conversed with the owner.
Talk about not being on the same page. The Cleveland Browns act as if they aren't even in the same galaxy.
They're 1-7, the lone victory a miserable 6-3 exercise against the Buffalo Bills. They showed George Kokinis the door on Monday because of the calls for a human sacrifice. Atop the rubble sits owner Randy Lerner and coach Eric Mangini.
They speak regularly, Mangini says. He just can't recall how.
At his news conference Monday, before Kokinis packed his bags and left, Mangini was asked if he had spoken with Lerner.
"I talked to Randy," he said.
"I don't remember," Mangini said. "I might have called him. He might have called me. Maybe I missed his call. I'm not sure."
That's doubletalk doubled. Who can accept that? Just try to picture a similar exchange taking place between Mangini and his quarterback, whether it is Derek Anderson or Brady Quinn, after a mixup.
"Did you get the play I sent in?"
"I might have heard it. I might not. I might have missed it. I'm not sure."
Who would have thought Romeo Crennel's coaching tenure would be the good old days? The Browns rank 31st in the NFL in offense and 32nd in defense. They have the worst passing offense and the second worst rushing defense.
QUOTABLE: "It's going to be some rudeness in the City of Brotherly Love, but that's what you expect." – Dallas Cowboys WR Patrick Crayton on the team's Sunday game against the Philadelphia Eagles. ... "Fans can get in panic mode and that is alright. We can't have the players get in panic mode and that is the most important thing." – New York Giants QB Eli Manning, on the mood surrounding a team that has lost three straight games. ... "We're mean and we have to be mean. Us being nice is giving them yards." – Houston Texans S Bernard Pollard. ... "I'm not going to lose my mind and say, 'If we lose the next two, we're done.' I'm not going to say that and I don't anticipate losing the next two." – San Francisco 49ers coach Mike Singletary, whose team is 3-4 and has lost its last three games.
EXTRA POINTS: Minnesota Vikings DE Jared Allen leads the NFL with 10.5 sacks and all but three have come in the two games against the Green Bay Packers their porous offensive line. Green Bay has allowed 31 sacks. Denver Broncos LB Elvis Dumervil is in hot pursuit of Allen, with 10. ... Indianapolis Colts DE Dwight Freeney has at least one sack in each of the team's first seven games. If he gets one Sunday, he'll tie teammate Robert Mathis for the longest such streak to start a season since the sack became an official statistic in 1982. Mathis did it in 2005. The record for consecutive games with a sack is 10 and Freeney is at eight, counting last year. ... The Redskins' Shaun Suisham is the only kicker in the NFC not to miss a FG try. He's nine of nine. ... San Diego Chargers QB Philip Rivers had gone 143 consecutive pass attempts without an INT before tossing one in the win against the Oakland Raiders. ... The Redskins own the NFL's stingiest defense on the first down. They allow an average of 4.3 yards per first down play. At the other end of the spectrum? The Tennessee Titans, at 7.13. The Titans have allowed more than twice as many first-down yards as the Redskins ((1469 against the Titans, 723 against the Redskins). The good news for the Titans? RB Chris Johnson leads the NFL in rushing with 824 yards and averages 6.9 yards a carry. If he carries those numbers through, he'd finish with the highest average to top the NFL since Barry Sanders in 1997, with a 6.1 average (and 2,053 yards). ... Think it is a good idea to go for it on fourth down? Could be. NFL teams are converting 50.8 percent of their fourth-down attempts (125 of 246). Just don't do it against the New York Jets, who are the only team in the league not to allow a single success on fourth down. Opponents are 0-8 against them. ... The Kansas City Chiefs have been outscored 45-6 in the first quarter.
---
Larry Weisman covered professional football for USA TODAY for 25 years and now joins the Redskins Broadcast Network and Redskins.com to bring his unique viewpoint and experience to Redskins fans. Go to Redskins.com for the Redskins Blitz column and NFL Blitz on Friday. Larry also appears on The Jim Zorn Show on WRC-TV on Saturday night, on Redskins Nation, airing twice nightly on Comcast SportsNet, and on ESPN 980 AM radio, all in the Washington, D.C. area. Read his blog at redskinsrule.com and follow him on Twitter.com/LarryWeisman.