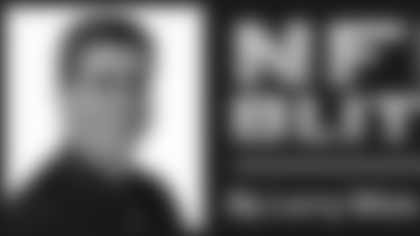 A month ago, Brett Favre let it be known that his body, about to turn 40, could not function through an entire football season. He was retired and would stay retired.
On Monday night, he'll start at quarterback for the Minnesota Vikings against the Houston Texans at Reliant Stadium. Neither the Texans nor their stadium existed when Favre entered the NFL in 1991, nor when he was traded by the Atlanta Falcons to the Green Bay Packers in 1992 nor when he led the 1996 Packers to their first NFL championship in 28 years.
Some retired people can't stay active. Some active people can't stay retired.
"This is an opportunity for me when I'm on my last legs. It's my 19th year. It's hard to pass up," Favre says.
Hard? Impossible, apparently. He retired from the Packers in the spring of 2008, then insisted on coming back, if not with the Packers then the Vikings. The Packers traded him to the New York Jets instead and Favre played well enough early and poorly later. Hindered by a torn biceps tendon, he threw 22 interceptions to lead the NFL. The Jets lost four of their last five games, missed the playoffs and fired coach Eric Mangini.
Favre retired again. Then he asked the Jets to release him, making him a free agent. He hinted he wanted to play, said he wanted to stay retired and then came back.
Enough already. Three times the MVP, twice in the Super Bowl, once a champion, Favre keeps seeking other mountains to scale. He has thrown more touchdown passes and for more yards than any other passer but cannot rest.
Enough, apparently, is never enough.
"He just can't make the decision to quit," says Hall of Fame quarterback Sonny Jurgensen, who played his final NFL season in 1974 at the age of 40. "That's understandable. If you watch him play the game, you realize how much he loves the game of football and playing that position."
Playing well before liberalization of the rules turned the league pass-happy, Jurgensen led the NFL five times in passing yards in his 18-year career and was five times a Pro Bowl pick, twice an All Pro. The Hall of Fame welcomed him in 1983. He threw 255 touchdown passes.
Jurgensen's playing days ended after a meeting with Redskins coach George Allen. Allen wanted to utilize Joe Theismann more during the '75 season and also had Billy Kilmer available. Jurgensen considered going elsewhere but retired and became an analyst for CBS. He has called Redskins games on radio since 1981.
He says that Favre is right to worry about holding up through a 16-game season. When Jurgensen's career began in 1957, the NFL played 12 games and moved that up to 14. It went to 16 in 1978.
"Your body starts breaking down and that's what Brett's going to feel," Jurgensen says. "You get hit during the game, you get knocked around, you have to keep getting up. You don't bounce back as fast as you did when you were younger."
Favre, with 464 touchdown passes and 310 interceptions (also an NFL record), underwent surgery on his throwing arm to repair the biceps tendon but also says he can manage to play through a tear in his rotator cuff. The most resilient quarterback the game has known, Favre has started 291 consecutive games (including playoffs) dating to 1992.
Perhaps life on the field, even with lesser physical capabilities and longer rebound times, is preferable to moving into life away from the game.
Athletes, says Scott Tinley, miss their "god-like status" when they quit the game and it stings even more "when fans move on." Favre, he says, probably began seeing himself as an elite football player at a very early age and then as "a pro quarterback, warrior and hero."
Not easy to surrender such hard-won pelts.
Tinley, a professor in the sports business MBA program at San Diego State University, works with retired players and sees how they struggle to adjust to life as normal, workaday folks. One told him that "the sooner you understand that the best part of your life is over," the easier it becomes to make the transition. Grim, no?
Yet that's next on the docket for Favre. Eventually. Whether he likes it or not. Right now he's trying to remain an effective, if not an elite, member of the NFL community.
"It's such a small fraternity to play that position and it's something you've done all your life," Jurgensen says. "So I certainly understand why he doesn't want to give it up. Once you quit, you can't come back. And that's why he's having such a hard time giving it up. He knows nothing is going to replace that."
Quotable: "Potential ain't nothing but a 'but' and a 'what if.' You have to go out there and play." -- New York Giants linebacker Antonio Pierce. … "One point I just made to the players in the locker room is that, as a player, your performance in a preseason game gets put on your resume and your tombstone." -- Detroit Lions coach Jim Schwartz. … "I think we kind of joke that we're the worst preseason defense in America." -- Pittsburgh Steelers safety Ryan Clark. The Steelers led the NFL last season in total defense.
A little lean: The Dallas Cowboys figured to pull the plug on outside linebacker Greg Ellis sooner rather than later and that's what they did, cutting him back in the spring so that Anthony Spencer could become the starter. Now guess where the Boys of Cow look a bit thin on the roster? Yep, outside linebacker. They lost fourth-round pick Brandon Williams for the season with a knee injury last week and Justin Rogers gimps his way through practice on a bad wheel (knee tendinitis). The Cowboys are loathe to move Bobby Carpenter outside (what a bust of a No. 1 pick, eh?) . "We still have eight players that are healthy and can play," coach Wade Phillips says. The Boys take on the San Francisco 49ers on Saturday night at Low Hanging Video Board Stadium.
Run over: The Oakland Raiders played the run poorly last year (31st) in the league. And the year before (31st). Maybe it can be their new slogan -- Commitment to Execrable. Because that's how they're playing the run this year. After allowing 127 yards on 29 attempts against Dallas, the Raiders got knocked out of their socks and jocks by the San Francisco 49ers and rookie Glen Coffee. Coffee ran for 129 yards, decaffeinating and decapitating the Raiders defense. The 49ers rushed 47 times for 275 yards. "I think you have to, at some point, set your jaw and decide you're not going to get your rear end kicked like that," Raiders coach Tom Cable says. Ah, decisions, decisions. The Raiders are hosts Saturday night to the New Orleans Saints, who have rushed 57 times for 259 yards and three touchdowns in winning both of their preseason games. And that's with Reggie Bush seeing extremely limited time so far (three attempts for five yards).
---
Larry Weisman covered professional football for USA TODAY for 25 years and now joins the Redskins Broadcast Network and Redskins.com to bring his unique viewpoint and experience to Redskins fans. Go to Redskins.com for the Redskins Blitz column and NFL Blitz on Friday. Larry also appears on Redskins Nation, airing nightly on Comcast SportsNet, and on ESPN 980 AM radio, both in the Washington, D.C. area.