The New Orleans Saints undefeated. What a concept.
They roll into FedExField on Sunday 11-0. They lead the NFL in scoring and total offense. They ain't the 'Aints anymore.
The Saints joined the NFL in 1967 as an expansion and won 12 games ... over a three-year span. They've only won 10 or more seven times in their history and never more than 12.
That's a number they will certainly erase in 2009. How far they've come from their comic birth and their early struggles. In 1980, when they lost their first 14 games and finished 1-15, their fans dubbed them the 'Aints and put paper bags over their heads. The Saints did not earn their first playoff berth until 1987, win a division title until 1991 or a playoff game until the 2000 season.
The Saints. Standing tall at 11-0.
"This team," head coach Sean Payton says, "doesn't really bear the cross of the history of the organization."
True. But the Saints' history of ineptitude is so much fun to recount.
In the interest of full disclosure, this typist must reveal that he covered that lone New Orleans victory in '80, a snow-swirled 21-20 decision against the New York Jets at Shea Stadium.
This typist has long known Archie Manning and has made numerous radio appearances on Saints' broadcasts with Manning and on talk shows with Bobby Hebert, one of his many successors at quarterback. OK, end of name dropping.
Now this Saints team writes a new chapter, punctuating it with potent offense and a turnover-minded defense. The Saints, who almost went winless so long ago, can now talk about the possibility of a perfect season. Capped by what was once unthinkable -- the NFL championship. Which is the only way to be perfect.
The Saints come in to play the Redskins off a 38-17 cleaning and pressing of the New England Patriots. Remember New England's pursuit of perfection? Saints safety Darren Sharper does. The Patriots failed in the Super Bowl and he remembers that as well.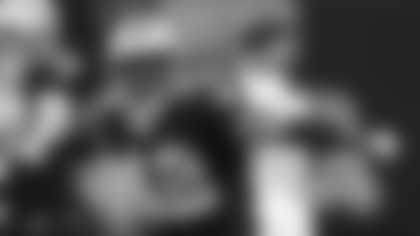 Darren Sharper (AP Photo)


"I think the luster of going undefeated is still there. With the Patriots going and doing it two years ago and then getting to the Super Bowl and not completing the deal and winning every game of the season and finishing the season in the right way has given us the notice that, 'Okay, 16-0 is great but it's not exactly what we want to accomplish,' " he says.
"We want to accomplish the ultimate goal and that is winning a championship. So I think it has taken a little bit of the focus off just going 16-0 because a team has done that recently and did not go on to win the Super Bowl.
"We don't focus too much on saying, 'We're 16-0, we're going to set a record, we're going to be one of the greatest teams of all time.' That's not the case because you've got to not go 16-0 but 19-0."
If the Saints defeat the Redskins, they clinch the NFC South division title. They'll have a narrow lead on the Minnesota Vikings for overall home-field advantage in the playoffs.
The franchise's closest brush with the Super Bowl -- other than being the host city numerous times -- followed the 2006 season when the Saints fell on the road to Chicago Bears in the conference championship game.
"I think any time you can play at home, obviously you prefer it to playing on the road," Payton says. "I haven't really been paying attention to Minnesota. Certainly you understand that there's another team in your conference that's sitting there with 'X' number of wins and we need to beware and continue to play our best football."
They aim high. They've built for this moment over the past few years but, really, over the course of five decades.
"Everyone likes to have a big game," Payton says, "and there will be a lot more big games, if we can continue to play well, on a lot bigger stage than the regular season."
TITAN UP: When his team was 0-6, running back Chris Johnson promised that the Tennessee Titans would run the table, win 10 consecutive games and make the playoffs.
The Titans are halfway there. They've won five in a row, a streak coinciding with Vince Young supplanting Kerry Collins at quarterback, and with Johnson continuing to lead the NFL in rushing.
"Finally the bounces are going our way," Johnson says.
The Titans did not seem as if they would bounce much at all after a 59-0 loss to the New England Patriots and they next face the streaking and unbeaten (11-0) Indianapolis Colts. The Colts already have clinched the AFC South title but nothing seems to daunt the Titans now, though they realize they have a long way to go to make Johnson look like Nostradamus.
"All we can do is win because we did a lot of things early in the year to put us 0-6 in the hole," linebacker Keith Bulluck says. "We're not even a .500 football team now. So we can't really look at the big picture. All we can do is win and just put pressure on the other teams."
The Colts have won 20 consecutive regular-season games, one shy of the record set by the New England Patriots from 2006-08. They're also the first team in NFL history to win five consecutive games after trailing in the fourth quarter of each.
"These games build character," says Colts defensive end Robert Mathis. "After five games like this, we're full of character."
QUOTABLE: "Man, how sweet it is, baby." -- Buffalo Bills interim coach Perry Fewell after his first victory. ... "One eye is focusing on the next game and the other eye is focusing on the big picture." – San Francisco 49ers LB Takeo Spikes, whose team is 5-6 in the weak NFC West. ... "Call me ignorant or foolish but that is the only way I know how to approach things." – New York Giants DE Justin Tuck, saying his confidence level going into a stretch of three NFC East games, is "11" on a 1-10 scale. ... "I apologize. We're just inconsistent." – Houston Texans C Chris Myers, whose team was 5-3 but has lost its last three games. ... "If you doubt yourself, then you're done. That's like showing a bad poker face." – Indianapolis Colts WR Reggie Wayne, after his team came back from 21 points down to beat Houston on the road for its 20th consecutive regular-season victory. ... "You always hear the drumbeat outside the team. It's so fierce and loud that you can't miss it. When you're winning, the beat tells you how great you are. When you don't win, the message is how inept you are. We can't let it affect us either way." – Baltimore Ravens coach Jim Harbaugh. ... "People don't always believe that a guy my size can run the ball." – Seattle Seahawks RB Justin Forsett. The 5-8, 194-pound Forsett rushed for 130 yards and two touchdowns against the St. Louis Rams. ... "He's not the best back we've faced all year. They had a good scheme and we were missing tackles." – Rams DE Leonard Little, turning sour grapes on Forsett into bitter wine (or is it whine?). ... "You can't play in the AFC North and be soft." – Cincinnati Bengals LB Dhani Jones. The Bengals (8-3) lead the division and have swept the Baltimore Ravens and Pittsburgh Steelers.
EXTRA POINTS: The Chicago Bears were 3-1 going into their bye and they seem never to have returned from the week off, except to have off weeks. They've lost six of their last seven, the lone victory against the Cleveland Browns. ... The Steelers have lost three in a row, two in overtime. While scoring (53 points in those losses) is a problem, so are their special teams. They've allowed four touchdowns on kickoff returns this season, one of 96 yards by Bernard Scott in the most recent loss to the Bengals and one of 97 yards to Jamaal Charles in the debacle against the Kansas City Chiefs. Charles' came on the opening kickoff. "Special teams haven't helped us very much lately," says linebacker James Harrison. ... Some games are pick 'em and some games are about the pick. The Ravens play the Green Bay Packers on Monday night at Lambeau Field and INTs ought to figure in this one. Since 2006, the Ravens lead the NFL with 83 pilfers. They've returned them 1,496 yards for 13 TDs. The Packers are a tiny step behind, with 82 picks for 1,494 yards and 13 scores. ... When Minnesota Vikings QB Brett Favre takes his first snap on Sunday night against the Arizona Cardinals, he will extend his consecutive streak of games played to 283, a record for any player who is not a punter or kicker. Former Viking Jim Marshall will move into second place with 282.
---
Larry Weisman covered professional football for USA TODAY for 25 years and now joins the Redskins Broadcast Network and Redskins.com to bring his unique viewpoint and experience to Redskins fans. Go to Redskins.com for the Redskins Blitz column and NFL Blitz on Friday. Larry also appears on The Jim Zorn Show on WRC-TV on Saturday night, on Redskins Nation, airing twice nightly on Comcast SportsNet, and on ESPN 980 AM radio, all in the Washington, D.C. area. Read his blog at redskinsrule.com and follow him on Twitter.com/LarryWeisman.