Niles Paul drew the crowd into the moment, provoking a sound from the masses that can only mean, "ouch."
The home team's fans were audibly upset Sunday afternoon. They booed and chucked snowballs onto the playing field after the Kansas City Chiefs scored its second special teams touchdown.
Paul said he was embarrassed by the coverage in a 45-10 loss to Kansas City.
He was part of a coverage unit that allowed a 74-yard punt return and a 95-yard kickoff return for touchdowns in the second quarter.
His frustration boiled over in the third quarter.
Sav Rocca unfurled a high punt and Paul plowed a direct path to returner Dexter McCluster. The punt returner ignored the oncoming traffic and did not call for a fair catch. Paul collided with McCluster as the ball arrived, generating a thwack that reverberated above the turf.
The crowd said "oof." Paul bellowed and flexed.
"I was trying to show my coverage units that we're still in this game," Paul said.
"No matter what the score says we still have to be contributors in this game. We still have to make plays. We can't just let them do what they want. Up to that point they were pretty much having their way with us on special teams."
The Chiefs did what they wanted on special teams.
Kick returner Quintin Demps amassed 123 yards on two kick returns.  McCluster finished the game with seven punt returns for 177 yards, 30 yards shy of a single game record set in 1981.
After the game, he told the Kansas City media he didn't know why the Redskins continued to kick to him, but he was a willing recipient.
"I was definitely surprised, but I was glad they didn't [kick it away]," he said. "I want every opportunity that we can because you never know what play can win a game. Special teams showed up big today."
Redskins head coach Mike Shanahan classified the coverage as "horrendous" on Sunday and clarified that the game plan was not to give McCluster a chance to return the ball.
"Collectively, we didn't get the job done," Shanahan said. "I'm not blaming it on our kickers because we're all in this thing together, but when you give a guy like McCluster, in those kind of conditions, a chance to return a ball or not kick it high enough, you're going to be in for a long day just like we were."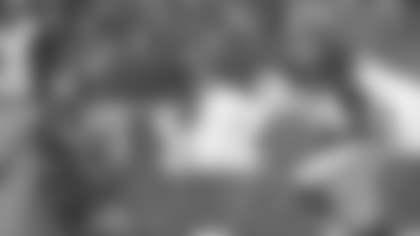 After the game, Paul told reporters that special teams deficiencies boiled down to one factor.
"It's not a coaching thing, it's an effort thing," Paul said.
"It's from each player, each individual. Eleven people out there have to want to make tackle, have to want to make play, have to want to make a block, and that's not happening right now. That's why we are terrible on special teams."
Paul pleaded for better effort from members of the coverage units. He said special teams ace Reed Doughty held meetings preaching higher exertion, but the message clearly lacked the desired effect.
In Week 6 at Dallas, Washington allowed Dwayne Harris to record an 86-yard punt return for a touchdown and a 90-yard kickoff return.
The following week against the Bears, Devin Hester burned the Redskins with an 81-yard punt return into the end zone.
The coverage units kept returners from scoring since Chicago, but the problem took center stage in the snow against the Chiefs.
"Everybody's not on the same page, and it's frustrating," Paul said.
"You can't have four or five guys out there giving effort on special teams and then nobody else giving the same effort because you get what we had today, an embarrassment."
A jarring hit in the third quarter wasn't Paul's only effort play.
After Demps scored on 95-yard kick return, Paul answered by receiving Ryan Succop's kick and running 39 yards, the longest return of his career. He totaled a season-high 179 kickoff return yards on eight returns.
Paul was also the last Redskin chasing McCluster into the end zone on his scoring punt return.
In the locker room, Paul said the Redskins coverage units were to blame. They couldn't expect their punter to kick out of bounds on a slippery field.
Rocca said he was wary of directional punting in the snow. Just one of his eight punts went out of bounds.
"You don't want to over stride in these conditions," Rocca said. "In practice I had a fall. My foot slid out straight out from underneath me. You do have to change it a little bit the way you punt."
Like Paul, the punter said watching returners blaze by in a game that ended far before the clock ran out was dispiriting.
"You never want to lose by a lot and you never want to give up a punt for a touchdown, so for me personally, it's very embarrassing," Rocca said.
"You get pissed, obviously."