Look at the statistics from Sunday's game against the St. Louis Rams, and they tell a different story from the one on the scoreboard.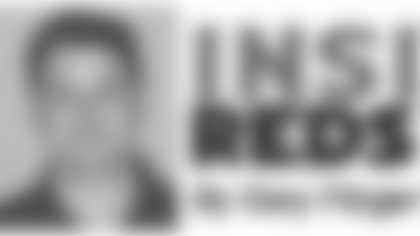 The Redskins' offense compiled 368 total yards and 22 first downs against the St. Louis Rams, and won the time of possession battle by a 2-minute margin.
Statistics aside, the Redskins could not get in an offensive rhythm until the fourth quarter on Sunday.
As a result, the Rams were able to stay with the Redskins long enough to pull out a last-second win. Kicker Josh Brown converted a 49-yard field goal to give the Rams a 19-17 victory.
What happened to the offense?
"Tempo," Jason Campbell said. "That's what hurt us early in the game. We were moving the ball, moving the ball, and then something bad would happen. We just never got to a standpoint where we were in rhythm."
The "something bad" turned out to be fumbles and sacks.
The Redskins turned the ball over three times in the first half. One turnover was returned by safety Oshiomogho Atogwe 75 yards for a touchdown.
Also, Campbell was sacked four times in the game. Several times, Campbell was taken down by an unblocked tackler.
Jim Zorn and Campbell attributed the sacks to some breakdowns in communication along the line.
"It's something we have to correct," Campbell said. "I think a lot of the guys said that they couldn't hear each other and that's something we can definitely improve. As a quarterback, I believe in my O-line, and I've said they've been doing an outstanding job."
Said Zorn: "It was part of the team communicating what we needed to do and another part not hearing what they needed to do. It was a player looking at the wrong defender at one time.
"It wasn't the same thing over and over again. It was a combination of things. But the same result happened. On offense, it takes all 11 doing the right things, and when that doesn't happen, disaster will strike."
Campbell finished the game completing 18-of-26 passes for 208 yards.
No interceptions again. Campbell extended his franchise record to 201 consecutive passes without an interception.
The Redskins, as a team, have now gone 309 passes without an interception.
Impressive numbers. But not enough to make a difference on the scoreboard.
"It was us and our miscues," Campbell said. "I thought the Rams came out and played extremely hard and they had a good game plan. We were able to move the ball, but the only thing that kept us from scoring was turnovers, miscues and lack of communication.
"I wouldn't say they shut us down, we just did a lot of things to hurt ourselves."