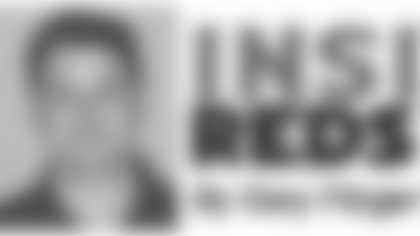 The word on everybody's mind at Redskins Park on Monday?
No one seems to know for sure how much change is on the horizon for the Redskins.
Just that it could be coming.
And it could even be "shocking," as Jason Campbell said during a Monday media session.
"We all have to be prepared for that," Campbell said. "[Change] comes every offseason. Everybody understands that whatever we're doing, it's trying to improve the team."
In his season-ending press conference, head coach Jim Zorn said that coaches and team officials will begin the process of evaluating this week the roster and take everything into account with each player.
That includes contract status, salary cap ramifications, age, performance and ability, Zorn said.
"We aren't going to make wholesale changes," Zorn said. "My charge to all of our players is to get better. Even the guys that have been around for a while--they can improve.
"We're not going to go and say, 'We're going to go ahead and replace 10-15 guys.' Things do change. Every year, there are new players. Every year, players happen to move around a bit. It won't happen immediately. It'll weave its way as we go along."
Under scrutiny is the Redskins' offensive line and the defense as a whole, in part because there are aging veterans in many of those positions.
In 2004, the Redskins signed a group of free agents--Phillip Daniels, Marcus Washington, Cornelius Griffin and Shawn Springs, among others--that helped make up the core of the team the last five years.
They are all under contract for 2009, but the salary cap could play a role in whether they return next season.
In the last few weeks, several players have made a plea to keep the defense intact, particularly after the unit shut down the playoff-bound Philadelphia Eagles in Week 16.
Was it enough to stave off change?
Said Washington: "Teams are pretty good when they stay together a long time, like the New England Patriots and Pittsburgh Steelers have done. They have a core group of guys who have been on those teams for a while. But we also know there's a business side of it and in the real world things don't happen quite the way you want them to."
Added Springs: "The bottom line is that [the team is] going to do what is best for them to win."
Meantime, the offensive line consists of veterans all over the age of 30, and it has long been thought that an influx of youth is needed.
Pete Kendall is 35 and an unrestricted free agent. Both Jon Jansen and Randy Thomas turn 33 next month.
"I am not a spring chicken, but I have some good years in me whether it is here or somewhere else," Jansen said. "I would say I have had a great opportunity to play here and if the opportunity presented itself to play here again, I love playing in Washington and would continue to do so."
Added Thomas: "I just do what I can do and I don't really get involved in personnel issues. I just keep my mind looking forward. This is a business, so you never know and you have to be prepared for anything."
Thomas is scheduled to undergo surgery in early January to repair bulging discs in his neck--another factor that could weigh whether the team brings him back, Zorn said.
Second-year player Stephon Heyer is the youngest lineman to see action on the Redskins' offensive line last season.
"We'll see what happens as to who fills which spots," Heyer said. "Whoever is there, we're going to have to be five guys on the same page. That's what matters the most."
Zorn said the evaluation process would include input from coaches and personnel officials.
Coaches will also "scheme evaluate," Zorn added.
"I'm not talking about coming up with a whole new scheme on offense, I'm talking about looking at our schemes and building on our strengths," he said. "Then we'll try to improve or close the gaps on our weaknesses."
Zorn said he expects to continue serving as play-caller next year. It's something that he has wanted to do for years and it's not something he wants to give up.
Change this offseason could include the Redskins' coaching staff, but not if Zorn can help it.
He said his preference would be to have his entire coaching staff return for 2009. He acknowledged that some assistants may get job interviews elsewhere, though.
The Redskins can block an assistant coach from leaving for another team if the new position is not a promotion.
"I hope we can maintain our group," Zorn said.
He expects offensive coordinator Sherman Smith, defensive coordinator Greg Blache and special teams coordinator Danny Smith to return in their current roles next season.