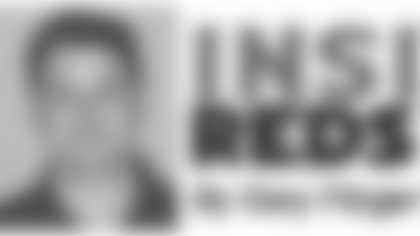 Jeremy Jarmon has participated in all of Redskins training camp and played in two preseason games, but he has barely spoken with his defensive coordinator, Greg Blache.
It's nothing personal on Blache's part.
"I don't talk to the rookies," Blache said. "I really don't--not until they make the football team. It's hard enough that you have to cut guys that you have gotten to know and be around. When we make the final cuts, then I'll get into [talking with] some of the newer guys."
Jarmon arrived on the Redskins on July 16--just five weeks ago--so it's not surprising that midway through preseason he is still regarded as a newcomer.
At Kentucky, he had been declared ineligible for his senior season after he took a dietary supplement that contained a banned substance.
So he entered the NFL Supplemental Draft, and the Redskins selected him with a third-round pick.
Since then, Jarmon has had to play catch-up both physically and mentally. He was not able to participate in the Redskins' off-season workout program, mini-camp or OTAs, so his role was expected to be a limited one.
Instead, Jarmon is moving quicky to establish himself at left defensive end.
In the Aug. 8 intra-squad scrimmage during training camp, Jarmon had 1.5 sacks playing against the Redskins' offense.
He was a bright spot in the Redskins' preseason opener at Baltimore on Aug. 13. In the 23-0 loss to the Ravens, he was able to pressure quarterbacks Troy Smith and John Beck into incomplete passes.
Last Saturday vs. Pittsburgh, Jarmon logged one tackle and another quarterback pressure on what turned out to be the Steelers' last offensive play. The Redskins won 17-13.
"He has done a good job," Blache said. "He is more athletic than I anticipated. Being a junior coming out, I thought he would be behind on the learning curve. I didn't think I would be able to get him on the field until October or November.
"But watching him, but he is actually further along than I thought he would be. If we need him to play early in the season, he could be a guy who goes out on the field and holds his own in the run game or rushing the passer.
"When his mind catches up to his athletic skills, he'll be on the field maybe a little sooner than we thought."
Jarmon believes he has picked up the Redskins' defense quickly.
Now he needs to put more time in the weight room and build his strength to better withstand the rigors of the NFL. Competing against bigger, more athletic linemen has forced him to adjust his technique to his body frame.
"A lot of these guys here, Phillip [Daniels], Renaldo [Wynn]--all of those guys in front of me are so much stronger than I am," he said. "One thing that I can do is keep my pads low, play with good leverage and use my hands. That's something I need to keep doing a good job with."
Jarmon has heard about how different the speed of the NFL game is compared to college football, so he has tried to "play faster."
"Everything is speeding up for me," Jarmon said. "I think the reason for that is knowing what I am supposed to be doing out there and just coming off the ball as fast as I can.
"If I make a mistake, Coach [John] Palermo is going to come over to me and say, 'Jeremy, you were lined up a little tight.' I'll take note of that and we'll discuss it."
At Kentucky, Jarmon started 31-of-39 games at Kentucky the last three years, recording 17.5 career sacks.
He had a breakout season as a sophomore in 2007, logging nine sacks (fourth best in the nation). He also posted 62 tackles and 13.5 stops for a loss. As a junior last year, he posted 4.5 sacks as he faced more double teams.
Jarmon believes playing in the highly competitive SEC in college helped prepare him for the NFL.
"From what I have seen so far, the offenses in the NFL are pretty cut and dry," Jarmon said. "They aren't going to fool you, or razzle-dazzle you with anything special. They are going to line up and try to knock you off the ball.
"In the SEC, I saw so many different sets week by week. It's not as complex adapting to the different offenses as it was in college."
Jarmon may change his tune on that once the regular season arrives.
Still, the comment shows he has confidence.
And even though Blache has kept his contact with Jarmon to a minimum so far, he is impressed with the rookie's maturity.
"In the conversations we have had, he does come across like a very sound young man," Blache said. "And he has played well. He'll be here. When the time comes, I'll talk to him and get to know him. In the meantime, he's still a rookie."