The Redskins' defense was backed up, at the 1-yard line.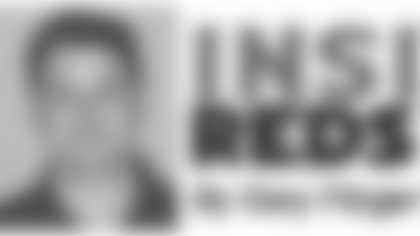 And London Fletcher was having a blast.
The Cleveland Browns, trailing 14-3 and attempting a furious comeback, were at the Redskins' goal line in two consecutive series.
Six times, the Redskins shut down the Browns. It was critical to the Redskins' 14-11 victory on Sunday at FedExField.
This was goal line defense at its finest.
"It was kind of fun," Fletcher said. "After every stop, it was like, 'Here we go again. We have to stop them again.'"
The defensive stand started with 7:22 left in the game.
First and goal at the 1 for the Browns.
Running back Jamal Lewis was stopped by Fletcher, who dove across the line of scrimmage to make the tackle.
Then quarterback Derek Anderson threw a pass in the flat to fullback Charles Ali, but Fletcher was there again to take him down for a 2-yard loss.
Jason Taylor batted away Anderson's third-down pass, forcing fourth down.
This time, Demetric Evans got a hand on Anderson's pass, and the ball fluttered to the ground incomplete.
Evans raced off the field, arms raised in celebration.
On the next play, Portis took a handoff and raced around right end for a long gain. But cornerback Eric Wright poked the ball loose and safety Brandon Pool scooped it up at the Redskins' 29-yard line.
One play later, the Browns were back at the Redskins' 1-yard line.
Defensive players were charged up, Fletcher said.
"We weren't going to concede anything to them," hesaid. "We knew how important it was to try to keep them from getting a touchdown."
First it was Kedric Golston and Rocky McIntosh stuffing Lewis up the middle for no gain.
Then it was H.B. Blades and Carlos Rogers taking down Lewis on a pitch to the left.
Finally, the Browns made it into the end zone when Anderson found wide receiver Josh Cribbs open in the right side of the end zone for a 1-yard touchdown pass.
"It was a well-designed play by them," Fletcher said.
Still, it was an impressive stand by the Redskins' defense, who limited the Browns to 236 total yards of offense and 134 passing yards.
Anderson was befuddled most of the game. He completed just 14-of-37 for 136 yards and one touchdown pass.
London Fletcher led the way with 12 tackles and Chris Horton added eight. Andre Carter recorded a second-half sack.
After the game, the post-game talk focused on the goal line stand.
"I'd love to be down there hovering--to play that kind of defense, you have to be emotional, you have to be violent and you have to create things," head coach Jim Zorn said. "[A goal line stand] is probably one of the more tense moments of a game. Our guys showed they want to be there, they want to prove that they can stop them.
"The fact that we stopped them gives us confidence as we go into more critical games down the road."
Said Fletcher: "It was a great to stop them so many times. We did a good job of knocking them back when they tried to run the football. There were a lot of guys that stepped up to make it happen. It was great for team morale."