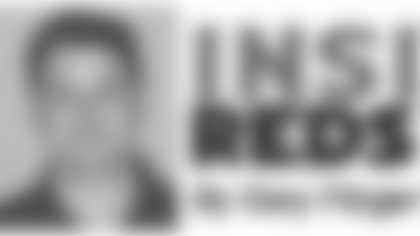 On April 25, Brian Orakpo was in New York City waiting out the NFL Draft--and waiting on the Redskins to select him at No. 13 overall.
A week later, he was on the Redskins Park practice fields, learning the strong-side linebacker position and getting acclimated to his NFL surroundings.
"I wasn't nervous," he said. "I was excited to do the best I could."
With the conclusion of mini-camp on Sunday, Orakpo heads back to the Unversity of Texas to finish his coursework and earn his degree. He is expected to return to the team for OTAs in early June.
Orakpo lined up at strong-side linebacker during mini-camp. He is expected to play defensive end later this offseason.
The 6-3, 260-pounder played mostly defensive end at Texas.
"They're just seeing what I can do and how I can stay on the field at all times," Orakpo said. "They're throwing everything at me to see how I adjust. Later on, I'm going to get with the [defensive line] and get adjusted to that position.
"They brought me here to rush the passer and I'm not getting away from that."
On Saturday, in one set of drills as a linebacker, Orakpo lined up on the edge of the defensive line. Then Kareem Moore shouted out an alignment change, and Orakpo shifted all the way over to the opposite side of the line.
There was some hesitation in Orakpo's steps, but he was doing the right thing. The hesitation showed that he is still thinking his way through learning the defense.
Despite the learning curve, Orakpo flashed good speed and agility on the field.
"I saw a guy who is a tremendous athlete and he tried to hustle," Jim Zorn said. "He was in a lot of plays and he was working hard. He was just kind of feeling his way to see our tempo.
"He was standing up [at linebacker] and he was down in a four-point stance at one time. So we're going to move him around."
Added Albert Haynesworth: "I saw him pass rush, turn the corner real well, and slap the guys' hands--so he's got that part down. As a rookie, you have so many things thrown at you that it is really different. You almost can't really focus on football.
"If he can put all of that behind him and just get to playing the game, then he should be okay."
Orakpo was college football's top pass rusher in 2008, earning the Nagurski Trophy as the top defensive player, the Lombardi Trophy as the top defensive lineman and the Hendricks Award as the top defensive end.
In four seasons at Texas, Orakpo started 21-of-49 games and registered 103 tackels (75 solo), 34.5 tackles for a loss, 23 sacks and 36 quarterback pressures.
Now Orakpo is easing onto his new team and getting to know his new teammates.
"I am just trying to get used to everything--the new players and the veterans," he said. "[The veterans] are all calling me 'rook.' It has been good."