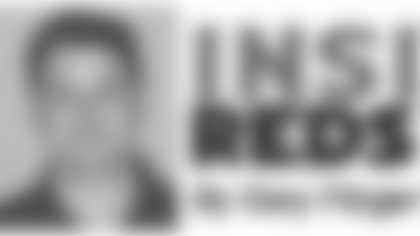 Brian Orakpo should fit in well on a Redskins defense that finished fourth overall in the NFL last year.
As a speed rusher at defensive end, he is an aggressive, intimidating presence on the field.
He is also versatile in that he can play strong-side linebacker as needed.
Those are all attributes of a Greg Blache defense.
"I just have a fire and intensity to get after the quarterback," Orakpo said shortly after the Redskins selected him in the first round of the NFL Draft. "I do whatever it takes. I don't have a favorite move, I just get after it and bring the pressure."
Orakpo, drafted by the Redskins with the 13th overall pick in the first round on Saturday, said joining the Redskins was a "perfect fit."
The former University of Texas standout said he felt positive vibes in his visit to Redskins Park prior to the draft.
The Redskins' pass rush is sure to get positive vibes from Orakpo's presence.
The defense posted just 24 sacks last year--and only 12 came from defensive ends.
This offseason, the Redskins released Jason Taylor and lost Demetric Evans to free agency.
Now Orakpo joins Andre Carter as the Redskins' primary pass rusher off the edge.
The 6-3, 260-pounder said he was "pretty confident" he could contribute as a rookie.
"First, it comes with a lot of hard work and that is what I know I am going to have to do and bring to the table," he said. "I have to earn that respect from my teammates and show that I'm ready to work.
"I have high expectations for myself each and every time I step onto the field."
Orakpo could play some strong-side linebacker for the Redskins, depending on the packages that Blache employs.
Coaches may want to ease Orakpo into the defensive end rotation because it is thought he needs to fine-tune his skills in run defense.
Orakpo acknowledged that he needed to work on fending off blocks against the run.
"Obviously, everybody is not perfect," he said. "One thing I have to do is not think pass so much. I have to be able to stop the run with the position that we are in. That is something I know I have to work on.
"It is all about the packages that I bring to the table. [Coaches] see me as a strong-side linebacker first and second [downs] and then it's time to get after it--third and long, or whatever the situation is. Get down in the stance and rush the passer and do what I do best."
Orakpo said he was "ecstatic" to join a defensive line that includes high profile free agent signing Albert Haynesworth.
"Having one of the best defensive tackles in the game right now will make my job easier, I'll tell you that much," Orakpo said. "That is what you need, that force up the middle. It will be great."