Brian Orakpo has tunnel vision when it comes to rushing the quarterback.
"Got to get sacks, man," he said.
His tunnel vision does not usually include getting grabbed around the waist or seized around the neck.
Time and again last season, the 6-4, 255-pound Orakpo was held by opposing offensive linemen. Sometimes a flag was thrown, sometimes not.
Orakpo, who is in Hawaii for the Pro Bowl, plans to do something about it this offseason.
"I just have to keep churning, being relentless," he said. "I have to find a way to get these hands up off me."
Orakpo expects to work with defensive coordinator Jim Haslett and linebackers coach Lou Spanos to develop new moves this offseason.
Said Haslett: "There are a couple of things he can do when [blockers] wrap their arms around him. He needs to work at getting an arm off and getting back underneath. There are a couple of things we've talked about that I think would help him in the offseason."
A holding call on Orakpo helped the Redskins win in Week 1. He was held by Dallas Cowboys right tackle Alex Barron on the last play of the game and a flag was thrown. The penalty negated a touchdown pass and sealing a 13-7 victory.
Orakpo's most frustrating moment came in Week 14 vs. Tampa Bay when left tackle Donald Penn – who incidentally is in Hawaii for the Pro Bowl along with Orakpo – grabbed Orakpo around the neck to keep him off quarterback Josh Freeman.
Freeman ended up tossing what proved to be a game-winning 41-yard touchdown pass on the play. This time, no flag was thrown, much to Orakpo's frustration.
Orakpo's primary move is a bull rush in which he combines both his speed and power.
It's a move that seems to draw a lot of holds because most offensive linemen can't adjust to his speed quickly enough.
"He shocks people when he hits them," Haslett has marveled.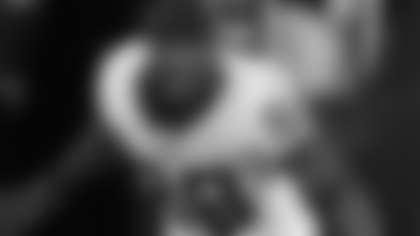 Holding aside, Orakpo finished last season with a team-high 8.5 sacks and 47 quarterback pressures. He also posted 78 tackles and one forced fumble.
He was named a first alternate to the Pro Bowl and later earned a spot in the all-star game when Green Bay Packers linebacker Clay Matthews had to back out due to the Packers making the Super Bowl.
In his first two seasons in the NFL, Orakpo has posted 19.5 sacks. He is the first Redskin since linebacker Ken Harvey in 1996-97 to register at least eight sacks in consecutive seasons.
Orakpo excelled as a pass rusher even though the Redskins' defense – which transitioned to a 3-4 last year – struggled most of last season.
The unit finished 31st overall in the NFL, allowing an average of 389.2 yards per game. The run defense was 26th and the pass defense was 31st.
Orakpo reiterated that the defensive struggles could be attributed to "growing pains" in the 3-4.
He was encouraged that the defense yielded 17 points or less in nine games last season.
"We started on it since day one, and we've been trying to learn it, get the right personnel in and grow from that," he said.
Developing consistency is key, he added.
"When you turn on the film, guys were playing physical, playing hard," he said. "We're just not jelling together. We have our games where our defense is playing real well, not giving up points and getting off the field on third downs. And then we have games where our defense is awful, with guys missing tackles and not coming off blocks.
"It's just consistency. Hopefully in year two of this defense, we'll grow together with a year [in the 3-4] under our belt, we'll cut out the mistakes and we'll get better."