Redskins linebacker/defensive end Brian Orakpo has earned a Pro Bowl nod as a rookie.
Orakpo is the only Redskin to make this year's Pro Bowl squad.
The annual all-star contest between the AFC's and NFC's best will take place on Sunday, Jan. 31, at Dolphin Stadium in South Florida.
Kickoff is 7:30 p.m. ET. The game will be broadcast on ESPN.
Orakpo, the team's first-round selection (No. 13 overall) in the 2009 NFL Draft, is the first Redskins defensive rookie to make the Pro Bowl since the 1970 merger. He is only the second Redskins rookie to be chosen, joining running back Tony Green, who was honored as a punt returner following the 1978 season.
Orakpo has started all 15 games this season, alternating at linebacker and defensive end. He has posted 58 tackles (39 solo) and is tied with Andre Carter for the team lead in sacks with 11. He also has one forced fumble.
Orakpo learned he made the Pro Bowl when Redskins owner Daniel M. Snyder telephoned him with the news.
He admitted he was surprised at the news.
"In your first year, you don't know what to expect, all you try to do is make a name for yourself just so people have respect for for the way you play, and you're just trying to do the best you can," Orakpo said. "I was surprised because I'm just a humble guy, period. I've always been like that.
"You don't really look at individual awards, I'm always a team-oriented guy. And obviously our season has not been that great. That's more important to me than all the individual stuff.
"But at the end of the season, you can reflect back and see that you did have a great season. And that's what the Pro Bowl means, that I did do some good things throughout the season and people noticed."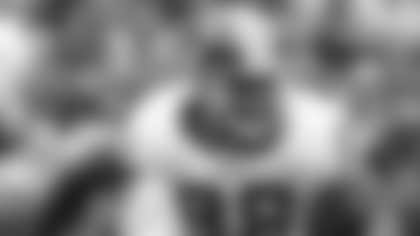 He also had kind words for teammates Carter and London Fletcher, two veterans who had Pro Bowl-caliber seasons but did not make the squad.
"You know, London's done so much for me, just getting me aligned throughout the game," Orakpo said. "He's always there to back me up with my mistakes out there on the field, and I pay so much credit to him.
"I feel like he deserves it more than me, in my honest opinion. If I could trade it, I'd give my spot to him any day, because he's been that much of a key role model for me and a key individual that really helped my game excel to where it is. I pay a lot of tribute to him."
Orakpo is the sixth Redskins linebacker since 1970 to be chosen to the Pro Bowl, and the first since Marcus Washington in 2004. He also joins Chris Hanburger (5), Ken Harvey (4), LaVar Arrington (3) and Wilber Marshall (1).
Orakpo's selection is the 15th overall for a Redskins linebacker since 1970. He is the first Redskins defensive player to earn a Pro Bowl nod since the late Sean Taylor in 2007.
Orakpo's signature game came in a Week 14 performance at Oakland when he registered four sacks for 44 yards lost, six tackles, three tackles for loss, and a forced fumble.
The four sacks tied a Redskins franchise record, shared with Ken Harvey, Dexter Manley, Diron Talbert and Phillip Daniels. Orakpo's 44 yards lost on his four sacks are the most by an individual in any NFL game since the statistic began being tracked in 1994.
Orakpo became just the third rookie in NFL history to record four sacks in a game and the first since Cornelius Bennett, on Dec. 27, 1987. Leslie O'Neal holds the record with five, which he set in 1986. In the process, Orakpo became the 13th rookie in the last 15 years to register a double-digit sack season, and the ninth with at least 11.