Muhammad Ali once said, "I'm so fast that last night I turned off the light switch in my hotel room and was in bed before the room was dark."
During a training cam practice Orakpo lined up across Pro Bowl tackle Chris Samuels for one-on-one lineman drills.
He was at the quarterback before the coach finished blowing the whistle.
Leaving the University of Texas after his senior season as the most decorated collegiate football player in recent memory, Orakpo hopes to bring his winning pedigree to the Washington Redskins.
Unlike most rookies though, he won't have to wait long for that chance as he has quickly earned the respect of his coaches and peers, taking the majority of his reps with the first team defense. He is currently listed as the starting linebacker.
"It's still football, that's what I have learned," Orakpo said, sipping a blueberry smoothie. "The transition has gone well. It's good because, basically, I play linebacker on running downs. And when it's time to get after the quarterback and it's time to get us off the field, I'll get down at defensive end and rush the passer. I don't have to mess with those big guys all day. I can run around them now."
Opposing quarterbacks, you can start worrying now.
"Sacks," Orakpo said. "Love 'em. Not even sacks, just hitting quarterbacks and watching them not complete a [pass]. And watching them get up real slow. I mean, I love it. I love it. It's a rush. Because once you do it one time, you want to see what move is going to allow you to do it the next time."
It is that attitude that excites veteran lineman Phillip Daniels, who has high expectations for the Redskins defense this year. The unit finished fourth overall in the NFL last season.
"Right now, he's two-dimensional. He can play linebacker, and he can move to the end," Daniels noted. "It makes it a better situation for us. Hopefully we can get that number four ranking [overall defense] up to number one."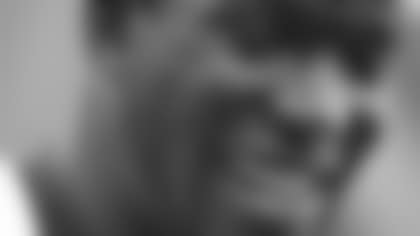 In preseason, Orakpo had to transition to linebacker, adjust to the defensive scheme and integrate himself into the defensive line rotation.
Greg Blache doesn't see his learning curve as an issue, though. He projected Orakpo as a starter from the get-go.
Orakpo is slated to start at linebacker and play some defensive end this Sunday when the Redskins take on the New York Giants at the Meadowlands.
"He is unlike most rookies you ever come across," Blache said. "His maturity, as far as a player and a person, is what sets him apart. I have no reservations about starting him."
Orakpo is fast, Blache said, but there is another level of speed coming when the regular season kicks off.
"I'm just concerned with how he handles the speed of the game, all game," Blache said. "He'll see that for the first time."
Orakpo radiates confidence as he walks through the practice facility.
A star defensive end in college, Orakpo combines his speed with immense strength and strong football intelligence; an Incredible Hulk-like destruction crew neatly wrapped in a 6-4, 260-pound package.
Given his winning pedigree and physical tools, Orakpo's early success should surprise no one.
In his last year in Austin Orakpo recorded 40 tackles and 11.5 sacks. He was named the Associated Press Defensive Player of the Year. He was later awarded the Bronko Nagurski Trophy for best defensive player, the Ted Hendricks Award for best defensive end, and the Lombardi Award for best lineman or linebacker. He finished his career with 103 tackles (75 solo), 23 sacks, 34.5 tackles for a loss, and six forced fumbles.
Despite his immense skill set and impressive trophy case, Orakpo is not one to brag.
He is not cocky. He is not flashy. He is not brash.
If anything, Orakpo is a quiet, humble rookie that is finding a niche in an immensely talented Redskins defense.
He is a young man that wants to be remembered for his actions, on and off the field.
"On the field, I want to be known as a guy that is very humble, very well-respected, works hard and is a leader for his team, when it's all said and done," Orakpo said. "Off the field, I want to be known as a great guy to get along with, a good family man, and a guy that has a lot of respect for people that respect him."
Said linebackers coach Kirk Olivadotti: "He has the mindset that he definitely belongs here. He just keeps his head down and wants to go to work. It's going to help him, and that whole locker room that he's surrounded with, that's their mindset, and he has just bought into that."
Orakpo still has work to do.
The linebacker position requires him to play more in space. He must adapt to covering physical tight ends and speedy running backs on pass plays.
"He's still learning like everybody else. He has a lot of things he still needs to work on," Olivadotti continued. "He has certain things that he's really good at, and other things that he's still working on, so he's in the same boat that everybody else is."
Said Orakpo: "I'm feeling a lot more comfortable [at linebacker]. Once the repetition comes, and you experience more and more, you get accustomed to certain things. As a linebacker, I'm able to open my hips a lot more, I'm able to read pass coverage, read different formations, and just fly around."