In just nine NFL games, Brian Orakpo has established himself as one of league's top pass rushers.
With seven sacks this season, Orakpo is tied for 10th with Carolina's Julius Peppers and Dallas's DeMarcus Ware. He is not far behind elite pass rushers Jared Allen, Dwight Freeney and James Harrison.
Even more impressive is the fact that he has set a Redskins franchise record for most sacks by a rookie.
The previous mark of six was shared by Dean Hamel (1985) and Andre Collins (1990).
Through nine games this season, Orakpo's seven sacks are already the most in a season by an NFL rookie since 2006, when Chicago's Mark Anderson registered 12.
"It's a huge accomplishment," Orakpo said of setting the franchise mark. "I didn't even know about it. I just try to go out there each and every time and try to improve.
"I just do my job. That's what I'm out there for and that's what the Redskins drafted me here for--to make big plays. It's a huge honor."
Orakpo began the 2009 season splitting time between linebacker and defensive end.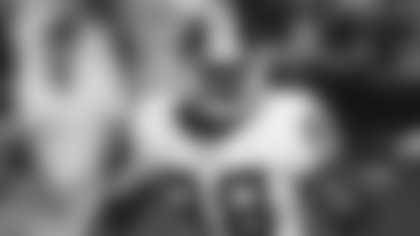 His learning curve at linebacker remains a work in progress.
Defensive end comes naturally, though.
Orakpo has all seven of his sacks in the last seven games.
"I feel like I'm getting better as the weeks go on," Orakpo said. "My whole regimen throughout the week is pretty much the same every week. It's just a matter of getting used to the competition at this level."
He has noticed that offenses are starting to adapt to his pass rushing skills, calling plays depending on how he lines up.
"They try to, but we do a good job with the packages that we have with the three-down look, so you don't know where I could be, where London Fletcher could be, and Rocky," Orakpo said. "We have a lot of different packages where we're moving guys around now.
"Instead of just being a simple four-down rush team where offenses can easily pick up the blitzes up or the pass rush, we just show them different looks."
There are even packages that allow Orakpo a chance to free-lance on the pass rush.
"We have a lot of packages with me doing a lot of different rushes, so it keeps the offensive lines on their toes," he said. "I have some options, but I still have to be in that same area where I'm coming from. I have an option from going A to B gap and staying on the edge, it just depends on the play call."