Redskins inside linebacker Perry Riley grew up just outside of Atlanta, Ga., in what he calls a "regular, close-knit family."
Everyone got along, everyone enjoyed spending time together and, most importantly, everyone loved playing sports.
It should come as no surprise Riley started playing football as soon as he was old enough, and from day one, he admits he was hooked.
"If I wasn't at football practice, I was playing football in the neighborhood with my friends," he said. "That was all I wanted to do."
That's probably because his father, Perry Riley Sr., was an experienced football player as well.
"He was a huge football fan and he played college ball in Virginia," Riley said. "I can remember watching football with him and learning the game in my living room. Once I started playing, I was actually pretty good at it. People couldn't really tackle me and I was pretty good at tackling other people, so I stuck with it."
Naturally, when Riley was ready to begin his football career, his father was once again right there with him.
"My dad has been my football coach since I was five years old," he said. "He coached me all the way to high school, and he wanted to come out and help the coaches at my high school, but they told him he couldn't."
It's noble for a parent to want to be so involved in his child's life, but just how good was Riley's father as a football player?
"I've never seen any tape of him playing," Riley said. "He has newspaper articles and clippings and they all say he was pretty good, and all of my uncles talk about how good he was as a running back until he injured his knee during his senior year of college. They say pro teams were looking at him, but I've never seen tape of him playing."
Two Perry Rileys -- one on offense, one on defense. If Riley the running back had the ball with a chance to win the game and the only defender standing between him and victory was Riley the linebacker, who makes the play to decide the outcome of the game?
"If you ask him, he'd probably say I couldn't tackle him," he said with a laugh. "But if you ask me, I think I could get that tackle."
When it was time to select a college to attend, Riley had plenty to choose from. He was considered one of the top linebacker prospects in the state of Georgia, which is why most of the SEC and ACC schools were knocking on his door.
Although his father pushed for him to go to nearby University of Georgia, Riley kept an open mind during the recruiting process. And at the end of the day, he felt a connection with the Louisiana State University coaching staff.
"Everything just clicked," he said. "LSU was just a perfect fit. During my visits with the coaches and again when they came to my house, I felt a better vibe with them than anyone else. It kind of broke my dad's heart at first, but it ended up working out great."
Riley probably feels that way because his sophomore season ended with LSU winning the 2008 BCS National Championship Game over Ohio State, 38-24.
"It's hard to explain what it's like to win a national championship. It really is one of those things you have to experience to truly understand," he said. "It's a great feeling because you work so hard for it. Football doesn't just start in August when the games begin. Every year you're faced with a long, grueling offseason and you put a lot of time and hard work into one goal – winning a championship.
"When you finally accomplish it, it's the best feeling in the world," Riley continued. "It's surreal. It's so hard to explain, but your body just kind of goes numb. When the clock hits zero and you start to see the confetti and then you're holding that crystal football, your body just goes numb. It was amazing."
The following season, LSU blew out Georgia Tech in the 2008 Chick-fil-A Bowl, 38-3. Riley was named the defensive MVP in that game and finished the season as a finalist for the Butkus Award, which is awarded to the top linebacker in the country.
By the time his collegiate career was over, Riley had become a consistent performer on one of the top defenses in the country. But he still wasn't sure how things would play out with the NFL Draft.
"My agent told me he thought I would go somewhere between the third and fifth rounds," he said. "Me, personally, I thought I was better than what I was projected. When I read up on the internet, a lot of different people said I couldn't cover and I lacked foot speed – stuff that I really thought were some of my strengths.
"My speed was one of my biggest strengths," Riley continued. "And I'm not a cornerback by any means, but I thought I was pretty good in coverage for a linebacker. Those were the knocks on me."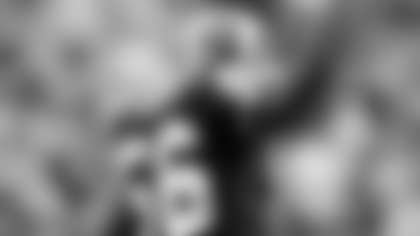 Heading into the draft, Riley was pretty sure he'd end up being selected by either the New England Patriots or the San Francisco 49ers--two respected franchises that showed plenty of interest in him during the draft process.
But it was the Redskins – a team that had given Riley zero indication they were even interested in him – who ultimately selected Riley, in the fourth round (103rd overall) of the 2010 NFL Draft.
"I didn't meet with them at the combine. I didn't talk with any of their scouts or coaches during the whole process. I didn't have the Redskins on my radar at all," Riley said.
While it was a thrill to land in Washington, Riley fully admits his rookie season was a bit of a culture shock.
"It was a big adjustment," he said. "You're coming from your senior year where you're the man at LSU. You're a starting linebacker, a Butkus finalist and everyone knows your name around campus and then you're just a special teams player. I wasn't even dressing for some games.
"I was at the bottom of the food chain, trying to scratch my way up to the top," Riley continued. "You walk in the door differently when you're a senior starter than you do when you're a rookie having to bring breakfast sandwiches for the rest of the linebackers."
For the first year and a half of his NFL career, Riley's playing time was limited to special teams duty. While it was tough to be relegated to the sidelines, the 24-year-old only used it as motivation to work harder so he knew he'd be prepared once an opportunity finally presented itself.
"It was really tough," Riley said. "Every football player is a competitor and thinks they're better than whoever the starter is. It's just the nature of the game. But that really lit a fire under me. I really felt like I could be out there making those plays and that I could help this team. It made me want to show up to practice and show those coaches that I could do whatever they asked of me."
Midway through the 2011 season, Riley's time had come. The 6-0, 238-pound linebacker was finally inserted into the starting lineup against the Miami Dolphins and responded with nine tackles.
"I was ready," he said. "You can ask [defensive coordinator] Coach [Haslett], I told him, 'I won't let you down.' I knew I was ready because I knew the defense a lot better than my rookie year and was waiting for that moment. When it came, I knew I was going to seize it."
Even though he only played half a season on defense, Riley still finished with the fourth-most tackles on Washington's defense. This year has been more of the same, with Riley currently ranked second on the team with 81 tackles.
"I love Perry. I think Perry really works his butt off to get to where he is," Haslett said. "Last year, I think, hurt him not having the offseason. It takes a while to learn a spot because you are not just playing the weak inside position, you are playing both when they change the strengths.
"I think Perry has really limited the mistakes he has made. Obviously he is very athletic and he can do a lot of different things for us. I love where he is at right now."
Riley's stellar play over the last season and a half has also earned the praise of his head coach, Mike Shanahan.
"I think Perry is going to be a heck of a football player," Shanahan said. "He's got natural instincts. He's obviously a lot more comfortable with the system going into this year. He is a playmaker. He has great speed, great agility and always seems to be around the football. There are some people that are just natural football players and he is one of those guys."
And yet, for all of the attention he gets from his teammates and coaching staff, Riley is probably the current starter who Redskins fans know the least about.
"A lot of people don't really hear about me because I don't really do a lot of interviews," Riley said. "That's one of my biggest fears, being in front of cameras and stuff like that. I've never been comfortable with public speaking or in front of a camera. I don't know what it is; it just makes me nervous. Even back in college I hated doing that stuff. But I feel like strong play can overcome that.
"Hopefully people who watch football will feel the same way because I work just as hard and play just as well as the next linebacker who people rave about," he continued. "Don't judge me because I don't like doing interviews. Judge me by how I play."
Along the same lines, when Riley has time away from the game, he prefers to keep things low key and out of the public spotlight as well
"I go home and hang out with my girlfriend and my son," Riley said. "Some of the dudes in the locker room call me an old man because I don't really go out at all. I'm young in age, but I'm an old guy at heart."
Although his son is only 17-months-old, Riley admits he's already looking forward to the day his son (hopefully) decides he wants to play the game that has brought his family so much joy over the years.
"I can't wait," he said. "I'm not going to force him to play, but it would be great if he grows up to love football like I did so I can retrace my dad's footsteps and one day be his coach."