The Redskins have yet to say hello to Donovan McNabb or goodbye to Jason Campbell.
McNabb makes his first public appearance at Redskins Park on Tuesday, a 33-year-old veteran of 11 seasons who is suddenly the quarterback of the future.
Campbell? Who knows when he will be around? At 28, and with six seasons behind him, he suddenly seems like part of the past, a piece of history referred to in the past tense.
Players gathered on Monday morning to continue their off-season workouts and consider the sudden change this franchise underwent on Sunday evening with the acquisition of McNabb from the Philadelphia Eagles.
Good luck finding one who believed that somehow Campbell would be here to compete with McNabb for the starting job and win it.
"It's bittersweet, with everything J.C. has been through," wide receiver Devin Thomas was saying. "It's a sad situation. But I'm sure he'll be OK whether he stays or goes."
The addition of McNabb brings a new dynamic to the offense, Thomas said.
"You couldn't really dream of a better situation, having a Hall of Fame-[caliber] quarterback," he said. "He's one of those quarterbacks you grew up watching and loving. He always played hard and he has always been a team player."
Campbell earned a lot of respect for the way he conducted himself last spring when the Redskins shopped him in an attempt to get enough draft choices to trade up and perhaps chase Matthew Stafford or Mark Sanchez.
He garnered even more as injuries chewed up the offensive line, the season spun out of control and Campbell, battered and beaten up, kept pulling himself off the turf and taking the next snap.
Campbell cannot catch a break. Coaches and offensive systems changed around nearly every year of his college and pro career.
He was drafted by Joe Gibbs, handed to Jim Zorn and then scrutinized by Mike Shanahan, who won two Super Bowls with an aging John Elway and later made trades for Brian Griese and Jake Plummer.
In any other year, Campbell would have been an unrestricted free agent now. But the NFL's changed labor landscape now restricts five-year veterans and Campbell has not signed his one-year tender.
Certainly they discussed the varied scenarios when they had lunch together on Tuesday, away from Redskins Park.
If another team made an offer that the Redskins chose not to match, Campbell would cost a No. 1 pick as compensation. He will not draw anything near that in any subsequent maneuver.
Defensive back Byron Westbrook's locker abuts Campbell's. Westbrook's brother, Bryan, played eight seasons in Philadelphia with McNabb. Talk about mixed emotions.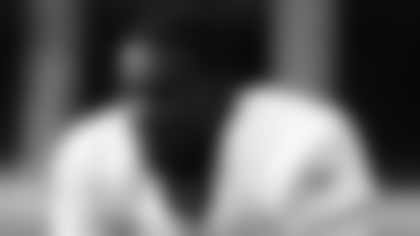 "I've been sitting next to J.C. for two years," Byron Westbrook said. "I definitely feel for him. Off the field, he's a great guy. He's not the most vocal leader but he's a quiet leader and he leads by example.
"I know he's frustrated. Different coaches, different offensive coordinators, you've got to feel for the guy. He had a good year with everything we went through last year and you hope he gets into a good situation, whether it's here or somewhere else."
Yet Westbrook cannot help but also feel a certain excitement. He knows what his brother has told him about McNabb and he has played against him.
McNabb's successes speak for themselves but Westbrook also gives them voice.
"You can't down him from his body of work. Five NFC championship games, a Super Bowl, countless Pro Bowls. When they said he wasn't a pocket quarterback, he proved them wrong," Westbrook said.
"He has been to the playoffs more than most of the guys on our team have. He's an older vet, he has been around the league and he has seen a lot of things. Hehas been in the West Coast offense his whole life and he has been to the big game before."
His standing counts. Achievements matter in this league.
So stunning was this Easter-night turn of events that guard Mike Williams, when phoned by reporters, thought the Redskins had picked up free agent Daunte Culpepper.
"I was out of it," he said with a laugh.
Then he checked the internet and got "a big surprise."
Donovan, not Daunte. Staying in the NFC East, where he has tortured the New York Giants (three straight regular-season wins, two playoff victories) and the Redskins (a sweep last year).
"It's one of those chess moves, a move that could be a game-changer," Williams said. "It's big. It's going to be exciting."
---
Larry Weisman, an award-winning journalist during 25 years with USA TODAY, writes for Redskins.com and appears nightly on Redskins Nation on Comcast SportsNet. Read his Redskinsblitz blog at Redskinsrule.com. Follow him at Twitter.com/LarryWeisman.