Clinton Portis and Rock Cartwright were honored on Thursday evening at the NFL Players Gala featuring the JB Awards at the Washington Hilton.
The JB Awards is an annual gala hosted by James Brown, host of "The NFL Today" on CBS, and the NFL Players Association to benefit Special Olympics D.C.
Portis received a special award at the event as the Special Olympics D.C. Athletes' Choice.
Portis and Cartwright were among 16 NFL athletes invited to the event in honor of their community and charitable efforts.
In 2004, Portis established the Clinton Portis Foundation to benefit local youth in various ways, including community activities and general scholarships.
Last year, Portis teamed up with Jason Taylor to host a joint birthday party at the Kennedy Center in Washington, D.C., to benefit local charities.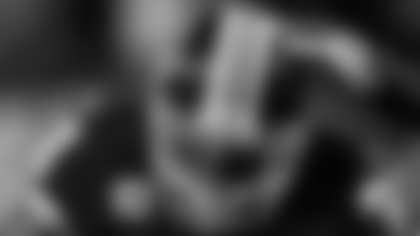 Portis is also a regular participant in the Big Tigger Annual Celebrity Classic, a basketball tournament held as part of a local charity weekend designed to raise funds and public awareness for HIV/AIDS.
Cartwright has worked to help underprivileged children of the Washington, D.C., area.
In 2007, he distributed books at a Score With Reading event and participated in the complete renovation of a teen room at the Boys and Girls Clubhouse in the city.
Partnered with the Redskins Charitable Foundation and Dick's Sporting Goods, Cartwright has handed out winter coats to 300 local children.
He has also distributed food baskets at FedExField in conjunction with the Harris Teeter-Redskins Harvest Feast on Thanksgiving.
Both Portis and Cartwright have spoken to high school students about making the right choices and preparing for college at the Redskins Charitable Foundation's "4th & Life" forum at FedExField.
Every year, Brown selects 12 players to receive a JB Award with one of the finalists named the winner of the Byron "Whizzer" White Award.
The full list of players to receive a JB Award this year is as follows:
'JB AWARD' WINNERS 2009
Player
Team
Gary Brackett, LB
Indianapolis Colts
Greg Camarillo, WR
Miami Dolphins
Chris Draft, LB
St. Louis Rams
Mike Furrey, WR
Detroit Lions
David Thornton, LB
Tennessee
Drew Brees, QB
New Orleans Saints
Isaac Bruce, WR
San Francisco 49ers
Tony Pashos, OL
Jacksonville Jaguars
Rock Cartwright, RB
Washington Redskins
Brian Dawkins, S
Philadelphia Eagles
Daniel Wilcox, TE
Baltimore Ravens
Kurt Warner, QB
Arizona Cardinals
Teams identified for '08 season**
Arizona wide receiver Larry Fitzgerald, Pittsburgh quarterback Ben Roethlisberger and Baltimore quarterback Joe Flacco join Portis in receiving individual awards at the event. Fitzgerald earned an award for 'Impact,' Roethlisberger earned an award for 'Perseverance' and Flacco earned an award for 'Emerging Leadership.'
Brown, a Washington, D.C., native known in NFL circles as "J.B.," personally selected the 12 NFL players to receive a JB Award.
On the morning of the gala on April 16, approximately 75 Special Olympics athletes joined player-honorees for a non-contact football clinic.
Players interactedwith the athletes and helped demonstrate a variety of offensive and defensive skills, including passing, receiving and kicking.
The awards banquet was founded in 1972. The NFLPA has made donations of more than $3 million to Special Olympics D.C. since they became the beneficiary of the gala in 1993.