Jon Jansen has unpleasant memories of the Redskins' last visit to Canton, Ohio.
In the 2004 Hall of Fame Game, Jansen suffered a ruptured Achilles injury that sidelined him for the season.
With the Redskins set to head back to Canton for the 2008 Hall of Fame Game against the Indianapolis Colts, Jansen is returning from a fractured ankle suffered in Week 1 last year.
Like most veterans, Jansen, a 10-year veteran out of Michigan, probably won't see much action on Sunday.
Even so, it will be important for Jansen to continue to make progress and especially get over the memory of his experience in the '04 Hall of Fame Game.
If he were somehow able to erase those two plays from his career--versus Denver in the 2004 Hall of Fame game and versus Miami in last season's opener---Jansen would be seen as a model of consistency and durability. That goes all the way back to his college career in the Big 10.
As it is, Jansen has played in 116 NFL games, all with the Redskins and all at right tackle. Aside from those two injuries, he rarely misses a snap, even at practice.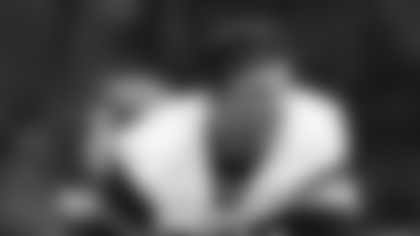 Jon Jansen (Don Wright Photo)
Jansen bounced back from his 2004 injury to have an outstanding 2005. He'll be trying to do much the same once again this year.
And it's evident that he has a newfound level of appreciation for the game.
"You do cherish the moment more," he said. "I'm nowhere near the end of my career, but when you play this game long enough, you're going to have things come up that you have to battle through.
"Most of the [injuries] I've been able to play through, so I don't mind them so much. It's the unfortunate ones where you're taken out early in the season and you can't play, those are frustrating.
"But if you play long enough, it's going to happen."
In his locker at Redskins Park, Jansen has attached a photo of himself on FedExField, in the moments after he suffered the fractured ankle in Week 1 last year.
"It's a reminder that you never know what's going to happen. I want to make sure I have no regrets and I go out and take every day for what it is. It's a great day for being out playing football and doing what I love."
Jansen, listed at 6-6 and 297 pounds this season, cleared a major hurdle on July 26 when he participated in the Redskins' intra-squad scrimmage. He looked well on his way to returning to form.
Jim Zorn certainly discerned as much.
"Jon was very active and it didn't look like he was limping around on his ankle," Zorn said. "I was very impressed."
Jansen knows he can't erase what happened last year, or in 2004. So he looks to better days ahead on the football field.
"It's part of my past," he said. "It just really made me realize how precious every day is, playing football--living my dream and playing the game that I love."