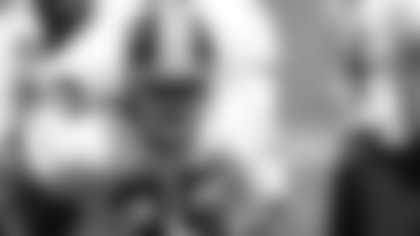 Redskins rookies, first year players, and roster hopefuls took the field at Redskins Park this morning for the second day of rookie mini-camp.
The rookies hit the field around 10 a.m., and broke into position groups shortly after a team stretch.  The weather has been unseasonably warm and humid for the first two days of practice, putting the training staff on alert for cramps and dehydration.
In general, the position groups explored more complex drills and a higher degree of intensity today.  While this camp is a learning experience for draft picks like Robert Griffin III, it's a weeding out process for others.
Players have three days and five practices to impress the coaching staff and scouts on the field.  If they do, it's the first step of a long road to the roster.  If they don't, their professional dreams could be finished.
This tryout process is an area that the Redskins have excelled in, in recent years. 
Willie Smith was a training camp invite last year, earning a roster spot at the end of camp.  After starting three games last year, he has the potential to be the longterm solution at right tackle.
Darrel Young, Brandon Banks and Logan Paulsen were three undrafted players in 2010, and have each scored an offensive touchdown in their first two seasons. 
Historically speaking, Redskins captains London Fletcher and Lorenzo Alexander were both undrafted free agents in their respective years and impressed teams during tryouts.
Who will the next undrafted free agent gem be?  Only time will tell, but there are a few guys to keep an eye on.
Chase Minnifield, CB, Virginia: A once highly-touted NFL prospect, Minnifield had his senior season derailed by injury, forcing him off many draft boards.  If he can prove his health, he could be an undrafted steal.
Darius Hanks, WR, Alabama: A national champion and stud at the East-West Shrine Game, Hanks had the projection to go as high as the fifth round.  He comes to Washington as another one of the dozen signed college free agents.
Andre Anderson, RB, McNeese State:Anderson averaged over 4.5 yards per carry in college, and brings explosive quickness out of the backfield.  He is a tryout this weekend