Redskins.com's training camp practice reports come to you with news and updates as action happens on the Redskins Park practice fields:
-- 7:15 a.m. ET
Practice Moved to 2 p.m. ET
Rain pounded the Washington, D.C., region all morning, and word came down about 20 minutes ago.
The Redskins have delayed the start of practice until 2 p.m.
If you're on your way out to Redskins Park, might as well head to a nearby coffee shop and relax for a few hours. (That's what I would do.)
Tarps are on both of the main practice fields for now.
-- 8:20 a.m. ET
The Redskins hosted a closed practice on Tuesday morning -- and by all accounts it was one of the sloppiest sessions of training camp.
Coaches varied the snap counts on offense and players were out of rhythm on both sides of the ball. It was a disjointed practice performance.
At one point, Mike Shanahan halted practice and gathered players around him for a pep talk.
"What you do if you are making a few mistakes is you stop practice and you talk," Shanahan said. "You emphasize the points you are trying to get across.
"This is usually the week where everyone is a little bit sore and everyone is looking forward to camp getting over with. At the same time you are getting a game plan ready--not a total game plan, just a part of it.
"It's a different kind of week than they are accustomed to."
We'll see if his words are heeded on Wednesday.
-- 9:50 a.m. ET
Look for rookies Brandon Banks and Terrence Austin to serve as the primary punt returners in practice this week and in this Saturday's preseason game vs. Baltimore at FedExField.
Phillip Buchanon, listed as the No. 1 punt returner on the depth chart, is expected to get some work on punt returns later in preseason.
"Part of it is evaluating the guys you have not seen on film," Mike Shanahan said. "I've watched Phillip. Phillip returned punts back in Miami and throughout his time in the league. I think I get a good feel that he is hungry to do it, same with DeAngelo [Hall] and a few other guys."
Banks had a 77-yard punt return for a touchdown in the Redskins' 42-17 preseason win over Buffalo.
Austin had three returns for an 8.0-yard average.
-- 1:45 p.m. ET
Andre Carter is the first Redskin to head to the practice fields.
It is a downcast afternoon and there are reports of more rain on the horizon.
Tarps were removed from the field about a half-hour ago.
Decent crowd on hand for practice, but not a huge one. It's understandable since the morning practice was moved.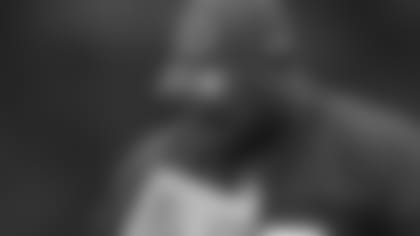 If you have the afternoon off from work, come on out.
-- 1:50 p.m. ET
Albert Haynesworth, who sat out the latter part of Tuesday's practice after he started feeling ill, headed out to the practice field without shoulder pads.
It appears he is going to sit out the practice.
On Tuesday, Haynesworth participated in a handful of 11-on-11 snaps before heading to the sidelines.
Mike Shanahan said he did not think it was heat-related.
"I just think he wasn't feeling well," Shanahan said. "I'm not sure exactly what it was, but doctors didn't feel like it was heat related."
-- 2:03 p.m. ET
Prior to warm-ups and stretch, the Redskins' secondary spent time working on interception drills.
It has been a point of emphasis for defensive coaches every practice.
On the far field, cornerbacks and safeties practice trying to make over-the-shoulder catches on deep balls.
It helps them focus on defending the pass route while also maintaining awareness of the ball.
-- 2:15 p.m. ET
Immediately after warm-ups and stretching, the Redskins headed right into 11-on-11 work.
Given the damp conditions, it appears coaches want practice to have a quick tempo. Get the work in, and get practice over with.
The early emphasis is on the run game.
Trent Williams had a strong block on Brian Orakpo to free up a run by Larry Johnson.
Later, Edwin Williams pulled left and stuffed Perry Riley on another run to the left.
-- 2:20 p.m. ET
Joining Albert Haynesworth on the sidelines of practice are Ma'ake Kemoeatu and Phillip Daniels.
It appears Kemoeatu and Daniels are getting a veteran's day off.
Malcolm Kelly is also not practicing. He was jogging on the sidelines during 11-on-11, but not alongside athletic trainers.
And Fred Davis is not on the practice field. Not sure about his status.
-- 2:25 p.m. ET
For the second day in a row, Mike Shanahan halted practice and gathered players around him.
He gave them another pep talk, encouraging them to show more focus and intensity.
Then Shanahan had them start the 11-on-11 session over.
The message is clear: Shanahan wants players to practice as they would play. Let's see if the action picks up.
-- 2:34 p.m. ET
After 12 consecutive run plays, the offense started to open up the passing game.
Lots of short stuff in the early going, particularly screen passes.
Here are some notable plays:
Donovan McNabb connected with Santana Moss on a short route and he was able to elude Rocky McIntosh for more yardage downfield.
McNabb tossed a screen pass to Larry Johnson, and he had Casey Rabach running downfield in front of him. Rabach ran about 15 yards before he could find someone to block. Portis followed him downfield for a big gain.
McNabb threw to rookie Terrence Auston on a short crossing route across the middle of the field. Carlos Rogers was on his heels, but he still caught the ball and turned up-field.
Santana Moss caught a short pass and was the recipient of a nice block from Joey Galloway. Moss raced past the block before he was pushed out of bounds.
Rex Grossman fired a sharp pass to Galloway, and he caught the ball even as Phillip Buchanon swiped at it.
Grossman fired another quick pass, this time to Devin Thomas who found an opening in the secondary and caught the ball in stride.
Richard Bartel threw a screen pass to Clinton Portis, who raced up-field for a nice gain. Chad Rinehart got out in front of Portis and had a block downfield.
Lorenzo Alexander had strong coverage on Bartel's short pass to Portis and pulled him down for a short gain.
John Beck eluded pressure from his right and threw to Anthony Armstrong along the right sideline. He got a step on Buchanon in coverage.
-- 2:40 p.m. ET
Yep, Larry Johnson is going to play on Saturday. Perhaps a lot.
Johnson had a lot of reps in Wednesday's practice. He is expected to start Saturday's preseason game against the Baltimore Ravens.
Mike Shanahan said on Tuesday that Johnson appears motivated to have a good game against a stout Ravens defense.
"Since I have been around Larry, he has been very consistent," he said. "I do see a sense of urgency this week. He is going to get an opportunity to showcase his talent and I think he is looking forward to the opportunity.
"Some players are hungry. When I was with Jerry Rice at 40, he was just as hungry at 40 as he was at 25 or 28. There are different mindsets with players. Larry looks like he is very motivated and looking forward to his opportunity."
-- 2:42 p.m. ET
Fred Davis was not at practice for the first half-hour or so, but he arrived late.
He appears to be full-go, too.
Not sure what Davis's situation is, but Mike Shanahan is sure to address it after practice.
-- 3:15 p.m. ET
Mike Shanahan's words were heeded.
The Redskins concluded practice with another 11-on-11 session and there was definitely more intensity and physicality on both sides of the ball:
Mike Sellers occupied Howard Green -- two big men going at it at the line of scrimmage -- allowing Clinton Portis to break through on a run.
Another screen pass: Donovan McNabb threw to Clinton Portis. Trent Williams was late with a block on Phillip Buchanon, but Portis escaped anyway.
Mike Sellers caught a pass across the middle, but landed into Lorenzo Alexander. It was a rough collision, and Sellers fell hard to the ground. He was slow to get up, but he was okay afterwards.
LaRon Landry fended off blocks and helped string out Ryan Torain on a run to the left. Landry wrapped him up along left sideline.
Kareem Moore was one-on-one with Anthony Armstrong on a deep ball. Carlos Rogers came over and knocked the ball out of Armstrong's outstretched arms.
Byron Westbrook tackled rookie Shay Hodge on a short pass to the left.
Ryan Torain had a nice run to the right, thanks to some great blocking by Clint Oldenburg and Chad Rinehart. Torain was not touched until about 10 yards downfield.
Logan Paulsen was wide open to right, and headed to the end zone. Anderson Russell leveled a hit on him at one-yard line, forcing him out of bounds. No score.
-- 3:35 p.m. ET
The Logan Paulsen-Anderson Russell play in the final 11-on-11 work was the last play of practice.
Offense stopped at the 1-yard line.
Even though Paulsen raised his arms indicating he thought he scored.
Were the players disappointed that practice ended at the 1-yard line?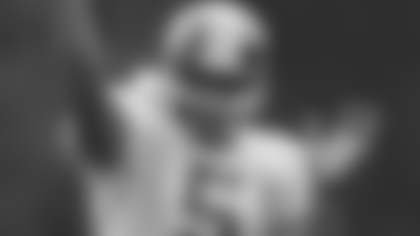 "I'm not sure if they were or not," Mike Shanahan replied. "The defensive players thought they won and the offensive guys thought they won. So it was a pretty good outcome."
3:55 p.m. ET
McNabb: Practice Was 'Physical'
Donovan McNabb has seen his share of physical training camps. Wednesday's practice was among the more physical he has seen.
"The defense was pretty fired up, but we look forward to coming out here [Thursday] and hopefully we'll be the ones fired up. That's what being competitive is all about. There's a lot of trash talking going on, guys are banging around.
"We've been hitting each other for a while now and we've been seeing each other since OTAs and mini-camp. Things kind of boil over, so that's why you're excited about playing another opponent and seeing new schemes."
-- 4:30 p.m. ET
Mike Shanahan did not go into details why Fred Davis was late for Wednesday's practice.
"He left for personal reasons," Shanahan said. "He came back and still got a good workout in."
Davis has been among the standouts of training camp.
After practice, Shanahan discussed Davis's athleticism as a young, emerging tight end.
"He has a tremendout amount of skill and he is getting more comfortable with the system as time goes on," Shanahan said.
-- 4:35 p.m. ET
Turns out that Albert Haynesworth was held out of Wednesday's practice after he experienced some heat-related issues on Tuesday.
That's different from what Mike Shanahan initially suggested had happened.
"I didn't think it was [heat related] because he was only out there for about 10 minutes [on Tuesday]," Shanahan said. "After talking to our trainer, he said he was dehydrated and it was heat related. I didn't think it would be possible that quick. But, I guess it was from the previous day that he had those symptoms."
Also, Ma'ake Kemoeatu sat out practice with a sore shoulder, Shanahan said.