Redskins.com's training camp practice reports come to you with news and updates as action happens on the Redskins Park practice fields:
-- 8:38 a.m. ET
Yes, the Redskins are practicing. Yes, there is work to be done.
But this is a day for the fans.
It remains impressive the passion and dedication of Redskins fans. It's the middle of summer, and fans come out by the thousands to watch practice.
In the words of Allen Iverson, we're talking about practice.
Fans were already lined up at the entranceway to Redskins Park at 7 a.m.
Enjoy the day, whether you're here at Redskins training camp or you're following online or on Twitter or you're catching the highlights on the nightly news.
-- 8:40 a.m. ET
Fan Appreciation Day Timeline
First off, there's no scrimmage this year.
Head coach Mike Shanahan wants to spare players excessive hitting and pounding, so he is not holding an intra-squad scrimmage, as the team has done in years past.
Here's a tentative timeline of the day's scheduled events.
At 10:30 a.m., the Redskins Marching Band and the Redskins Cheerleaders perform on the field.
Sometime between 11-11:30 a.m., Redskins general manager Bruce Allen is scheduled to address fans from the field.
After Allen's address, Redskins players arrive on the field to begin warm-ups and compete in drills.
At 12 noon, practice begins. The team typically mixes in 7-on-7 and 11-on-11 drills with special teams work, but there is no tackling.
The practice is scheduled to last about 90 minutes.
Afterwards, head coach Mike Shanahan will briefly address fans.
-- 8:45 a.m. ET
Can't Forget About Haynesworth
Albert Haynesworth took his conditioning report on Saturday morning.
This much we know for sure.
Any reports that he passed are premature. Nothing is official yet.
We'll see if he joins teammates -- in full pads -- for practice.
And Mike Shanahan will address the Haynesworth situation in his media session after practice.
That's the official word.
-- 8:50 a.m. ET
The Redskins have opened the gates and let fans onto the grounds about 10 minutes early.
Pop music – we're talking Black Eyed Peas and Lady Gaga and the like – is playing on huge speakers.
The sun is shining bright, but humidity is non-existent at the moment. There's even a nice breeze.
It's still two hours or so before players are due out on the practice field. Some are in meetings, others are taking a respite between meetings. Some are in the cafeteria eating breakfast, others are in the locker room listening to music.
Meantime, the grounds are filling up fast with fans.
-- 9:19 a.m. ET
Williams Says Offense Is Progressing
Trent Williams has been with the Redskins for a little more than three months, but he can already sense that the offense is improving.
"I feel good about everything we have going on," Williams said. "Every practice we're getting better. We're getting new looks and the coaches are throwing a lot at us. And we're responding very well."
Williams's status will be watched on Saturday.
He tweaked his hip during Friday's practice, Mike Shanahan said.
"It got a little tight," Shanahan said. "He's getting treatment on it. He should be okay...Talking to the athletic trainer, he felt that it should not keep him from working."
-- 10:05 a.m. ET
Every Fan Appreciation Day, the Redskins hold free raffles and give away some great autographed merchandise.
This year is no different.
Among the items available to fans in attendance: a Brian Orakpo-signed football, practice-used football signed by Donovan McNabb, Chris Cooley and Mike Shanahan, and LaRon Landry and Clinton Portis replica jerseys.
-- 10:40 a.m. ET
The Redskins Cheerleaders take the field, followed by the Redskins Marching Band.
Redskins Broadcast Network's Larry Michael takes the microphone as emcee.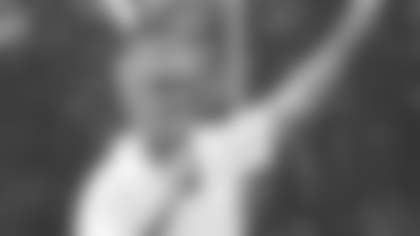 The festivities have begun.
It's starting to heat up, but it's not unbearable.
Listening to "Hail to the Redskins" and watching the cheerleaders perform make you forget about the humidity.
-- 10:50 a.m. ET
Larry Michael introduced two Redskins greats to the Fan Day crowd: running back Larry Brown and defensive lineman Brig Owens.
Of course they received a rousing ovation.
Even though many of the Redskins fans in attendance never saw Brown and Owens play, their acknowledgement speaks volumes about the pride of Redskins history.
Question: Is Larry Brown one of the more underappreciated Redskins of all time? I think so.
Chief Zee, perhaps the greatest Redskins fan of all, is also on hand. He is busy signing countless autographs.
-- 11:02 a.m. ET
General manager Bruce Allen took the microphone from Larry Michael at midfield.
His comments focused on a topic near and dear to his heart: the Redskins' history.
"We thank you for your support 50 years ago, 40 years ago, 30 years ago, 20 years ago and the last decade," Allen told the crowd. "We are so proud of our history. And this year we are trying to create our own [history]."
Allen mentioned the induction of Russ Grimm to the Pro Football Hall of Fame.
"Let's hear it for Russ and the Hogs," he said.
Allen concluded his brief remarks: "We thank you for your support and we look forward to a great year. Thank you for coming."
-- 11:25 a.m. ET
About 15 minutes ago, a gauntlet of television cameras set up along the edge of the field to capture Albert Haynesworth – who else? – as he walked onto the field.
Well, Haynesworth has arrived.
His No. 92 jersey is rolled up to reveal that he is wearing full pads for the first time this training camp. He is carrying his helmet.
From all appearances, Albert Haynesworth is going to practice with teammates.
And so that would mean that he passed the Redskins' conditioning test early on Saturday morning.
Haynesworth headed to the practice field alongside Phillip Daniels and Adam Carriker.
Amid cheers, a fan shouts out, "Way to go, Albert! Way to go!"
-- 11:40 a.m. ET
Full stretch is underway on the Redskins' main practice field.
Trent Williams walked out to the practice field wearing full gear.
It appears Williams is practicing despite tweaking his hip in Friday's practice.
-- 11:55 a.m.
After stretching, Malcolm Kelly, Howard Green and Jammal Brown head over to work with athletic trainers on the sidelines.
Kelly continues to be sidelined with a pulled hamstring injury.
Brown has been slowed by a hip injury.
And Green's injury is unknown at this point.
-- 12:05 p.m. ET
Quarterbacks, wide receivers and cornerbacks gather on the main practice field.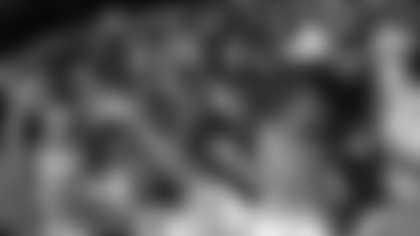 One of the more exciting drills – wide receivers and cornerbacks, 1-on-1.
DeAngelo Hall broke up a pass to Roydell Williams. The pass, from Donovan McNabb, was thrown behind Williams, allowing Hall to slap the ball away.
Anthony Armstrong cut in front of Ramzee Robinson to catch a short pass.
Rookie Brandon Banks ran deep against Phillip Buchanon. Despite Banks' speed, he can't out-run him. He pushes Buchanon in the back to get better position on the ball, but he still is unable to make the catch.
Williams ran to the right, then faked out Kevin Barnes by shifting left, and he was wide open for an easy catch.
Armstrong ran a slant route, cutting in front of Bryon Westbrook for an easy grab.
Devin Thomas runs an out route and pulled in a pass ahead of Barnes.
-- 12:25 p.m. ET
Fast tempo at training camp continues. Here's the action from goal-line work.
Ball placed at 2-yard line. Here we go…
Clinton Portis took the handoff from Donovan McNabb and shifted right. He was met by a wave of defenders and finally stopped by rookie Perry Riley.
Great coverage by Riley on next play. He wasn't fooled on deep route by Santana Moss and stayed with Mike Sellers on a short route. McNabb opted not to throw to Sellers; instead he rolled right and threw to Chris Cooley on the opposite field. The pass was just out of Cooley's reach.
Offense targets Riley again. On consecutive plays, Larry Johnson took a handoff and raced to the left corner of the end zone. Both times he beat a hard-charging Riley to the end zone.
McNabb threw a fade pass to Fred Davis in the end zone for a touchdown. Davis got a step on Reed Doughty.
Dennis Morris and Darrel Young with great blocks, allowing Ryan Torain to bulldoze into the end zone for a touchdown.
-- 12:50 p.m. ET
Redskins have an wide-ranging practice script for Saturday's practice.
And they are giving fans a great view of the action.
Here are some red zone highlights, ball placed on 20-yard line.
A great play by Rocky McIntosh – he dove in front of Mike Sellers to bat away a Donovan McNabb pass. He high-fived London Fletcher afterwards.
Trent Williams with a great block on London Fletcher, pushing him to the ground and freeing up Clinton Portis. A wave of defenders converged quickly on Portis and his run was stopped after a 5-yard gain.
Fred Davis is having a really great practice. He grabbed a 20-yard touchdown pass from Rex Grossman after getting a step on Reed Doughty in coverage.
Rex Grossman threw deep to Roydell Williams, but his pass is overthrown. Phillip Buchanon appeared to have solid coverage.
Ramzee Robinson intercepts an underthrown Richard Bartel pass in the end zone.
Brandon Banks took the handoff from Grossman on a wide receiver reverse and ran an end-around for 15 yards.
Another overthrown pass by Richard Bartel. This time, Byron Westbrook raced over in front of Chris Cooley, the intended target, and picked off the pass in the end zone.
Rookie wide receiver Shay Hodge was in position to block out two defenders downfield, allowing Larry Johnson to weave his way past them on his way to the end zone.
-- 12:52 p.m. ET
Short Practice For Haynesworth
Albert Haynesworth cut practice after defensive linemen completed drills.
He was wearing a baseball cap and his knee was wrapped.
Haynesworth has been dealing with a sore knee, so it appears coaches are being cautious with him.
With his first day done, at least now the media can turns it attention to other storylines. There are a lot of them out here.
-- 1:08 p.m. ET
Rex Grossman appeared to be having a tough go of it during Saturday's practice.
He needs to get timing down with receivers and improve his accuracy.
Time and again, Grossman overthrew receivers on intermediate and deep routes.
Then, in late practice 11-on-11 work, Grossman may have had the play of the day.
He threw deep -- off his back leg -- to Anthony Armstrong running a post route down the middle of the field.
Armstrong beat DeAngelo Hall by a few strides for the touchdown.
-- 1:10 p.m. ET
This is by far the best 11-on-11 action of training camp.
The team really is saving its best for Fan Appreciation Day.
Here are some of the highlights:
Byron Westbrook fought off receiver and picks off a Donovan McNabb pass. Westbrook raced down right sideline for a touchdown.
McNabb connected with Santana Moss on a slant route for a nice gain.
Larry Johnson caught a short pass from Rex Grossman, but London Fletcher was there to wrap him up for a loss.
Grossman ran a bootleg to the right. He out-ran Adam Carriker to the sideline for a 10-yard gain.
Carlos Rogers met Larry Johnson head-on to stop a run to the left. Rogers pushed Johnson out of bounds to end the play.
Ramzee Robinson intercepted a Donovan McNabb pass in the end zone, ending a drive. McNabb's pass was to Santana Moss.
Lendy Holmes had a sure interception off of John Beck at end zone, but ball bounced off his hand and into the arm of rookie wide receiver Shay Hodge. Touchdown.
Jeremy Jarmon got pressure up the middle on Richard Bartel. It would have been a sack.
Richard Bartel capped his drive by throwing to rookie Terrence Austin in back of end zone for a touchdown.
-- 1:35 p.m. ET
Each of the quarterbacks had an opportunity to run the hurry-up offense at the close of practice.
Donovan McNabb's series was highlighted by a sensational diving catch by Chris Cooley, who got a step on Chris Horton in coverage, for a 20-yard pickup.
Rex Grossman drove the second-team offense into scoring range. Graham Gano came on to attempt a 40-yard field goal. His kick sailed wide left, no good.
Later, Richard Bartel was able to move the third-team offense downfield. Gano came on again for what appeared to be another 40-yarder. This one split the uprights.
-- 1:50 p.m. ET
Minutes after practice ended, Mike Shanahan grabbed the microphone and addressed the fans.
Like Bruce Allen, he kept his comments brief.
"What a great crowd, great support," he said. "We're looking forward to the season…You fans make us very proud, and hopefully we'll make you proud this season."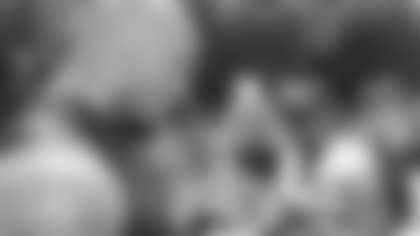 -- 2:10 p.m. ET
Once practice had ended, the entire Redskins team headed to fans standing along the sidelines.
This was a great sight to see.
Donovan McNabb, Clinton Portis, Chris Cooley all stayed for more than 30 minutes signing Yearbooks, tee-shirts, jerseys and more.
Mike Shanahan was still signing autographs more than an hour after practice had ended.
Albert Haynesworth drew a huge crowd of fans, as well as media.
With a gallery of television cameras behind him the entire time, at one point he posed for a series of photos with fans.
"I feel like a movie star," Haynesworth joked with the fans.
-- 2:25 p.m. ET
After signing autographs for more than 30 minutes, Albert Haynesworth was ushered off the field and to the podium behind Redskins Park.
He had a brief statement to make to the media. He would not take questions.
"The test is over and now it's back to playing football," he said. "I want to thank all the fans for coming out, still supporting me, still wearing No. 92 jerseys, and still believing in me."
With that, Haynesworth headed inside for more treatment.
One reporter was observed saying, "That's it?"
-- 4:57 p.m. ET
More Than 29,000 Attend, Team Says
The Washington Redskins announced that more than 29,000 people attended the team's annual Fan Appreciation Day at Redskins Park in Loudoun County, Va.
Festivities prior to the Redskins' two-hour practice, which began at 12 noon ET, included performances by the Redskins Marching Band and Cheerleaders and a welcome from Redskins executive vice president/general manager Bruce Allen.
Executive vice president/head coach Mike Shanahan addressed fans at the end of practice and later signed autographs for more than an hour. Every Redskins player and coach signed autographs and mingled with fans following practice.
Redskins officials opened gates one hour and 15 minutes early, at 8:45 a.m., because of the several thousand fans lined up waiting to enter Redskins Park.
As of this weekend, more than 58,000 fans have signed up to attend one of the open sessions of the Redskins' 2010 Training Camp Presented by RE/MAX, surpassing the previous record high of 56,445 set in 2006.