Redskins.com's training camp practice reports come to you with news and updates as action happens on the Redskins Park practice fields:
-- 7:50 a.m. ET
Training camp is beginning to settle into a routine, and for the coaching staff the first week is all about installation of the scheme on both sides of the ball.
Think of it as NFL players back in school.
Coaches are putting in new plays every day, giving players a chance to absorb and apply the playbook on the field.
The second week, coaches begin to tweak plays to fit personnel and even formulate a game plan.
"Usually in the first week everything is a little chaotic because you're trying to get a lot of repetitions on a lot of new things," head coach Mike Shanahan said. "And then the second week, you kind of isolate it down where you get a little more of a game plan. You see what you're best at or what the players are doing that they feel comfortable with.
"It's an ongoing process. Some days go really well, some days are really bad, but you've got t o work through it as a team. And that's what we're doing."
-- 8:10 a.m. ET
Sad to see Colt Brennan get released from the Redskins. He had an engaging personality on and off the football field.
Bottom line is this: Brennan was really struggling at Redskins training camp. Many of his passes were off the mark or under-thrown.
He just never seemed to find a rhythm after missing all of 2009 due to hip and hamstring injuries.
For coaches, it may have been hard to evaluate the third- and fourth-team receivers -- guys like Bobby Wade, Mike Furrey, Shay Hodge and Brandon Banks -- because many of Brennan's passes were poorly thrown.
It was time to cut ties with Colt.
Good luck to him in the future.
-- 8:15 a.m. ET
Seems like Brian Orakpo, coming off a Pro Bowl rookie season, is having a quiet training camp.
Best to be quiet now and then make some noise in the regular season, I suppose.
Even though he's in his second season, Orakpo wants to step up as a leader.
"I try to be a leader," he said. "I'm just trying to keep doing what I'm doing and also be more vocal out there. Obviously a lot of people depend on me to make plays. We have a really good chemistry and everybody's on board. I really feel like we're going to do some big things this year."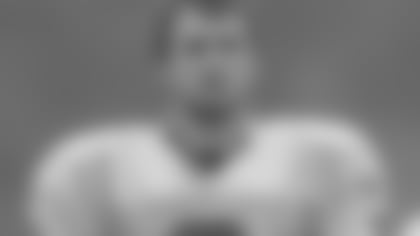 Orakpo posted 11 sacks as a rookie last year. It's expected that he could be more disruptive playing outside linebacker in a 3-4.
"We'll see, man," he said. "Obviously they're going to put me in situations where I can rush a little more and I'm able to create turnovers, get the ball back to our offense. We'll see how it all transpires. I'm excited."
-- 8:30 a.m. ET
So the Redskins have a new quarterback on the field.
The team acquired John Beck from the Baltimore Ravens on Monday after practice. First-year cornerback Doug Dutch, a Washington, D.C., native, was shipped to the Ravens.
Beck is wearing No. 3, for those keeping score at home.
The 6-2, 215-pounder was a backup to starter Joe Flacco on the Ravens last year. During training camp this year, he was coached by former Redskins head coach Jim Zorn, now the Ravens' quarterbacks coach.
Beck entered the league in 2007 as a highly regarded second-round draft pick (40th overall) by the Miami Dolphins.
In his rookie campaign, Beck played in five games, with four starts, and completed 60-of-107 passes for 559 yards, one touchdown and three interceptions. He did not play in his second season with Miami.
Beck played college football at Brigham Young. He was a three-year starter at BYU, with 885 completions on 1,418 attempts (62.4 percent) for 11,021 yards, 79 touchdowns and 34 interceptions.
-- 8:35 a.m. ET
Quick Word On Haynesworth
Albert Haynesworth did not take the conditioning test on Tuesday as he continues to rest a sore knee.
Haynesworth is out on the field, wearing his No. 92 jersey and a baseball cap.
He watched defensive linemen work through drills and continued to take mental reps.
Hoping that's the last word on Haynesworth for the day.
-- 8:36 a.m. ET
It's another overcast day, but no rain clouds in the sky.
Very little humidity and a nice breeze, too.
Perfect day for Redskins training camp. Come on out if you're nearby.
-- 9:30 a.m. ET
Tuesday's practice has been heavy on drills. Players are working on the far field -- not too advantageous for fans.
Here are some quick highlights from 7-on-7:
Donovan McNabb tossed a quick pass to Roydell Williams across the middle for a nice gain. Easy route when there are fewer defenders, though.
Carlos Rogers with an interception of a Donovan McNabb pass. Rogers jumped the route and raced to the end zone for a touchdown.
First work for John Beck, he completed a pair of short passes to Ryan Torain across the middle. Torain had to reach awkwardly for the ball. Timing will come for Beck and the receivers.
-- 9:45 a.m. ET
As most players work on the far fpractice ield, special teams specialists work on the field closest to fans.
Graham Gano is kicking field goals on his own, giving fans a clear view of his progress.
He made all of the short range attempts.
He attempted a pair of field goals from 55 yards. First one split the uprights, drawing cheers. Second attempt was wide left.
Head coach Mike Shanahan gave Gano a vote of confidence by not bringing in veteran competition for training camp.
"I have been impressed by Graham," head coach Mike Shanahan said last week. "He has done a great job since I've been here...Hopefully we can just keep getting better in that area."
-- 9:55 a.m. ET
Redskins quarterbacks gathered at midfield while special teams drills were going on.
Under the watchful eye of offensive coordinator Kyle Shanahan and quarterbacks coach Matt LaFleur, the four quarterbacks put a focus on technique.
From the drop-back to the set to the throwing motion, proper footwork is a quarterback's best friend.
The drills gave coaches an opportunity to eye John Beck, who displayed good form in his first day as a Redskin.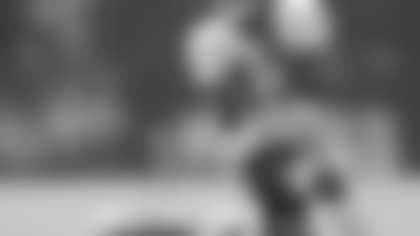 Interesting that Donovan McNabb and Rex Grossman were much quicker and less fluid in their drop-back than the young QBs but were more composed when they set in the pocket.
-- 10:15 a.m. ET
Players remain on the far field, and it's tough to see the action from my vantage point. Here are some of the highlights:
London Fletcher blitzed through a lane and dragged down Willie Parker on a run to the right.
Donovan McNabb completed a quick pass across the middle to Santana Moss for a short gain.
Great block by Trent Williams on Brian Orakpo. Williams pushed Orakpo around McNabb, giving the quarterback time to target Roydell Williams downfield. The ball bounced off Roydell Williams – incomplete.
McNabb handed off to Clinton Portis on a draw play. Maake Kemoeatu and his 6-5, 350-pound frame seemed to devour Portis on the tackle. Short gain.
Good coverage by H.B. Blades on a short pass to Ryan Torain. Blades' physicality helped break up the pass to Torain.
Rex Grossman overthrew Devin Thomas on a short pass to the left.
Next play, Grossman went right back to Thomas on an outside route and completed the pass ahead of coverage by Justin Tryon and Reed Doughty.
Fumbled snap by Grossman, and the ball slipped behind him. He dove after the fumble, but a host of defenders, all clad in burgundy jerseys, converged on the ball. Tough to see who recovered the fumble, but it's safe to say it was a defender.
-- 10:20 a.m. ET
Daniels, Holliday Get First-Team Reps
Phillip Daniels and Vonnie Holliday worked with the first-team defense for the first time in training camp.
They replaced Adam Carriker and Kedric Golston, who worked with the second team.
Don't read anything into it. Coaches want to see how Daniels and Holliday compete against the first-team offensive line and how they fit with other defensive personnel.
Daniels and Holliday have a combined 29 years of NFL experience. Daniels has played mostly in a 4-3 in his career, while Holliday has played mostly in a 3-4.
-- 10:45 a.m. ET
Putting wrap on the afternoon practice with another 11-on-11 series, with the defense stepping up its play:
Kedric Golston fended off a block and took down Clinton Portis on a run up the middle.
Chris Cooley caught a pass across the middle but would have been leveled by Phillip Buchanon coming at him from the opposite field.
Santana Moss had both safeties beat on a 20-yard pass across the middle, but Donovan McNabb's pass was thrown behind him.
McNabb threw to Cooley along the left sideline, but Chris Horton had tight coverage. The ball bounced off Cooley's hands and out of bounds.
Kareem Moore continues to impress. He had coverage on Roydell Williams and picked off a Rex Grossman pass. It was his second interception of training camp.
LaRon Landry, playing closer to the line of scrimmage, read the screen pass and then leaped over a running back to make the interception. It was Landry's second interception in as many days.
Richard Bartel missed the mark – and a potential touchdown – on a slant pass to Mike Furrey in the red zone.
-- 11:30 a.m.
It was a rough day of practice for the Redskins' quarterbacks, with Donovan McNabb and Rex Grossman each tossing interceptions.
On the flip side, the Redskins' defense looked really good.
After practice, Mike Shanahan said QB inconsistency is to be expected early in camp.
"Usually it's this time of year when you're installing your offense and installing your defense that there are a bunch of lulls," Shanahan said. "You have to push through it. That's what we were doing [Tuesday]. Any time you're in your fifth day, and you have pads on, you're doing a lot of different things just because you're doing a lot of installation.
"Sometimes that goes hand in hand with some missed assignments. It only takes one guy being a little bit off. And our defense has been playing pretty well, too."
-- 11:34 a.m. ET
More On Daniels, Holliday
As expected, Phillip Daniels and Vonnie Holliday had reps with the first-team defense on Tuesday so that coaches could evaluate them against first-team offensive linemen.
Plus, Daniels and Holliday need reps with the first team because coaches are expected to rotate linemen through the course of games.
"A lot of times we'll take guys out of the second unit so they can go against the first team," Mike Shanahan said. "We see how they compare to some of the other players. So the first and second team will sometimes rotate so we can get to see them against different players.
"It's an ongoing process. You can't read too much into it. But what you can read into it is guys are competing and we're getting a chance to evaluate them."
-- 11:40 a.m. ET
Malcolm Kelly continues to work on the sidelines to strengthen his hamstring injury and he could be sidelined a few more days, Mike Shanahan said.
"I don't think he'll be [available to practice] the next couple of days," Shanahan said. "[His hamstring] is still a little bit tight, still a little bit sore. The athletic trainers have been pushing him a little bit, and you can see he's still not close to going full speed.
Kelly participated in the Redskins' first two training camp practices, but he has been sidelined for each of the last four.