Redskins.com's training camp practice reports come to you with news and updates as action happens on the Redskins Park practice fields:
-- 7:58 a.m. ET
Defense Is Ahead...Right?
Every training camp, all over the NFL, the general assumption is that defenses are ahead of the offenses in terms of practice performance.
Defenses can focus on disrupting plays while offenses still must establish rhythm and timing.
What does Mike Shanahan say?
Don't bother guessing who's ahead and who's behind.
You just don't know until preseason games.
"Training camp is a grind," he said. "And every time you go through camp, all of the sudden the defense has a good day and you feel like you're ahead on defense, and then the offense has a good day and you feel like you're behind on defense.
"You can't win until you go against an opponent. That's what camp is all about -- trying to get through your installation, trying to stay fairly healthy and not lose guys for the season, and at the same time keep on getting better."
-- 8:20 a.m. ET
Jeremy Jarmon, who transitioned back from linebacker to defensive end, has by all accounts had a solid camp. He has worked mostly with the third-team defense.
It's easy to forget that Jarmon is returning from a knee ligament injury suffered last November.
Coaches are mindful of Jarmon's knee, Mike Shanahan said.
"He's one of the guys we have to keep an eye on," Shanahan said. "Anytime a guy misses some time, gains some weight and then plays a new position, there's a fine line. You want to give him a day off but at the same time you want to give him as much exposure as you can because he hasn't played in a while."
-- 8:28 a.m. ET
Players have made their way to the practice field and are starting to go through the morning walk-through.
It is overcast at the moment, but the sun is trying to peek through clouds.
I am hearing there may be rain in the forecast, and I thought I felt a raindrop heading outside to practice.
So far, this is turning into a pleasant day for Redskins training camp.
If you can't make it out, follow the Redskins.com media team on Twitter for live updates: Gary Fitzgerald **@RedskinsDotCom**, Matt Terl @RedskinsBlog and Larry Weisman [
-- 8:40 a.m. ET
Players are working through warm-ups and stretch, and right tackle Jammal Brown is out on the practice field with the team.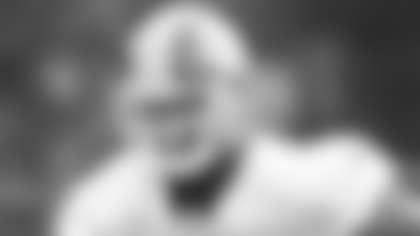 Brown is wearing full pads and it appears he is back at practice.
Brown sat out Wednesday's practice due to hip soreness. With the New Orleans Saints last year, he had surgery on the hip, sidelining him for the entire season, so Redskins coaches want to be extra cautious.
-- 8:45 a.m. ET
Obligatory Haynesworth Update
Albert Haynesworth did not take his conditioning test on Thursday and is not practicing.
This does not feel like news anymore, really.
Haynesworth has now missed eight practices.
He continues to take mental reps with defensive linemen and he is scheduled to work with defensive coordinator Jim Haslett and defensive line coach Jacob Burney after practice.
-- 9:05 a.m. ET
During the Redskins' first set of 11-on-11 action, kicker Graham Gano and long snapper Nick Sundberg worked together on the opposite field.
Gano charged Sundberg and tried to use his body and his arms to fend off a block by Sundberg.
It's easy to forget that kickers have to tackle on kickoffs. And they must be trained not only in blocking but tackling, too.
Of course, if Gano is in position to make a tackle, then it's likely already a long return.
-- 9:10 a.m. ET
First series of 11-on-11 drills and the emphasis has been on running plays, with a couple of play-action passes sprinkled in.
Here are some of the notable plays:
Phillip Daniels collapsed the front line from the left side and stops Ryan Torain on a run up the middle.
Rookie Keiland Williams showed nice burst on run to right. He used impressive speed to race past tackles by Carlos Rogers and Rocky McIntosh.
Donovan McNabb faked a handoff and rolled right and threw a nice pass to rookie Logan Paulsen for a 15-yard gain.
Andre Carter blitzed past blockers to meet Larry Johnson in backfield to stop a run play.
Clinton Portis ran straight up the middle and founds nowhere to run – he was engulfed by tacklers. Eventually he was let go, only to find Kareem Moore in his way past the line of scrimmage.
Rex Grossman connects with Fred Davis on a quick pass downfield for a 20-yard gain.
-- 9:25 a.m. ET
More Veterans Take a Break
For the second day in a row, a group of veterans removed their pads after individual drills and watched the rest of practice from the sidelines.
Chris Cooley, Mike Sellers, Jeremy Jarmon, Willie Parker and Howard Green were veterans given practice off.
Mike Shanahan is giving some veterans, particularly those who suffered injuries last year, a day off from practice here and there.
-- 9:30 a.m. ET
Joe Theismann has been a regular at Redskins training camp.
He has been watching the practice in preparation for preseason broadcasts. (His TV partner Mike Patrick is also in attendance at camp on Thursday.)
One of the Redskins' 70 Greatest, Theismann has a crowd of fans lined up for autographs.
Fifteen minutes later, Theismann is still signing.
-- 9:48 a.m. ET
Found out about this while watching "Redskins Nation" on Comcast SportsNet on Wednesday night.
Former NFL quarterback Steve Beuerlein is at Redskins training camp serving as a coaching intern. He has been working with the Redskins' quarterbacks.
Talk about a coaching intern lineup! Beuerlein the quarterback, Terrell Davis the running back, Chris Samuels the left tackle. And on defense, Steve Atwater is at safety.
Beuerlein last played in the NFL with the Mike Shanahan-led Denver Broncos from 2001-03.
He played 15 seasons in the NFL, including stints with the Los Angeles Raiders, Dallas Cowboys, Phoenix/Arizona Cardinals, Jacksonville Jaguars and Carolina Panthers. He threw for 24,000 yards and 147 touchdowns in his career.
-- 10:07 a.m. ET
Had to run inside Redskins Park for a quick meeting, now I'm back catching the end of the 7-on-7 work.
It appeared wide receivers were using their speed to get deep on cornerbacks. Here are a couple of notable plays:
Donovan McNabb threw downfield to Fred Davis, but the ball was overthrown. Too bad, Davis had a step on London Fletcher in coverage.
Kevin Barnes batsted away Rex Grossman's deep pass to rookie Brandon Banks. Nice play by Barnes.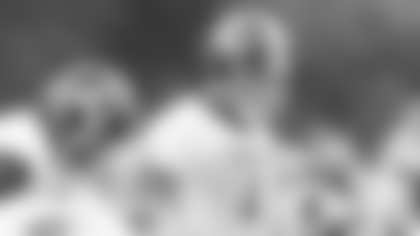 It's Barnes vs. Banks again, this time Banks wins: he hauled in a Richard Bartel pass in front of Barnes. The two collided and Barnes wrappred him up, but Banks kept chugging. Eventually Barnes freed him.
-- 10:22 a.m. ET
Always the best part of practice -- and this year the Redskins are intermixing 11-on-11 action with other drills throughout the 2-and-a-half hour session. Some highlights:
Donovan McNabb fired a quick pass to Joey Galloway on the left sideline for a nice 10-yard pickup.
Adam Carriker broke free of a block and would have a clear shot on McNabb. Sensing the pressure, McNabb tossed a short pass to Davis.
Rex Grossman rolls left, but this time Chris Wilson – starting to get a read on the QB bootlegs, perhaps? – is there to put the pressure on him. Grossman gets rid of the ball. He bounces the throw in front of a receiver, incomplete pass.
McNabb-to-Davis connection continues. On play action, McNabb rolled right. Kedric Golston had a chance to sack him, but McNabb threw to Davis downfield for a sizable gain.
Brian Orakpo is on his game. He batted down consecutive passes by McNabb at the line of scrimmage, including one in which McNabb was rolling right and looking downfield for a receiver.
Clinton Portis working with the second-team offense, took a handoff and ran to the right. He did not see much running room behind Clint Oldenburg and Chad Rinehart. Perry Riley and Kareem Moore combined for the stop.
Richard Bartel fakes a handoff to Ryan Torain, then passes to Torain across the middle for a short gain.
Larry Johnson slips past the line of scrimmage on a run up the middle, but Byron Westbrook is there to wrap him up.
Rookie safety Anderson Russell pulled in an ill-advised deep throw by Bartel. It was an easy interception.
-- 10:45 a.m. ET
It's going to take a while for John Beck to acclimate himself to the Redskins' offense.
So says Mike Shanahan: "It's going to take a while. However John is very sharp. He took some reps in 7-on-7 [on Wednesday], so he's picking up the offense very quickly. The terminology is very different than what he has done in the past. I'd be surprised if it takes him a long time, though."
On Thursday, the Redskins closed out practice with Beck running the hurry-up offense:
Beck completed a quick pass to Terrence Austin across the middle for a first down.
In face of a hard-charging Curtis Gatewood, Beck completed another pass to Ryan Torain across the middle.
Then Beck raced to the line of scrimmage and spiked the ball to stop the clock.
Beck threw to Devin Thomas who was open along the right sideline. Thomas pulled in the pass, but his momentum carried him out of bounds. Incomplete pass.
Last play, precious second remaining. Beck dropped back and threw downfield to rookie Shay Hodge in the end zone. Hodge was in double coverage, but no matter. Beck's pass was overthrown.
-- 11:30 a.m. ET
Shanahan: Haynesworth To Have MRI
Albert Haynesworth is scheduled to undergo a second MRI on his ailing knee, head coach Mike Shanahan said on Thursday.
"His knee has been a little bit sore, more so than it has been in the past," Shanahan said. "In the past, every third or fourth day it would be a little sore, according to the trainers. But now it's consistently sore.
"This was just a preventative measure to see if he's okay. Then we'll go through the rehab work to get him stronger."
Shanahan has required Haynesworth to pass a conditioning test before allowing him to join teammates at practice.
Haynesworth continues to participate in some individual work and he is taking mental reps during practice.
Asked when Haynesworth would be able to take the conditioning test, Shanahan replied: "We'll just wait and see. That's why he gets treatment. He was out there doing individual work and he was a lot further ahead than I thought he would be. It surprised me at how well he did during the drill work. So we'll wait and see."
The goal, Shanahan said, is to make sure Haynesworth is healthy enough to practice and play the entire season.
"If you don't practice throughout the week, you're not going to play well," Shanahan said. "You've got to practice well to play well. That's just what NFL football is all about. Every once in a while, you might get a guy in there that practices a little bit and has a good game, but if you don't practice consistently, it's hard to play consistently.
"That's what I'm after. I'm after him playing well for the whole season...So my job is to make sure that he can play his best once we start our season and that's to get him in football shape. If that knee isn't ready to go, we'll make sure that when it is ready to go, he can go full speed."
Haynesworth has not spoken with the media since rejoining the Redskins for training camp on July 29.
-- 11:40 a.m. ET
Mike Furrey missed his second day of practice due to a concussion, Mike Shanahan said.
Furrey, who joined the Redskins in early June, had looked promising in the early going of training camp. It's uncertain how much the concussion is going to set him back, though.
"I don't know when he's going to return," Shanahan said. "You don't know with those concussions. He has had one before and so we'll just have to wait and see."