Redskins.com's training camp practice reports come to you with news and updates as action happens on the Redskins Park practice fields:
-- 8:17 a.m. ET
Mike Shanahan said last week that the Redskins had fully installed their offense, with the exception of a few 2-minute offense situations.
The offense starts to isolate specific parts of the game plan as the Redskins prepare for this Friday's preseason opener against the Buffalo Bills.
"We kind of throw a little bit in from the first day of installation, and then the second day," Shanahan said. "We isolate a little bit more on screens. We just take different areas of football -- red zone, strike zone, inside the 15, between the 25 and 15 -- just to put them in a few more football situations."
-- 8:35 a.m. ET
The Redskins have been practicing against each other for nearly two weeks since the start of training camp.
Needless to say, players are eager to complete against another opponent.
Enter the Bills, this Friday night at FedExField.
"I think everybody would like to go against somebody else," Mike Shanahan said. "That's why we have these preseason games. Usually your second week is your toughest week. It's always a good change up."
-- 8:40 a.m. ET
The humidity is already picking up, a marked difference from last week when it was reasonably cool early in the morning.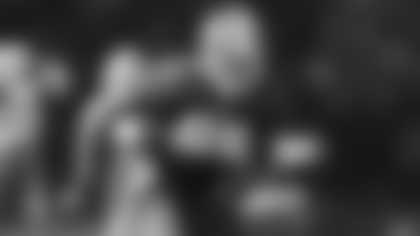 Players are wearing shorts -- except for Graham Gano, who is the only player wearing pants -- and full pads.
After a light Monday practice, Mike Shanahan promised that Tuesday and Wednesday practices would be more intense.
A decent crowd, braving the heat, is in attendance for the Tuesday morning session.
-- 8:50 a.m. ET
Right tackle Jammal Brown walked slowly out to the practice field. No way he's practicing. Right?
Wrong? Brown is wearing pads and it appears he is getting some reps in drills.
This is a positive sign for Brown, who has missed the last several practices due to hip soreness. He had surgery on his hip last year in an injury that cost him the 2009 season.
Malcolm Kelly (hamstring) continues to work with the athletic trainers on the sidelines. And Mike Furrey (concussion) is not present.
-- 9:15 a.m. ET
Paula Otto, executive director of the Virginia Lottery, was in attendance at Tuesday's practice.
She hosted a media session to introduce the new Redskins Legacy $10 scratch-off ticket, which features three $1 million prizes and a host of second-chance prizes including a VIP trip to Dallas to see the Redskins and Cowboys play at Cowboys Stadium.
The Dallas trip was Otto's favorite prize last year.
"When we sent our [Virginia Lottery] players on the team on the trip to Dallas, they were on the team plane," Otto said. "The players walked by them, they signed autographs, the coach talked to them. Our players who have won these trips tell us it's absolutely the chance of a lifetime.
"That's really what we're selling. Access to players, autographs, legacy shirts and helmets of some of the great alumni players. It's way for Redskins fans to get fun things which they never could before."
All proceeds from Virginia Lottery's Redskins Legacy scratch-off tickets benefit the Virginia public schools.
-- 9:18 a.m. ET
While the Virginia Lottery media session was going on, the Redskins were in their first set of 11-on-11 action.
Here's an abbreviated look at the action:
LaRon Landry burst through the line to stop a run by Ryan Torain.
Donovan McNabb tossed a deep ball downfied, Carlos Rogers is there for the interception.
Albert Haynesworth in the action from nose tackle– he busted through the line and bats away a pass by Rex Grossman
John Beck threw deep to rookie Brandon Banks for a touchdown pass. Banks got past coverage by Justin Tryon and Anderson Russell.
-- 9:40 a.m. ET
Jammal Brown was limited in practice as he recovers from hip soreness, so Stephon Heyer took the bulk of reps with the first team at right tackle.
Heyer did well on a series of plays during 11-on-11 work.
He had a great block on Andre Carter, pushing him to the outside of Donovan McNabb in the pocket. McNabb had time to throw to Brandon Banks along the left sideline for a 20-yard gain.
One play later, Heyer picked up a blitz on LaRon Landry, allowing McNabb to get the ball to Devin Thomas across the middle.
-- 9:54 a.m. ET
John Beck took the bulk of reps with the third-team offense midway through practice.
Bulk was praised by Mike Shanahan after Monday's practice: "John has done a good job," he said. "His terminology is completely different than the terminology we use, both with the passing game and the running game.
"Normally that takes a little bit of time, but John picks things up fairly quickly and hopefully he will be ready to go in a short time.
During Tuesday's practice, Beck faced heavy pressure from the Redskins' defense.
Curtis Gatewood blitzed from the outside, as rookie Selvish Capers lost his balance, and would have had a sure sack on Beck.
Next play, Robert Henson lined up across from Beck and blitzed through a crease to pressure Beck. Chris Draft also got pressure from the outside, forcing Beck to throw the ball into the ground.
-- 10:10 a.m. ET
The Redskins have put the emphasis on the red zone during 11-on-11 action in recent practices.
The offense was looking good, for the most part. Here are some of the notable plays from Tuesday's session:
Donovan McNabb opened the session with a downfield pass to … either Santana Moss or Fred Davis. The pass is incomplete. Not sure who the intended receiver was on the play.
Rocky McIntosh had solid coverage on Santana Moss, LaRon Landry had solid coverage on Joey Galloway, and McNabb had nowhere to throw the ball. He tucked it in and run up-field for a modest gain.
Ryan Torain took a handoff at the 5-yard line and appeared to be stuffed at the line of scrimmage. He broke free, stepped back, then reversed field. Open field to the left, and Torain raced into the end zone for the touchdown.
Ball placed at 5-yard line, McNabb drops back. He sees Lee Vickers in the back of the end zone. Despite good coverage, McNabb places the ball in perfectly, allowing only Vickers a chance at the ball. Touchdown again.
Great blocking by Trent Williams and Mike Sellers helped free up Larry Johnson to score on a run to the left. Touchdown again.
Second-team offense came in, and this time Will Robinson had a great block to free allow Torain space to race into the end zone. Touchdown again.
Finally the defense steps up. Nose tackle Anthony Bryant fends off a block by the center and stuffs a run up the middle.
The session ended with Rex Grossman throwing to Chris Cooley, who was running open across the back of the end zone. Touchdown.
10:20 a.m. ET
Third-team offense vs. First-team Defense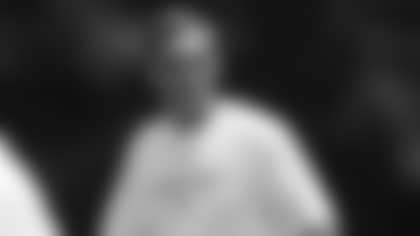 Time to get an evaluation of John Beck as he competes for the third quarterback job with Richard Bartel. Some notable plays:
Beck completed a quick pass to Shay Hodge for a 15-yard pickup, beating coverage by Carlos Rogers. Kareem More was in position for the stop.
DeAngelo Hall made a diving interception after Beck's pass was tipped at the line of scrimmage. Hall gets up and races the other way.
Beck was under heavy pressure, so he just tossed the ball up the field, hoping for the best. Hodge was in the area, but the ball is overthrown. Phillip Buchanon had coverage.
Beck showed good form when he is decisive on his routes. He completes a quick pass to Keiland Williams, who is pushed out of bounds by Chris Wilson.
-- 10:40 a.m. ET
During the latter portion of Redskins practice, Donovan McNabb led the Redskins' offense in 11-on-11, but most of the play calls went to Larry Johnson.
Johnson took a handoff up the middle and was quickly wrapped up by Reed Doughty after a short gain.
Next play, Johnson ran to the left and broke a tackle. He kept his feet moving and broke two more tackles.
Johnson got another run up the middle and appeared to have a seam, but Chris Wilson comes from the side to stop Johnson in his tracks.
-- 10:45 a.m. ET
In the last series of 11-on-11 action, Donovan McNabb guided the offense downfield.
He appeared to develop a good connection with Chris Cooley.
On a misdirection play, McNabb rolled away from the rush and tossed a pass to Cooley for a 15-yard gain.
On the last day of practice, McNabb threw 20 yards downfield to Cooley for a touchdown. Cooley got past coverage by Lendy Holmes and H.B. Blades.
McNabb has looked good throwing to both Cooley and Fred Davis.
-- 11:45 a.m. ET
Backup quarterback Richard Bartel tweaked his hamstring during pre-practice stretch and was held out of practice.
So that's why John Beck saw the bulk of third-team reps during Tuesday's practice.
It's a setback for Bartel, who needs every rep he can get to impress coaches.
His status for this Friday's preseason game is unknown at this time.
-- 11:50 a.m. ET
Brown, Kelly Out vs. Bills
Jammal Brown and Malcolm Kelly will be sidelined for this Friday's preseason opener against the Buffalo Bills.
During Tuesday's practice, Brown participated in some drills but gave way to backup Stephon Heyer during 11-on-11 work.
"He's getting closer," Mike Shanahan said. "I would anticipate him being able to go after the game, either Sunday or Monday. He's getting treatment and he's feeling better."
Kelly continues to work with athletic trainers on the sidelines during practice.
"He's trying to get that hamstring strong," Shanahan said. "We wouldn't put him in that situation to play this quickly. Hopefully he'll be able to go next week as well."
Kelly's absence gives some other young wide receievers -- such as Terrence Austin and Anthony Armstrong -- an opportunity for playing time in the preseason opener.
-- 11:55 a.m. ET
With Brown sidelined, Stephon Heyer is expected to draw the starting assignment at right tackle.
Heyer, who started all 16 games for the Redskins last season, has served as the primary backup at right tackle during camp. He has alternated between left and right tackle in his four-year career.
"Stephon's got some good playing experience," Mike Shanahan said. "He is picking up our offense fairly quickly. And when one guy goes down, he gets a chance to show us what he can do. He's done a good job."
Asked if Heyer has the athleticism required for the zone blocking scheme, Shanahan replied: "Yeah. He's a bigger guy. He's long-armed. He weighs a lot. He's tall, and very seldom do you get a guy that big with that type of athletic ability.
"And we'll get a chance to see him if he can zone block and do the things we ask him to do. It's a little quick to say if he can or he can't, but I like what I've seen."
-- 12:05 p.m. ET
Clinton Portis sustained a mild groin injury during Tuesday's practice, Mike Shanahan said.
"His groin is tight right now," Shanahan said. "I'm sure it's just sore. I don't think he's pulled anything yet. He's getting treatment so hopefully there's no setback and he'll be ready to go [Wednesday]."
Too soon to know for sure if the injury will impact his status for this Friday's preseason game.