Redskins.com's training camp practice reports come to you with news and updates as action happens on the Redskins Park practice fields:
-- 7:52 a.m. ET
For most of the last six years, the Redskins' defense has struggled to force turnovers. And coaches tried everything to solve the problem.
Defensive linemen and linebackers were taught to slap at the ball when rushing the quarterback. Defensive backs spent extra time catching balls.
Last year, the Redskins posted just 17 turnovers (11 interceptions, six fumble recoveries), the fewest among the NFL's 32 teams.
In 2008, the Redskins forced 18 turnovers (13 interceptions, five fumble recoveries), tied for 28th in the league.
Under the Redskins' new coaching staff, it's hoped a new emphasis on forcing turnovers produces better results.
In training camp, defenders are opportunistic. Once an offensive player is wrapped up, another defender is required to come in and try to strip the ball.
On Sunday, Justin Tryon and LaRon Landry recorded interceptions.
"Every practice situation we have, we know how many turnovers there are," head coach Mike Shanahan said. "[On Saturday], we had one, and the [Friday] practice we had one. We really emphasize it every practice. We know who made the interceptions, who made the strips, who fumbled the ball and who threw the interceptions. We are constantly stressing that because it is the difference in winning and losing."
-- 8:20 a.m. ET
A woman wearing a Donovan McNabb jersey is situated along the fence with a sign that reads:
"When the Eagles traded Donovan, they traded me too."
Anyone get the feeling that the Redskins picked up a host of new fans when McNabb became a Redskin?
Hope they stick around a while.
-- 8:22 a.m. ET
Albert Haynesworth walked out to the practice field alongside teammates.
He was wearing a baseball cap and carrying his helmet. It did not appear he was wearing pads, though.
Haynesworth watched defensive linemen work through drills but he did not participate.
Then players went through stretching. Haynesworth stood on the sideline, still wearing the cap, twirling his helmet in his hand.
No official word on if he passed conditioning test. Based on observation, I would say he either did not pass or was not able to take it due to his sore knee.
-- 8:27 a.m. ET
It's overcast and cool in Ashburn, Va., welcome weather after a couple humid practices.
Very calm, almost serene, atmosphere at training camp.
It's day five, and a routine is settling in.
Practices are typically going two-and-a-half hours.
-- 8:30 a.m. ET
Malcolm Kelly jogged to the practice field carrying his helmet and wearing full pads.
Looks like Kelly is back on for practice after missing two practices with a hamstring injury.
Kelly began practice working with athletic trainers on the sidelines, still working to stretch the hamstring.
-- 8:45 a.m. ET
Rain has started to fall. It's not too heavy, and practice continues.
Some fans are scurrying for cover in a tent. Others pull out their umbrellas.
And the brave ones stay along the fence to watch practice. They don't want to give up prime position to watch practice and get autographs.
-- 9:08 a.m. ET
Again, it's too soon to make depth chart pronouncement.
But working with the first team at defensive end on Monday were Adam Carriker and Kedric Golston. (Maake Kemoeatu was the nose tackle.)
Veterans Phillip Daniels and Vonnie Holliday appear to be lining up with the second team at defensive end.
Coaches were excited that they were able to acquire Carriker last April. Looks like the deal could pay off if he emerges as a starter.
-- 9:15 a.m. ET
One of the real standouts of training camp has been seventh-round draft pick Terrence Austin.
First big play of Monday's practice, Austin pulled in a deep pass from Donovan McNabb. He beat double coverage downfield and caught the ball in stride.
Austin missed most of off-season work because UCLA classes ended late. Turns out he didn't need any off-season work.
Austin chats with Redskins.com intern Lindsey Gay after practice. Check out "Training Camp With Terrence Austin" on Redskins.com.
-- 9:45 a.m. ET
Rain Subsides, Time For 11-on-11
It has stopped raining, save a periodic drop or two. Here are some of the highlights from 11-on-11 action:
Rob Jackson with strong push past Clint Oldenburg, he would have had sack on Colt Brennan. After the play, Oldenburg got instruction from offensive line coach Chris Foerster.
Kevin Barnes had solid coverage on Terrence Austin, and Rex Grossman could only throw the ball away.
Rex Grossman completed a perfect pass to Roydell Williams down the left sideline. Williams was in 1-on-1 coverage.
Terrence Austin again, he caught a pass from Colt Brennan across the middle.
Terrence Austin again. This time he grabbed a pass from Donovan McNabb, who opened with play action.
On a quick pitch to Willie Parker, Carlos Rogers penetrated into the backfield to disrupt the play. LaRon Landry finished it off with a stop.
Rex Grossman pump faked, and then completed 15-yard pass to Santana Moss downfield. Moss was wide open but had to twist his body to make the catch.
Ryan Torain caught a short pass across the middle, absorbed a hit from Chris Draft. Torain, who is listed at 6-1 and 218 pounds, fell to the ground.
H.B. Blades tackled--really tackled--Keiland Williams after a short run to the right. "No tackles, let him go," shouted coach Lou Spanos.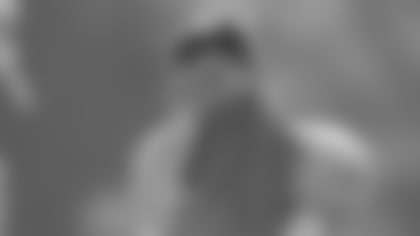 -- 10:10 a.m. ET
Rex Grossman appears to be having a strong practice.
While his passes are not always precise, almost every one of his throws has been caught.
His best play? He eluded pressure from the right and rolled left. He saw Joey Galloway running a deep route toward the middle of the field.
Grossman threw a high-arching pass to about the 5-yard line and Galloway made an impressive diving grab in front of a defender.
Later, Grossman completed a pass to Ryan Torain along the left sideline. Torain had to twist his body to secure the catch before going out of bounds.
Next play, Grossman rolled right and completed a pass to Willie Parker, who had a step on defender. Parker turned up-field and saw open field ahead.
-- 10:25 a.m. ET
This is unique, in my experience watching NFL practices.
Mike Shanahan's practices include a series of 11-on-11 work, then special teams drills.
Then another series of 11-on-11, then more special teams.
It creates an awkward flow to practice.
Think about it, though. This is what an NFL game is—stops and starts with special teams play.
Mike Shanahan is simulating a game on the practice field. Smart thinking.
-- 10:38 a.m. ET
Special teams session ends, the horn sounds, and it's time for more 11-on-11 action, including some red zone work:
Kareem Moore recorded an interception off Donovan McNabb, who was trying to throw deep to Joey Galloway.
McNabb had great pass protection, giving him time to stand tall in the pocket. He threw short to Fred Davis across the middle for a nice gain.
Solid block by Casey Rabach on a run up the middle. He pushed behemoth nose tackle Anthony Bryant out of the way, opening a hole for Ryan Torain.
Justin Tryon intercepted a deep pass from Rex Grossman to Roydell Williams. Tryon had great position on the play, getting in front of Williams.
Kevin Barnes pulled down Larry Johnson on a run to the left. Impressive tackle by Barnes on a big running back.
In the red zone, McNabb does play action. He faked a handoff to the running back, then threw to a wide open Fred Davis at the 5-yard line. Davis caught the pass and turned into the end zone for the score. He nearly lost his shorts as he crossed the goal line.
Next rep, McNabb completed a quick pass across the middle to Roydell Williams, who was quickly tackled by LaRon Landry.
Mike Sellers has had a quiet camp. He grabbed a short pass from McNabb and barreled up-field for a solid gain.
-- 10:50 a.m. ET
Mike Furrey, playing with the third-team offense, has quietly had a solid camp.
Even when a pass is not perfectly placed, he manages to get his body in position to make the catch.
This is a wide receiver who had a 98-catch season just four years ago.
During red zone work late in practice, Furrey made a diving catch for a touchdown. He had to leap in the air to pull the ball in, and he landed on his back in the end zone.
Richard Bartel, quarterback on the play, raced downfield to thank Furrey for the effort.
-- 11:40 a.m. ET
During a post-practice media session, Donovan McNabb joked with reporters, saying that they needed to come to his so-called "Hell Week" to brush up on their reporting skills.
Whether he's in the locker room or talking to media, McNabb keeps the mood light.
Artis Hicks has known McNabb since 2003, and he concurs with that assessment.
"He's kind of a goofball in the locker room, but he has won everyone over," Hicks told reporters after practice.
-- 11:45 a.m. ET
Albert Haynesworth attempted the Redskins' conditioning test on Monday morning, but he had to stop midway through after he experienced more soreness in his knee.
"He'll go through our walk-throughs and he'll be out there through practice," Shanahan said. "He'll get his conditioning and treatment in between."
Shanahan said Haynesworth appeared to be running the test well before he had to stop.
He expressed confidence that Haynesworth would eventually pass the test, knee permitting.
"He'll pass the test when he gets in football shape," Shanahan said. "He's a fast guy. He did very good the first time. He did it easily."
Shanahan acknowledged there may come a time when the Redskins will practice Haynesworth even if he has not passed the conditioning test.