Redskins.com's training camp practice reports come to you with news and updates as action happens on the Redskins Park practice fields:
-- 8:15 a.m. ET
Last Practice of 2010 Training Camp
Fourteen open practice have come and gone, and Thursday marks the 15th of a grueling Redskins training camp.
The Redskins have not had this many open practices since 2003.
It has taken some getting used to.
After Thursday's practice, the Redskins prepare for Saturday night's preseason game against the Baltimore Ravens at FedExField.
And then the team shifts gears into more of a regular season schedule as players get ready for the real thing.
-- 8:18 a.m. ET
On July 29, the Redskins began training camp with plenty of excitement surrounding the arrival of head coach Mike Shanahan and quarterback Donovan McNabb.
There were also plenty of questions.
Who starts at free safety? Will Albert Haynesworth show up and perform? Who makes up the wide receiver corps after Santana Moss? What is the running back rotation?
Some questions have been answered. (Kareem Moore is the front-runner at safety. Haynesworth appears on board with the defense for now.)
Some questions will be decided in the remaining preseason games. (Wide receiver corps is still uncertain? Nothing has been decided between Clinton Portis, Larry Johnson and Willie Parker.)
Overall, Shanahan is "pleased" with the Redskins' progress during training camp.
"Our goal was to get better each day and I think we have been able to do that," he said. "That's what you are looking for. If you have a chance to get better each day and people are out there competing, you feel like you have a chance to get to your final goal. It's a long process."
-- 8:20 a.m. ET
Players are heading out to the practice fields wearing no shoulder pads.
H.B. Blades, Lorenzo Alexander and Rocky McIntosh are first players on the field for practice.
After Wednesday's spirited, physical afternoon practice, it appears coaches want to take it light on Thursday.
It is two days before a preseason game, after all.
-- 8:25 a.m. ET
Wednesday's rain is gone and the fields are dry. It's a warm morning at Redskins Park, but not humid.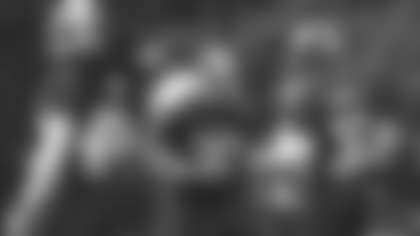 Perfect weather for the last day of training camp.
Looks like another good crowd is on hand, too.
With players wearing no pads, it's a laid-back setting. Not much intensity from players as they go through warm-ups.
And that's okay. These coaches know when to push players and when to back off.
This is a time to back off.
8:40 a.m. ET
Wide receivers coach Keenan McCardell gathers his group along the sidelines for drills.
He throws a series of short sideline passes at the wide receivers, requiring them to catch the ball and keep both feet in bounds.
These are the details of pro football.
Just noticed that Malcolm Kelly is not on the field. His status will be updated by Mike Shanahan after practice.
-- 8:55 a.m. ET
For the second day in a row, the early emphasis on 11-on-11 work is run plays.
Later, the focus shifts to the passing game.
No pads, so there's no hitting or tackling. Here are some notable plays from the session
Keiland Williams took a pitchout to the left and narrowly beating Kareem Moore to the edge.
Clinton Portis took a handoff and rolled right with the flow of the offensive line. He cut back and turned to the middle of the field to find a sizable hole.
Larry Johnson found a slim lane on a run to the left and weaved his way through for a gain. Moore was in position for a tackle near the line of scrimmage, but he backed off. (No pads, remember.)
Anthong Armstrong beats DeAngelo Hall on a deep route, catches Donovan McNabb's pass for TD.
Rex Grossman threw deep to Terrence Austin, but ball is just off his fingertips in end zone. Chris Horton was in coverage.
Grossman's next throw was to Fred Davis, but pass was thrown behind the tight end. Reed Doughty was a yard away from picking it off.
Armstrong with another nice catch, a 25-yarder from Rex Grossman. Armstrong cut in front of coverage for the grab.
-- 9:20 a.m. ET
Donovan McNabb threw a deep pass to Joey Galloway, but the ball is under-thrown. Reed Doughty had a chance for an interception, but he could not hold on.
Larry Johnson took a handoff to the left and had a great block by Trent Williams. He was one-on-one with Byron Westbrook – that would have been an interesting matchup. Westbrook backed off – no hitting without pads.
Rex Grossman threw to Logan Paulsen, who had a step on Rob Jackson on a short route. Paulsen hauled in the pass and turned up-field for a nice gain.
Grossman connected with Devin Thomas on a 20-yard route despite solid coverage downfield.
On a swing pass to Keiland Williams, Phillip Buchanon and London Fletcher collided in coverage. It allowed Williams to turn up-field for a big gain.
Kareem Moore and Westbrook teamed up to break up a deep pass to Anthony Armstrong down the left sideline.
Brandon Banks made a nice grab across the middle despite tight coverage by Justin Tryon.
This time London Fletcher avoided a collisio and got in coverage against Williams on a short pass to the right. Fletcher batted away the pass, incomplete.
Richard Bartel threw deep to Brandon Banks, but it was an easy interception for LaRon Landry who swooped in from the right to make the pick.
John Beck overthrew Anthony Armstrong on a deep route, and Kareem Moore was there to haul in the interception.
Next play, Beck rolled left but pass coverage downfield was tight. He threw across field to Shay Hodge for a modest gain.
-- 9:30 a.m. ET
In special teams portion of practice, the field goal unit practiced rushing onto the field with time winding down on the game clock.
The offense lined up and long snapper Nick Sundberg quickly snapped the ball to holder Josh Bidwell.
It was a seamless operation. (They have been practicing throughout camp.)
Gano made all seven of his field goal attempts during the session, including two from 52 yards.
-- 10:05 a.m. ET
Ball placed on the 20-, 10- and 5-yard lines in a series of drills.
Rex Grossman threw a perfect fade pass to Devin Thomas in the end zone for a touchdown. Thomas beat Byron Westbrook in coverage.
Next play, Grossman fired a pass to Anthony Armstrong at the goal line, but the ball bounced off his hands -- perhaps thrown too hard? – and into the air. At the back of the end zone stood Logan Paulsen, who gathered in the ball for a touchdown.
Rocky McIntosh got in position to tackle Keiland Williams on a short pass to the left.
Same play, different players, same result: London Fletcher got in position to tackle Darrel Young on a short pass to the left.
Bobby Wade lined up in the slot and caught a quick pass from Richard Bartel. He raced into the end zone untouched for a score. Then Wade leaped high and dunked the ball over the goal post.
Will Robinson got a strong push against a hard-charging Lorenzo Alexander – but he pushed him right into Bartel in the pocket. Bartel eluded Alexander and scrambled up-field.
-- 10:20 a.m. ET
During red zone work, Phillip Buchanon flashed his athleticism on several plays.
Both times Buchanon victimized rookie Shay Hodge.
Buchanon, a wiry 9-year veteran, slapped a pass away from Hodge, who appeared to have gotten free in the end zone. Buchanon used his unusually long arms to get to the ball first.
Later, Buchanon slapped away another end zone pass to Hodge. This time the ball was thrown higher but Buchanon leaped up in front of Hodge to knock the pass away.
This was a veteran schooling a rookie.
-- 10:30 a.m. ET
Remember Wednesday's practice? It ended at the goal line when Anderson Russell knocked Logan Paulsen out of bounds at the 1-yard line.
Paulsen claimed he scored, but he was overruled.
Thursday's practice ended, appropriately enough, with a few goal-line plays.
Larry Johnson took a handoff and followed great blocking by Jammal Brown and Fred Davis to the right. He slipped into the end zone for a touchdown.
Blown coverage by the defense allows Paulsen to get wide open in the left side of the end zone. He catches Donovan McNabb's soft throw for the score.
Willie Parker did not find a lot of running room on a run up the middle. He danced around tacklers – he probably would have been brought down if hitting was allowed – and slithered his way into the end zone.
Rex Grossman rolled left and tossed a short pass to Lee Vickers at the goal line. Coverage was late and Vickers crossed the goal line for a touchdown.
-- 10:36 a.m. ET
The horn sounds, and with that practice is over and training camp is over.
Players huddle in the middle of the field for a final word from Mike Shanahan.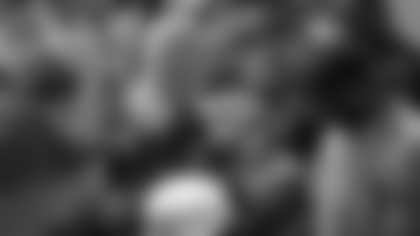 A player suddenly shouts out, "CAMP'S OVER!"
For veterans, of course, the end of camp means they can leave the team hotel and return home to their families.
Rookies and roster hopefuls will likely remain in the hotel or find temporary housing.
-- 10:50 a.m. ET
Training camp has come to an end, and leave it to Ma'ake Kemoeatu to sum up the veteran's thoughts.
"Last day of camp is sad...but oh well!" Kemoeatu said, laughing.
Kemoeatu said that camp actually continues through the end of preseason. That's when the roster is finalized.
"Camp still goes on until the last preseason game," he said. "Regular season starts then, and then camp is officially finished. But other than that, it has been fun to see the fans here coming out to support the team. It has been good."
-- 11:05 a.m. ET
Haynesworth Still On the Field
The majority of players have either gone into the locker room or hosted media sessions after practice.
A few, such as Graham Gano and Reed Doughty, are signing autographs.
And then there's Albert Haynesworth, working on the far field with defensive line coach Jacob Burney. This has become a familiar site at training camp.
He's still learning the terminology and getting individual reps in the Redskins' 3-4 scheme.
That's what happens when you miss offseason work.
-- 11:25 a.m. ET
Head coach Mike Shanahan called Malcolm Kelly's absence from Thursday's practice a "personal matter."
It has been a disappointing camp for Kelly.
He has been sidelined since the third day of training camp with a lingering hamstring injury.
He is unlikely to be available for Saturday's preseason game against the Baltimore Ravens.
Earlier this week, Shanahan suggested Kelly could be in "danger" of losing his roster spot.
"He can't practice therefore he can't show me anything," Shanahan said. "He's doing everything he can with his treatment to get that hamstring better and that's all he can do. What he doesn't want to do is rush himself back too quick and he sets himself back.
"He's doing everything we're asking him to do and he'll get an opportunity at least in the next week to come back full speed. That would be pretty safe to say -- maybe not this game, but the next week."
-- 11:30 a.m. ET
Mike Shanahan has said several times that he has enjoyed holding training camp at Redskins Park, the team's year-round facility.
Earlier in the offseason, he had considered holding training camp at a college or university in Maryland or Virginia.
"It's worked out pretty well here," Shanahan said on Aug. 5. "We've got everyone staying within two miles of the facility [at a hotel]. It is like a camp for them."
On Thursday, Shanahan remarked that ending camp at the year-round facility felt different than ending camp at a college or university. (He never held training camp at home while he was head coach with the Denver Broncos.)
Instead of the entire team busing hundreds of miles back to Northern Virginia, players just got in their cars outside Redskins Park and drove home individually.
"The players are glad the 2-a-days are over with, I can guarantee that," he added. "They go back to a normal schedule where they are actually practicing the same way that you would actually practicing during the season.
"They get a lot less time in mini's and a lot more time on the field. So their bodies are going to feel a little bit of pressure."
-- 11:35 a.m. ET
Phillip Daniels participated in his 15th NFL training camp. He is certainly aware that this could be his last.
Daniels was among players who stayed late to sign autographs for fans.
Daniels is feeling confident about the Redskins' chances heading into the 2010 season. He is eager to wash out the bad taste of 4-12 last year. He does not want his career to end on a sour note.
"Our confidence level is pretty good right now," he said. "We don't want to think about last year. We want to move forward. It's a whole new year."
-- 11:40 a.m. ET
Apart from Malcolm Kelly's lingering hamstring injury, the Redskins completed training camp without any significant injuries.
Jammal Brown missed time due to hip soreness and Albert Haynesworth was absent off and on due to knee soreness and hydration issues.
"It starts with the off-season conditioning program," Mike Shanahan said. "I think when you have a good offseason, you're hoping that you can limit some injuries. And if guys do get injured they can come back a little quicker because they're in good shape.
"I think that has paid dividends and hopefully we will be a little lucky through the rest of the& preseason and stay away from some injuries."