Redskins.com's training camp practice reports come to you with news and updates as action happens on the Redskins Park practice fields:
-- 8:20 a.m. ET
Redskins players make their way to the practice fields. It's an overcast, warm morning, with no humidity. Perfect training camp weather.
It's a subdued atmosphere – perhaps not surprising for a Monday.
Mike Shanahan walks by fans to applause. "Good start, Coach," one fan yells.
Coming out of Friday's 42-17 preseason win over Buffalo, the Redskins public relations staff compiled post-game notes that included the following:
-- The Redskins' 42 points scored are their most in a preseason contest since Aug. 20, 1988, when they scored 45 points at the Los Angles Raiders.
-- The Redskins' 25-point margin of victory was the team's largest since Sept. 3, 2004, when Washington defeated Atlanta, 27-0, at FedExField.
-- The Redskins scored 21 points in the first half of a preseason game for the first time since Sept. 3, 2004 against Atlanta, when they scored 24.
Impressive feats, but Shanahan is preaching perspective.
It's only the first preseason game, after all.
"[Players] have to take it one day at a time," he said. "We've had a slogan, 'Don't work about what's going to happen a week from now, worry about what's going to happen today. We want to take care of business.
"You always like to play well, irregardless of preseason or regular season, and they know that it has to continue."
-- 8:25 a.m. ET
Wide receiver Mike Furrey headed into the practice facility about a half-hour before practice.
He is not on the practice field and his status remains uncertain.
Furrey suffered a concussion in the early days of training camp and has been sidelined ever since. He missed the preseason opener vs. Buffalo.
And it seems unlikely he'll be cleared to play this Saturday night vs. Baltimore.
Furrey looked impressive in his first few days or practice.
His health is paramount, but the injury certainly impacts his chances of making the final roster.
-- 8:40 a.m. ET
Darrel Young is among the Redskins' roster long shots, but he is starting to draw some attention after a solid performance in the Redskins' preseason opener.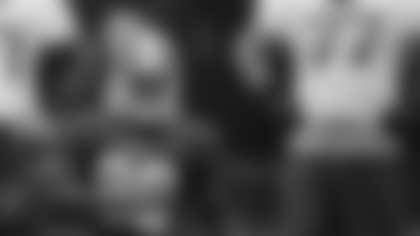 Young, a linebacker-turned-fullback, had several nice blocks on run plays. He also caught one pass in the game.
"He had a chance to ply quite a bit, and I thought he did a good job for a guy who hasn't played a whole lot of fullback in his career. I thought he gave some great effort. He's a good football player."
Young was with the Redskins as a linebacker last year and briefly had a spot on the Redskins' practice squad.
What prompted the move to linebacker?
"Just the way he hit," Shanahan replied. "We needed some fullbacks on the roster and we felt since he had good hands he would be an ideal candidate. I think it was a good transition for him."
-- 9:05 a.m. ET
During Sunday's practice, Mike Sellers saw some action lining up as a tight end in 11-on-11 work.
On Monday, Sellers was working with the tight ends in blocking drills, as tweeted by Redskins.com's Larry Weisman.
Back in 2004, Sellers played an H-back role – a hybrid tight end and fullback – in Joe Gibbs' offense. He moved to more of a traditional fullback role in 2006 and has stayed there ever since.
With Sellers getting some reps with the tight ends, it's another example of his remarkable versatility. He is listed at 6-3 and 272 pounds.
-- 9:12 a.m. ET
Rookie wide receiver Terrence Austin continues to get periodic reps with the first-team offense.
Even more important is that Austin is competing against the first-team defense.
Austin has impressed during training camp.
On one play during Monday's practice, Austin appeared to get a step on Carlos Rogers. Donovan McNabb's throw was over-thrown and Austin did not have a chance to make a catch.
Here's an excerpt from Austin's training camp blog...He discusses last Friday's preseason win over Buffalo:
"My first NFL game was fun. It was great to win and really dominate 42-17. I got out there and it reminded me of college again. The big crowd, my teammates flying around, a different opponent. The weirdest thing was seeing myself on the video boards. I'm so used to seeing myself in [UCLA] blue. I've never worn a red uniform...ever.
"I liked how I looked in it. I always told myself that I hated red because I went to UCLA and I didn't like to play any team in red. I just didn't. But I was looking at myself on the video boards and I said, 'I think I could get used to this.'"
-- 9:15 a.m. ET
It appears the offense was instructed to play more physical with the defense at practice.
I noticed several hard hits – by offensive players.
On a run to the right, Selvish Capers knocked a defender to the ground with a hard push, opening up a hole for the running back.
On a run to the left, Devin Thomas leveled a punishing hit to a defender coming right at him, knocking him to the ground as well.
The defense had some big plays nonetheless.
Phillip Buchanon swatted away Rex Grossman's deep pass to Joey Galloway – and the ball landed in Carlos Rogers' arms even though Rogers was not even part of the play.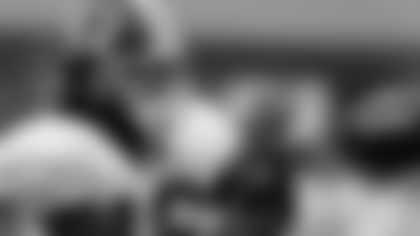 Later, Byron Westbrook jumped a route to Thomas across the middle and picked off a John Beck pass.
-- 9:35 a.m. ET
Brandon Banks, all 5-7 and 155 pounds of him, has suddenly become a training camp favorite.
A scintillating 77-yard punt return for a touchdown in a preseason game will do that for you.
Banks is a wide receiver, too. And he hopes to establish himself in that role this preseason.
He is learning to run pass routes with the right speed and right depth to beat NFL cornerbacks.
"I'm still trying to fit in as a wide receiver," he said. "I'm still trying to get better so I can be on the offensive side. I have to learn technique and how to run a route at the NFL level. You have to run a route with the right speed, the right depth, things like that.
During early 11-on-11 work on Monday, Banks was the target of several throws.
Richard Bartel threw deep to Banks on a post route, but Ramzee Robinson had great coverage. Bartel's pass was overthrown.
Later, Bartel threw a 20-yard pass to Banks across the middle of the field, but Robert Henson was there to step in front of Banks and swat the ball away.
-- 10:00 a.m. ET
Andre Carter vs. Chris Cooley
The Redskins' outside linebacker job is still up for grabs between Andre Carter and Lorenzo Alexander.
Carter is re-adjusting to playing linebacker after thriving as a defensive end the last four years in Washington. He leads the Redskins with 31.5 sacks in that span.
Carter was focal point early in 11-on-11 sessions.
He was matched up against Chris Cooley on consecutive plays.
First play, Cooley pushed Andre Carter around the edge, allowing Donovon McNabb to complete a short pass to Ryan Torain on his left.
Next play, Cooley was pushed back by Carter but maintained leverage. McNabb completed a pass to Anthony Armstrong across the middle.
Carter was matched up against Jammal Brown on the next play. They clashed at the line of scrimmage, pads crunching. Brown stood his ground and McNabb completed another pass downfield.
-- 10:10 a.m. ET
With the ball on the 30-yard line, it was offense vs. defense.
Here are some notable plays:
Fred Davis showed his acrobatic side by attempting a leaping grab of a downfield pass, but he couldn't hold on to the ball.
Rex Grossman tossed a swing pass to Darrel Young, but Curtis Gatewood is there for the stop.
John Beck completed a pass to Brandon Banks on the outside, but Byron Westbrook is there to wrap him up. Banks struggles to break free, and Westbrook lifts the 5-7, 155-pounder up off the ground and spins him around.
Darrion Scott beats rookie Selvish Capers around the edge and charges at Beck. It would have been a certain sack for Scott.
-- 10:15 a.m. ET
1st-Team Offense vs. 3rd-Team Defense
More 11-on-11 work, and this time it should be easy going for the offense:
Great blocking by Casey Rabach on 360-pound nose tackle Anthony Bryant, opening up a seam for Larry Johnson on a run to the left.
Trent Williams blocked out Jeremy Jarmon to open a rushing lane for Ryan Torain on a run to the left.
Donovan McNabb fires a pass to Joey Galloway downfield, and Galloway pulls the ball in just ahead of a hard-charging Reed Doughty.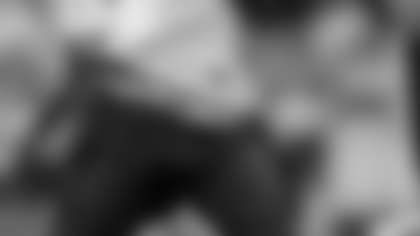 Chris Cooley was wide open downfield on a crossing route and pulled in McNabb's throw. Lendy Holmes was the nearest defender, but it's uncertain who had the coverage on the play.
Jarmon found himself lined up against Roydell Williams at the line of scrimmage. Jarmon let Williams go and Byron Westbrook picked him up in coverage. Williams ran a great route, though, and caught McNabb's pass for a 15-yard gain.
-- 10:25 a.m. ET
Ryan Torain looks at the Redskins' depth chart and sees the likes of Clinton Portis, Larry Johnson and Willie Parker.
Doesn't matter, he tells himself.
Torain hasn't played since the 2008 season when he was with the Denver Broncos. He has been sidelined with a series of injuries, including a knee ligament injury.
He's just enjoying playing again.
"Everywhere you go there's competition," he said. "For me, it has been a long time since I've played. I'm excited to be back out here."
Torain led the Redskins in rushing yards in the preseason opener last Friday. He had 62 yards on 17 carries and also caught two passes for 22 yards.
An Arizona State product, Torain totaled 1,782 rushing yards and 12 touchdowns in college. He was also a solid pass-catching back, grabbing 25 receptions for 305 yards and five touchdowns.
"I'm confident in my abilities," he said. "I'm playing the game I love and I still have a passion for it."
-- 10:32 a.m. ET
Practice is winding down. Time for another set of 11-on-11 action.
Here are some of the notable plays:
Trent Williams pushed Brian Orakpo around Donovan McNabb, giving him time to throw to Chris Cooley. The pass is off the mark, though.
On a run to the left, Williams engaged with Adam Carriker at the line of scrimmage, but no one blocked Orakpo this time. Orakpo stuffed Ryan Torain's run for no gain.
Lee Vickers shoved Reed Doughty out of the way, opening a hole for Larry Johnson on a run to the right.
Richard Bartel faked a handoff to the right and rolled left. He stopped, and then threw a deep pass to Fred Davis running open on the opposite side of the field. Bartel's pass was under-thrown, and Davis had to wait for it. But he pulled the ball in with plenty of time to spare and turned up-field, beating coverage.
Vickers and Logan Paulsen ran tight end go-routes downfield, but Bartel's pass was over-thrown. Justin Tryon had a sure interception – until Anderson Russell ran into him as he tried for the interception, too. The ball bounced to the ground, incomplete.
Davis got a step on Chris Draft running a downfield route and caught a touchdown pass.
-- 11:05 a.m. ET
Mike Shanahan noted several fumbles on offense and special teams during Monday's practice.
"We had a few," he said. "Three or four strips for the defense is great, but obviously not for the offense. We've got to work on that."
Rookie kick returner Terrence Austin had some fumbles as well.
"That's not like him," Shanahan said. "Usually he does a great job at catching the football but he had a rough day. It's something you work on. That's why you practice."