Redskins.com's training camp practice reports come to you with news and updates as action happens on the Redskins Park practice fields:
-- 1:15 p.m. ET
Two days after routing the Buffalo Bills 42-17 in the preseason opener, the Redskins return to the practice field for the final week of training camp.
Plenty to work on despite the team's success last Friday night.
Offensive coaches want better rhythm and timing from the first-team offense. Defensive coaches want backup linemen and linebackers to play better stopping the run.
There are a slew of young players to keep an eye on this week in practice.
Punt return phenom Brandon Banks, wide receiver Anthony Armstrong and running backs Ryan Torain and Keiland Williams each had strong performances in Friday's win.
-- 1:20 p.m. ET
It rained in the Washington, D.C., area most of Friday morning, but the Redskins Park practice fields were covered with a tarp.
Still, the fields are sure to be a little soggy. Coaches will monitor the situation closely.
Remember the first day of training camp? It rained a few hours before practice and Mike Shanahan opted to cut practice an hour short.
It's overcast and cool, thanks to the morning rainstorm, so it's a pleasant afternoon temperature-wise.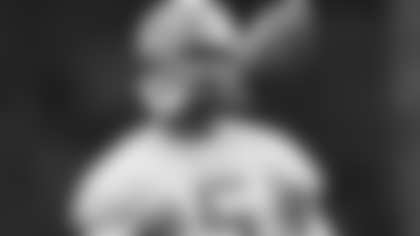 A few dark clouds in the sky, so it may rain yet again.
A few thousand fans are at practice – a great showing considering the morning rain – and more are certainly on the way.
-- 1:25 p.m. ET
The Redskins have signed long snapper James Dearth.
Dearth participated in his first Redskins practice on Sunday.
A10-year veteran, Dearth immediately steps into a competition with first-year long snapper Nick Sundberg for the Redskins' job.
Sundberg appeared to perform well in last Friday night's 42-17 preseason win over the Buffalo Bills, but he has struggled at times during training camp.
Dearth, 6-4 and 265 pounds, has played in 146 games over 10 seasons since entering the NFL as a sixth-round draft pick of the Cleveland Browns in 1999.
From 2001-09, Dearth served as the long snapper for the New York Jets. He also registered 32 special teams tackles during that span.
In 2001, Dearth also caught three passes for 10 yards and a touchdown while playing tight end for the Jets,
Dearth played college football at Tarleton State in Stephenville, Tex. He was born in Fort Ord, Calif.
-- 1:40 p.m. ET
Given that the Redskins played a preseason game two weeks ago, it's surprising that just one player is working with athletic trainers on the side.
It's Malcolm Kelly, who continues to be slowed by a hamstring pull.
It's hoped that Kelly can return to practice later this week.
After solid performances by Devin Thomas, Anthony Armstrong and Terrence Austin in the Bills game, Kelly needs to re-establish himself.
Still, it's good fortune that the Redskins have had minimal injuries in the first two weeks of training camp and coming out of the first preseason game.
-- 1:50 p.m. ET
Quarterbacks and wide receivers gather in an end zone.
They are running a series of red zone drills, with offensive coordinator Kyle Shanahan instructing them on route-running and footwork.
The Redskins converted all four of their red zone opportunities in Friday's preseason win.
Why not improve an area of the team that is already strong?
Perhaps that's the mark of a great coaching staff.
-- 1:55 p.m. ET
The nerves nearly got the best of Trent Williams last Friday night. The fresh-faced rookie said he was "gassed" after three plays."
Williams settled down and played the entire first half of the Redskins' 42-17 preseason victory over the Buffalo Bills.
Williams was back on the practice field on Sunday afternoon with a host of things to work on.
Technique. Footwork. Formation. Snap count.
The game film revealed plenty of mistakes.
Midway through the second quarter, Williams was whistled for an illegal formation penalty, negating a 28-pass dump-off from Rex Grossman to Keiland Williams.
Still, Williams believes he held his own against the Bills on Friday night.
"It felt good to be out there," Williams said. "It was something to build off of."
Said Mike Shanahan: "I thought he did a good job…He had one penalty in there, that one dump that he had called back. We had him lining up too far in the backfield. But overall I am very please for his first game."
Williams' development in the offense is key this preseason. As the Redskins' first-round draft pick (fourth overall) last April, he is expected to start at left tackle in Week 1.
-- 2:15 p.m. ET
First 45 minutes of practices were heavy on drills.
The offense worked on passing drills. The defense worked on positioning. And special teams worked on snaps.
Finally, the team gathered on the far practice field for some 11-on-11 work. Here are some quick highlights of the action:
Rex Grossman threw deep to Santana Moss across the middle of the field, but the pass is underthrown, Kevin Barnes sweeps over and breaks up the play.
Great blocking on the right side of offensive line allowed Willie Parker to weave his way through for a solid gain.
Donovan McNabb threw deep to Anthony Armstrong, who had a step on Carlos Rogers and Kareem Moore down the left sideline. The ball bounced off Armstrong's arms and he could not hang on.
Anthony Bryant batted away a John Beck pass -- you could hear the "thump" of ball hitting hand across field -- at the line of scrimmage.
Chris Wilson got pressure from Rex Grossman's left and was close to a sack. He forced Grossman to throw the ball away.
-- 2:23 p.m. ET
Richard Bartel is taking some reps during 11-on-11, a sign that his hamstring injury has recovered enough for him to return to practice.
On one play, Bartel rolled out on a QB bootleg and threw a short pass across his body to Lee Vickers.
Yep, it appears his hamstring is fine now.
Bartel looked good throwing deep routes during practice.
He threw a deep pass to Devin Thomas down the right sideline. Thomas pulled in the pass for a long gain, drawing cheers from the crowd.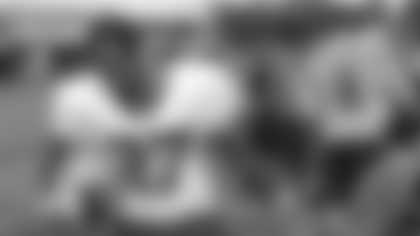 Later, Bartel and Thomas connected again on a deep pass down the middle, although Lendy Holmes was close by and would have leveled a punishing hit.
On the last play of 11-on-11 work, Bartel threw deep again, this time to Anthony Armstrong. The ball was underthrown, though. Anderson Russell and Byron Westbrook were in coverage and broke up the play.
-- 2:30 p.m. ET
In my book, Rex Grossman was the most impressive player in Friday night's win over the Bills.
He was on target with his throws all night, completing 11-of-18 passes for 140 yards and two touchdowns.
In practice, Grossman has not always been accurate, though.
During a set of 11-on-11 work, Grossman looked sharp again.
He completed a quick pass to Mike Sellers, just ahead of Lorenzo Alexander in coverage. Alexander went for the interception, but couldn't get it. Sellers turned up field for a sizable gain.
Next, Grossman tossed a sideline pass to Fred Davis, and the throw allowed Davis enough space to turn up-field and pick up more yardage.
-- 2:50 p.m. ET
Ball placed at 10-yard line. This time it's 11-on-11. A chance for receivers to work on the technique they were just coached on by Kyle Shanahan.
Donovan McNabb fired a pass to the back of the end zone, and Roydell Williams was there to make the grab for a touchdown. This play has been effective most of training camp.
Willie Parker took a handoff up the middle, kept his legs moving ... until he was finally met at the goal line by LaRon Landry. Play over.
Rex Grossman's pass to Fred Davis bounced off his shoulder pads and into the air. Could have been intercepted, but no Redskins defender was in the vicinity.
Larry Johnson took a handoff to the left, but he was stopped by Kevin Barnes after a minimal gain.
Rex Grossman threw a perfect fade pass to Joey Galloway in the right corner of the end zone. Galloway pulled in the ball in stride, beating Justin Tryon on the play. Tryon received some coaching from secondary coach Bob Slowik afterwards.
Rookie Logan Paulsen was wide open on a route to the goal line and he hauled in John Beck's pass for a score. Missed assignment by a linebacker there.
John Beck tossed a quick swing pass to rookie Keiland Williams, who burst around right end and into the end zone for a score.
Edwin Williams had a key block on Jeremy Jarmon, allowing Beck to complete a swing pass to Clinton Portis. Unfortunately, Portis slipped cutting back on the surface and the play came to a halt.
Last play of red zone work, Beck tossed a quick pass to rookie Dennis Morris at the goal line. Robert Henson charged in to swat the pass away.
-- 3:15 p.m. ET
After a special teams session with Danny Smith focusing on blocking, the offense and defense gather midfield for another series of 11-on-11 work.
Ball at the 30-yard line...Here are some of the notable plays:
Chris Cooley got open ahead of London Fletcher along the right sideline and pulled in Donovan McNabb's pass for a sizable gain.
Carlos Rogers had good coverage on Santana Moss across the middle, but McNabb threw to Moss anyway. The pass is off target – McNabb had to throw the ball so that Moss was the only one who could get it – and the ball falls incomplete.
McNabb stepped up in the pocket, avoiding Andre Carter's outside rush, and then scrambled to the right. He faked a throw – he is very effective at this – to force another defender to hesitate and picked up extra yardage.
On a run to the left, Larry Johnson seemed to dance around blockers and tacklers. Finally, he turned up-field only to be met by Kareem Moore.
McNabb fired a deep pass downfield to Joey Galloway. The ball seemed to be thrown on a line – not a high-arching pass. Galloway caught the ball in stride, beating two defenders.
Lining up at tight end, Mike Sellers attempted a diving catch on a route along right sideline. He couldn't hold on, and he got up and slapped his hands in frustration. Lorenzo Alexander and Kevin Barnes had tight coverage on the play.
Justin Tryon leaped up to break up Richard Bartel's deep pass to Brandon Banks down the left sideline.
Devin Thomas appeared to beat Byron Westbrook on a post route, but Thomas couldn't hold on to John Beck's throw.
And with that, practice comes to an end after approximately two hours.
-- 3:35 p.m. ET
Oftentimes players participate in the early part of practice, going through warm-ups and drills with teammates.
Then when 11-on-11 work begins, they casually go to the sidelines.
On Sunday, Jammal Brown stayed on the field. He was deemed full-go after experiencing hip soreness the last week.
"It felt good," Brown said after practice. "I felt like I had one of my better practices, too. It felt good moving around. There was some football soreness, but that's football."
Brown said he wanted to play in the Redskins' preseason opener last Friday vs. Buffalo, but coaches and team doctors thought it best for him to get more rest.
He was replaced in the lineup by Stephon Heyer.
"I sat that one out, but I'm looking forward to the next one," Brown said, referring to the Aug. 21 preseason game vs. Baltimore at FedExField.
Brown, who joined the Redskins as part of a trade with the New Orleans Saints on June 21, has had limited reps with the first-team offensive line in training camp.
He is a two-time Pro Bowl left tackle, but he is expected to start at right tackle for the Redskins. (Rookie Trent Williams is slotted in at left tackle.)
Brown said he was impressed with the offensive line's performance against the Bills. The unit yielded just two fourth-quarter sacks and pounded out 140 rushing yards.
"We're working hard and we have a great offensive line coach in Coach Foerster," Brown said. "Coach Shanahan has this program going in the right way."