Redskins.com's training camp practice reports come to you with news and updates as action happens on the Redskins Park practice fields:
-- 8:07 a.m. ET
Wednesday is the seventh day of Redskins training camp, which means we are a week into it now.
Yep, still no Albert Haynesworth. He did not run the conditioning test again on Wednesday -- he's still resting his knee.
Meantime, Mike Shanahan has changed the practice script. It's still heavy on installations, but there is more 7-on-7 work.
Which means more one-on-one action.
Asked on Tuesday if there would be more one-on-one action, Mike Shanahan replied: "It all depends on how we feel...We can see a lot of different situations with one-on-ones, with picking up different stunts.
"We will probably go a couple of days with some good one-on-ones and seven-on-sevens and the quarterbacks will work on some of their footwork as well."
The value of the one-on-ones?
"You get a chance to match people up," Shanahan said. "It is not always a realistic situation, but you put a player in awkward situations where it is you against another player to see how they compete and how they do against some different players."
-- 8:17 a.m. ET
Players are making their way to the practice field.
It is a little more humid this morning than the previous two days. There's no hint or expectation of rain, though.
Mike Shanahan walks out to the practice field and slaps hands with a group of fans along a railing.
Fans shout "Albert!" as Albert Haynesworth walks by. Amid all of the controversy at Redskins Park, he has been surprisingly well-received.
Players begin a brief walk-through session before stretching.
-- 8:29 a.m. ET
Daniel M. Snyder Interview
On Tueesday afternoon, I joined Matt Terl and Larry Weisman in the executive conference room at Redskins Park for an interview with owner Daniel M. Snyder.
It was a wide-ranging interview, touching on a variety of topics.
On improvements to Redskins Park grounds: "I think we continually upgrade Redskins Park and we continually look at the field quality. But we are also looking more and more at building an indoor practice facility. One of the things that I really dream about having here as well is a museum. I love to have a Redskins museum."
On a timetable for a Redskins museum: "Hopefully in the near future. The Redskins museum to me would be really important. I've been collecting now, since I've bought the team, a tremendous archive. It's in storage. We have some great stuff that would really be fantastic. The history here, the tradition here, the fan base – it would be really exciting to give the fans an opportunity to see all that."
On Albert Haynesworth: "Well, I'm hoping that he passes the conditioning test set out, and I'm looking forward to seeing him out there with the rest of the guys and moving forward. I think that Coach Shanahan has a handle on everything here, and things'll work out great."
On Expectations for the 2010 Redskins: "Well, my expectations after what the fans and everyone went through the last two seasons, particularly last year, are to go in the right direction. I think we're doing that now. I feel very, very comfortable with Mike and Bruce and where we're going now. It starts there. And then I really do believe that Mike sees this team as a good team that is not looking backwards but is looking forwards. And his optimism is contagious."
-- 8:40 a.m. ET
During Tuesday's Redskins.com interview with Daniel M. Snyder, I asked him if, with Donovan McNabb in Washington now, if this was the most comfortable he has been with a quarterback during his tenure as owner.
His reply: "Sure. As owner, yes. As a fan, I was clearly confident in Sonny Jurgensen and the rest of the greats, and I think we've now got a great. We have a franchise quarterback. They're awfully hard to come by."
I followed that up with a question intended to get an idea on contract extension talks with McNabb.
"I hope he doesn't retire until Brett Favre does."
Favre reportedly announced on Tuesday that he may retire instead of returning to the Minnesota Vikings – who the Redskins play in Week 12 at FedExField this year – for a 20th season.
So either Snyder does not believe Favre is retiring anytime soon or he expects McNabb to retire any second now.
After the interview, I checked with Redskins senior vice president Tony Wyllie just to clarify his response.
I was told his response could be simply, "Yes."
-- 9:02 a.m. ET
Washington, D.C., rapper and Redskins fan Wale is in attendance at training camp.
Wale, of course, performed at halftime of last year's Redskins-Cowboys game at FedExField.
"I don't know if any Redskins fan hates the Cowboys more than I do," he told Redskins.com's Larry Weisman at the time. "It's really bad. I have to be somewhat diplomatic because I have a lot of fans who support those Cowgirls."
He fits right in at Redskins training camp.
Wale headed into the VIP tents where he signed autographs for fans.
-- 9:11 a.m. ET
Here is your Practice Report public service announcement.
Fans, if you're coming to Redskins training camp, please bring school supplies for the Redskins Charitable Foundation. (You can't miss the big truck on the grounds heading into the facility.)
The "Stuff a Backpack" School Supply Drive runs through Saturday, Aug. 7 and it helps families in need get their children ready to start the school year.
All the school supplies collected will be "stuffed" in backpacks and distributed throughout the Washington Redskins market to children that could otherwise not afford to purchase new school supplies.
Fans unable to come to the Park can also participate by dropping off supplies at any of the 10 metro area Redskins Retail Stores. A collection box will be visible and clearly marked "Redskins & World Vision" inside the stores for your convenience.
-- 9:27 a.m. ET
First series of 7-on-7 work got off to a rocky start for all four quarterbacks.
Each of them misfired on passes.
Rex Grossman had the top play when he threw deep to Roydell Williams for a 40-yard touchdown. Kevin Barnes had coverage on the play.
Here are some more highlights from 7-on-7 work:
Donovan McNabb threw deep to Roydell Williams, but can't connect. Phillip Buchanon appeared to have solid coverage, but he did 10 push-ups anyway.
McNabb connects with Anthony Armstrong on a pass across the middle. He got caught in a group of defenders and it appeared Kareem Moore forced – and recovered – a fumble. "Get up and run!" a coach yelled.
Grossman threw a downfield pass to Bobby Wade, but Chris Horton is there to break up the play.
Grossman targets Horton again, this time on a deep route to rookie Terrence Austin. Austin had a step on his fellow UCLA alum, but the pass was overthrown.
Barnes made for yielding a TD pass earlier by nicely breaking up a pass to Devin Thomas.
-- 9:45 a.m. ET
Brandon Banks was one of my five rookies to watch heading into training camp.
Banks hasn't jumped out yet on offense – it didn't help that backup quarterbacks were struggling early in camp.
On punt return drills during Wednesday's practice, Banks flashed his impressive speed and cut-back ability.
Last year, Banks tied for the nation's lead in kickoff returns for touchdowns with four. He was 12th in the nation with a 28-.9-yard kick return average and he was 35th in the nation with a 9.1-yard punt return average.
As a wide receiver, Banks led the Wildcats' offense with 56 catches for 705 yards last year.
-- 10:07 a.m. ET
After one week of training camp, Mike Shanahan has opted to give some of the veterans a half-day on the practice field.
Santana Moss, London Fletcher, Phillip Daniels, Clinton Portis, Larry Johnson and Joey Galloway were among veterans who took the pads off midway through practice.
Jammal Brown is sitting out practice with a mild hip strain.
Mike Furrey is out with an illness, too.
Their absence gave some of the younger players a chance to move up on the depth chart for practice.
For example, third-team wide receiver Shay Hodge was lining up with the second team and catching passes from Rex Grossman.
-- 10:15 a.m. ET
Here are some of the highlights from 11-on-11 work midway through practice.
Lendy Holmes made a leaping interception of a John Back pass.
Richard Bartel found Keiland Williams wide open on a short pass, and it was open field ahead. He had about 20 yards of room to run downfield.
Curtis Gatewood blitzed into the backfield and would have sacked Bartel. His pass was an overthrow to Chris Cooley on the left sideline.
Chad Rinehart had great push on a block to the right, helping Williams pick up a chunk of yards on a run play.
Anderson Russell broke up a pass across the middle with a nice play.
-- 10:30 a.m. ET
Phillip Buchanon appears to be having a strong practice on defense.
He made himself do 10 push-ups after breaking up a Roydell Williams pass early in practice.
Then, midway through an 11-on-11 series, he broke up Rex Grossman's pass to Terrence Austin.
In one of the unsung training camp competitions, Buchanon and Justin Tryon are competing to be the nickel cornerback on the roster.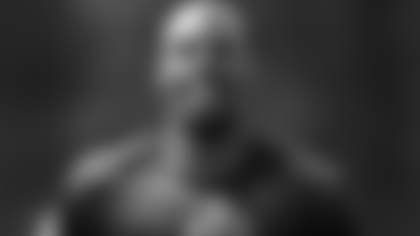 It's too close to call at this point.
-- 10:31 a.m. ET
With practice winding down, coaches continue to get a good look at young players and roster hopefuls.
Anthony Bryant, playing with the second-team defense, gets a hand on a Donovan McNabb pass at the line of scrimmage. Chris Horton had a chance at an interception but could not hang on.
Bobby Wade found himself covered by Chris Wilson and he broke to the end zone. Chris Horton could not get over to help in time. Donovan McNabb's pass was perfectly placed for Wade to score a touchdown.
The aforementioned Shay Hodge pulled in a quick slant pass from Rex Grossman.
Hodge again on a downfield route. Grossman's downfield pass was overthrown.
Grossman threw deep to Terrence Austin in the end zone, but the pass was beyond Austin's reach.
An awkward pass by Grossman on a deep route to Fred Davis. For some reason, he threw the ball off his back leg and the ball was nowhere near Davis, who was wide open heading to the end zone.
-- 10:40 a.m. ET
The Redskins' first-team offense – keep in mind that some veterans were sitting out – competed against the second-team defense in the hurry-up offense.
Here is where you can see Donovan McNabb's on-field leadership. He is calm at the line of scrimmage and directs receivers to the right position.
Here's a play by play of the series:
McNabb tossed a quick pass to Willie Parker across the middle for a modest gain.
McNabb fired a 15-yard pass to Bobby Wade, who split two defenders to make the grab.
McNabb targeted Devin Thomas downfield next and picked up another chunk of yardage.
McNabb capped the drive by throwing a 25-yard touchdown pass to Chris Cooley, who caught the ball and tumbled into the end zone for the apparent score. Justin Tryon put a hard hit on Cooley just as he crossed the goal line.
Hold everything! Coaches decided to put the ball at the 1-yard line so the offense could get some work in on the goal line.
McNabb dropped back and threw to Cooley on the left side. Cooley was in one-on-one coverage with Kareem Moore. The ball was off target, incomplete.
McNabb rolls left and throws a short fade pass to Darrel Young, who was wide open. He pulled in the pass in the end zone, beating Chris Draft for the score.
-- 10:58 a.m. ET
DeAngelo Hall has never been one to shy away from bold predictons.
After practice, he was asked about the progress of the Redskins' defense.
He stopped short of making any bold predictions this time.
"We have a chance to be good--borderline great," he said. "Me talking about it doesn't mean it happens, though."
-- 11:30 a.m. ET
Defensive lineman Albert Haynesworth did not take the conditioning test on Wednesday as he continues to rest a sore knee.
Haynesworth again watched practice from the sidelines, going through mental reps as the defensive linemen went through installations.
He participated on the field when linemen worked against the sled and batted blocking dummies during drills.
And Haynesworth continued to spend extra time working individually with Jim Haslett and Jacob Burney after practice.
Asked if Haynesworth would take the conditioning test on Thursday, Mike Shanahan replied: "I really don't know. The knee is still getting a lot of treatment. He is in here early getting treatment three times a day. He's getting a lot of work on that treadmill, so hopefully he passes the test in the near future."
-- 11:39 a.m. ET
Mike Shanahan said he held right tackle Jammal Brown out of practice on Wednesday morning after the veteran right tackle experienced some soreness in his surgically repaired hip earlier this week.
Brown underwent an MRI on the hip on Tuesday and the results were positive.
"We check everything out, and we gave him an MRI just to make sure," Mike Shanahan said. "And he's fine. Doctors say that's typical. After a guy has been injured, he is going to be a little sore.
"He wanted to practice and I just thought it was best to give him some rest. He'll be out there [on Thursday] ready to go. Hopefully there won't be a setback."
Brown missed all of the 2009 season with the New Orleans Saints due to the hip injury.