Tress Way's path to the NFL has been full of twists and turns – including at one point nearly deciding to hang up his cleats – but it currently leaves him as one of the NFL's best at his position.
After redshirting for the Oklahoma Sooners in 2008, Way took over the team's punting duties in 2009. Over the next four years, he averaged 44 yards on 250 punts, including 71 boots of more than 50 yards, and pinning 91 more inside the opponent's 20-yard line.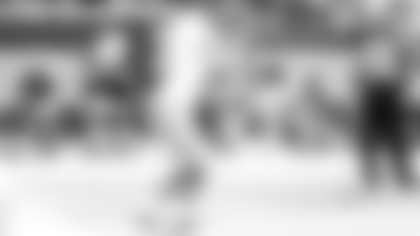 At the conclusion of his senior season, Way was an All-Big 12 Honorable Mention selection and finished his tenure ranked No. 1 in school history with a 44-yards-per-punt average.
"I had a pretty good college career," Way said. "Playing at the University of Oklahoma was a lot of fun and just being able to be one of the guys. Being voted as a team captain was awesome."
With his successful collegiate career behind him, Way set his sights on the NFL. After going undrafted in 2013, the Chicago Bears invited Way to training camp, where he would compete with veteran Adam Podlesh.
At the conclusion of camp, Chicago elected to go with experience rather than youth, and Way was sent on his way around the NFL as he worked out several teams, including the Redskins.
Despite his best efforts, Way's NFL career was at a standstill – and he was ready to move on.
"I almost quit football," Way recalled. "I was getting ready to get married. I had a job. I was going to hang up the cleats."
It was then, however, that a familiar voice reached out to Way to offer some words of encouragement.
"Robbie Gould, the kicker from Chicago, he really stayed on me," Way said. "He said, 'Tress, I know how discouraging it can be as a specialist. I know how tough it can be. You belong in this league.'"
Later that year, Chicago once again invited Way to training camp, this time to compete with the newly-drafted Pat O'Donnell. Reunited with Gould once again in Chicago, Way said that he learned even more from the All-Pro kicker the second time around.
Unfortunately, Way's second chance in the Windy City proved to be for naught, as the Bears elected to go with O'Donnell, releasing Way for the second time in as many years.
But soon thereafter, the Redskins reached out to Way and he was on the next flight to Washington, D.C.
"I think it was less than a day later that I got a call from the Redskins saying that they had claimed me off of waivers," Way said. "I was a Redskin in high school. So now getting to come here and getting to be a Redskin for hopefully my whole NFL career."
After arriving in time for the Redskins' final two preseason games, Way immediately asserted himself as the team's top punter. With boots of 51 and 59 yards in preseason, the rookie punter won the spot and hasn't looked back since.
With 58 punts so far this season, Way is averaging an NFL-best 48.3-yards-per-punt and has pinned 18 inside the opponent's 15-yard line. Against the San Francisco 49ers, three of his eight attempts were downed inside the 5-yard line.
"It's really been going good," Way said. "Working with Coach Ben [Kotwica], the directional kick, really my biggest goal is to get it with good distance, good hang time."
Since he arrived in D.C. in August, Way has also immersed himself in the Redskins way of life, including getting involved in the team's charitable foundation.
On several occasions, the young punter has represented the burgundy and gold out in the community. Along with actively participating in Breast Cancer Awareness Month, Way has taken part in several NFL Play 60 events and recently helped out at the Redskins 12th Annual Harvest Feast.
Now, three months into his Redskins career, Way is statistically the NFL's best punter and is third in the NFL Pro Bowl fan voting. While his first season hasn't exactly gone according to plan, Way's taken it all in stride and is excited about the future.
"I absolutely love it here," Way said. "I love the guys. We got a great team – still working to continue to build and get better – but, man, we got a lot of talent and it's been a lot of fun."