*Eddie Mason began his NFL career in 1995, playing linebacker in his final four seasons with the Redskins before retiring in 2002. Since then, he has created a second career for himself, opening his own training facility and watching it grow into a well established workout center for kids, adults and players. *
Now, he has written a new book, Training For The Tough Game Of Life, which explores his trials as a football player and his discovery of a "playbook" for overcoming the adversity we all face in life.
Redskins.com caught up with Mason to talk about the book, his training facility and the relationships he's made with others along the way:
Redskins.com: Former players often call their playing days the best years of their life. Do you fall into that category or is this part of your career the most enjoyable for you?
Mason:"I think it's more of a combination. You really can't replace being able to play at the elite level in the NFL. It's just a tremendous accomplishment. But I do think that a lot of the life I live personally from when I was a young rookie, making a lot of mistakes, going through the hard knocks of life, learning the hiccups, and finally coming to the epiphany of 'It's time to wake up,' and take my career serious -- that kind of spearheaded how I approach life today. That's trying to make a difference and leave a legacy. I'm really just trying to change lives, trying to help aspiring young men in particular who play sports. It's really for any man and I'm just trying to teach them through this book that you may be behind now but you can always make a great comeback."
Redskins.com: You often cite an encounter with James Thrash in the locker room as the turning point for that mindset. Was there an earlier moment where things clicked mentally?
Mason: "The biggest thing for me was when I was in Tampa, Fla., and I met Tony Dungy. This was before I came to the Redskins, my third year. Meeting him was what I call facing the truth. Tony Dungy is such a man of integrity, a man who is really about building in. He was the catalyst that sparked the flame and fire for really seeing myself, not for where I thought I was, but where I really was as a man. He just spoke some real words to me, some real truth to me. He said, 'Hey, you're a great man, but you can be better.' That gave me the confidence to take the steps. If you want to be great, get around great people. Seeing him and the example that he's set for not only his players but the organization, that kind of gave me a vision, if you will, like that's what I want to model my life after."
Redskins.com: How rewarding has it been to have those kinds of relationships in your life?
Mason: "I've got to tell you, that is probably the most motivating factor for me. The thing that I am most passionate about right now is the NFL community as a whole. Seeing a lot of the things in the league, there's such a need for, I call it 'bigger brothers' of the league, guys who have played the game, have lived it, have made the mistakes, came back from it. There's such a need for guys to come out and say, 'Listen, I've been exactly where you are and you don't really need to go down that road.' I think that if we can have more men, more mentors, stand up for these young guys that are coming into the league and let them know that you don't have to choose this path. You can focus on your career. You can focus on your community. You can focus on your relationship with God. It's a short window of your life, but you can make it the best time of your life if you really get focused."
Redskins.com:Herm Edwards does his crash course rookie symposium, but oftentimes some say it seems as though it doesn't get reinforced too much after that.
Mason: "Exactly, and that's the key. I was fortunate enough to be in that meeting, when the Ray Rice thing came out, with Commissioner Goodell, sitting in that meeting with 20 other men there, listening to what they were trying to come up with, making an intervention for these young men – domestic violence and sexual assault. But really, it's a culture thing. We have to change the culture. You have to have mentors in place. You have to have men in place who can coach these players on how to do it right. It starts at the collegiate, high school and even youth level. Once a young man turns 12 or 13, they're trying to determine who they want to be in life. We have this saying, 'Football is not who I am, it's what I do.' It's really about teaching value outside of the game."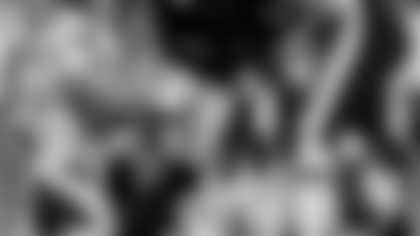 Redskins.com: How long did it take you write this book?
Mason: "[It took] about a year and six to eight months. It was a very disciplined process and I had to write every day. I had a writing coach, the whole deal."
Redskins.com:What compelled you to carve out so much time for it?
Mason: "What compelled me was looking at the times of where sports culture is today. You never write things and do things in life, I don't believe, just for yourself. I think you do it because you have a mission and purpose in place."
Redskins.com: Based on the rapid changes in workouts and strength philosophies, how much are you adapting your workout facility to the latest trends?
Mason: "We've still got guys using 'bigger, faster, stronger' [mottos]. That program is not really in existence anymore. You see what the trainers with the Philadelphia Eagles are doing -- variable heart rate training. They have heart monitors hooked up to the guys every time they're in a training session, workout, strength and conditioning. We're talking about getting to the core philosophies of movement. You look at a lot of the yoga, the Pilates based movements, the core training, all of these things have to be comprised now because today's game has changed. The game of football now is a fast game. If you can't run, you can't move, you can't change direction, you can't cover at any length of time, you're going to have problems. We have to train that athlete to move at an explosive and high level. You saw the Super Bowl. They spread you out and run your tail. It's like playing basketball on the football field."
Redskins.com:Do you enjoy watching football today?
Mason: "You've got to stay in tune to the game because at the end of the day it's about studying the sport. I still train athletes so I have to stay in tune with what's current, what new techniques are being used. There are some core values in terms of tackling and fundamental techniques but the reality is, the offenses, schematically, the game has changed. These offensive coordinators they're being extremely creative now in how they can spread you out and do different things. The jet sweep to the pistol to whatever. You just don't know what you're going to get from week to week."
Redskins.com:Are players reaching out to come train with you or do you seek them?
Mason: "Well, usually one guy goes, [he] has experiences and says, 'Hey, this guy knows what he's doing.' Word of mouth, that's the way it works in this business. We don't really market and put fliers out there. My facility has just been a word of mouth deal. They like the product, they like the environment we set. Some players have hamstring issues, some players have hip flexor issues, some players have core issues. We try to meet those players, identify what areas they have and say these are the things that we can help you get better. I think that's what kind of separates us."
Redskins.com:So now that the book is published, was it a good experience?
Mason: "It was. The greatest thing about it was embracing my past. Life can just pass by, man, literally pass us all by if we don't just take a minute and reflect. We were doing a training class for a life coaching [session] one time. They were talking about the two biggest things people 90 and above wish they would have done more of was reflect more and take more risk. One of the things I wanted to make sure of, at the end of my days, was that I reflected and I wasn't afraid to take risk. Part of that was opening my own company, that was the risk, part of the reflection was writing a book. I had a chance to look at my abusive father, my struggles with drugs and alcohol, to getting over that, to walking as a man of faith, to being involved in community."
Redskins.com:So now that you've reflected and taken a risk, what comes next?
Mason: "I think another book. I think we want to do a workbook alongside of this. We want to get this book into as many hands as possible. Because it's so vulnerable and very real, it's very relatable. We wanted to meet all walks of life and are already changing lots of lives."
Redskins.com:I imagine you're itching for the football season already.
Mason: "One hundred percent, man. This year, 2015 is going to be the best year for the Redskins. Hail to the Redskins."