Donovan McNabb says he has moved on from his controversial benching two weeks ago.
Still, the questions keep coming.
He dutifully answered more during his 10-minute media session on Thursday.
McNabb said he has discussed with head coach Mike Shanahan and offensive coordinator Kyle Shanahan on ways to improve the offense in the final eight games of the Redskins' season.
"This is football," he said.
McNabb said that his focus right now is on the job at hand – preparing to start Monday night's game against the Philadelphia Eagles at FedExField – and to "make sure the other guys in the locker room feel confident with me being out there."
He dismissed a suggestion that he was in a quarterback controversy in Washington.
On his hamstring injuries, cited as one of the reasons for his benching, he said: "I'm good, I'm good, thanks for asking."
And he said that he has a "pretty good relationship with the people in the organization here," including the Shanahans.
When Mike Shanahan benched McNabb in favor of Rex Grossman in the final two minutes of a 37-25 loss to the Detroit Lions on Oct. 31, it opened up scrutiny and speculation that swirled all through the Redskins' bye week.
The scrutiny and the speculation won't go away until the Redskins square off against the Eagles, their long-time NFC East rival.
McNabb, of course, played 11 seasons for the Eagles before being traded to the Redskins last offseason.
Two years ago, McNabb dealt with a benching by Eagles head coach Andy Reid after he threw two first-half interceptions vs. Baltimore.
Reid stayed with McNabb as his starter.
Four days later, McNabb came back and turned in a career performance, completing 27-of-39 passes for 260 yards and four touchdowns.
McNabb was asked about replicating that performance this Monday night vs. Philadelphia.
"Well, you have to understand what's at hand here and you want to come out and do some different things, but you still have to manage the game, make sure you're prepared and that you have fun playing," McNabb said. "You know, this doesn't take away my passion or take away my determination to do well each week."
Will he feel any extra adrenaline going into the game?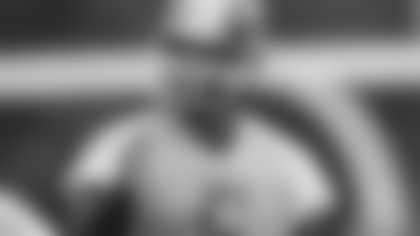 "Not necessarily," he replied. "When I step out on the field, I already have that adrenaline."
The Redskins' offense has been a work in progress all season. Coaches have implemented a new scheme that they say takes some time to learn.
The offense is ranked 19th in the NFL, 23rd in rushing and 13th in passing.
In eight games, McNabb has completed 57.4 percent of his passes for 1,971 yards, seven touchdowns and eight interceptions. His QB rating of 76.0 is ranked 25th in the league.
McNabb has been sacked 22 times and pass protection has been a problem in recent weeks. In the loss to the Lions, McNabb and Grossman were sacked a combined seven times.
McNabb said he has talked with coaches about tweaking the offense to tailor to his skills, although he did not go into specifics.
"We've talked about a lot of different things, and that was part of it," he said. "I think it's important for us to be successful and everyone to be comfortable with some of the things that we do well. There are a lot of things that we want to do that we haven't been able to do in the first eight [games] and we look forward to showcasing that."
At times during Thursday's media session, McNabb appeared weary of answering questions about his benching and his status with the coaches.
He was asked about how he handles controversy and why he did not react angrily to public criticism – internally or externally – of his play.
"First of all, I like to handle my business behind closed doors," he said. "I don't like to go through the media and try to vent or react to certain situations. That's not being a true professional. My professional manner is to talk to you man to man and try to find out what the problem is.
"You find out the problem, you come up with a solution and you move on. I think for a lot of guys that's hard to manage, because they want to vent, but what do you really get out of the deal before it becomes like an ongoing battle and a he-said, she-said [situation]. That's just not how I go about business.
"For the guys in the locker room, they know I'm just going to be me. They have seen me over the years, they're seeing me here. I'm hands-on and I believe it's important for the guys in the locker room and people in this organization understand how I feel.
"And that's by sitting down talking to them and for them to get to know me and understand what has gone."