With four games to play and a spot in the playoffs still up for grabs, the Redskins' offense is preparing for one of its toughest matchups of the season in Ray Lewis, Ed Reed and the Baltimore Ravens defense.
Lining up against the league's second-ranked defense is not a surprise for center Casey Rabach, who started his NFL career in the Charm City.
"In the four years that I was there we lived and died by our defense," Rabach said. "If we scored 13 points, we had a good chance of winning that football game."
Although the personnel on the Ravens defense has changed since Rabach left after the 2004 season, its effectiveness has not.
Many players inside the Redskins locker room think it is the best defense in the league.
"The turnovers that they get, the points off of the turnovers they get, the disruption of the passing game and the confusion that they cause offenses is pretty remarkable," Rabach said. "They are playing well. They are probably the top defense we will face this year."
Through 12 games, the Baltimore defense is allowing just over 253 yards per game, 78 on the ground and 175 through the air.
The man Rabach is assigned to block is 345-pound nose tackle Haloti Ngata.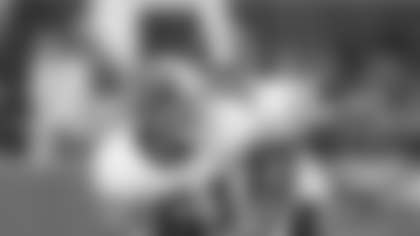 Ngata is active up front, recording 58 tackles, one sack and two interceptions so far this season.
"He is playing well," Rabach said. "He's a big body and he does well against the run. He keeps his linebackers free, which is what they ask him to do."
Rabach has had plenty of practice this season playing against stout nose tackles, including Cleveland's 350-pounder Shaun Rogers.
Against the Browns, Rabach and the offensive line cleared the way for 193 rushing yards in a 14-11 win at FedExField.
Other than a dominating defense, Rabach does not see very many similarities between this year's Ravens squad and the teams he played on his first four seasons in the NFL.
He says the only current Ravens player that he keeps in touch with is outside linebacker Jarret Johnson.
Since most of the coaches and players have changed since he left, the Redskins center does not feel this game will have any extra significance.
"I think 2005 would have been a lot different [if the Redskins and Ravens had played]," Rabach said. "You never want to lose to a team that you just left. Four years removed, it's like night and day since when I was there."
Although Rabach is treating this week's matchup just like every other game, there is no doubting what a victory will mean for the Redskins.
"It's important due to the fact that we are trying to make it to the playoffs and trying to get that Wild Card spot, and hopefully if we get a win here, we we'll make it," fullback Mike Sellers said.