The Redskins helped launch a new "Keep Gym In School" initiative this week to encourage physical fitness and activity in America's schools.
Wide receiver Antwaan Randle El kicked off the program by unveiling several refurbishments--including a fitness room and new outdoor running track--at Poe Middle School, a Fairfax County Public School.
Afterwards, Randle El was joined by fellow Redskins quarterback Colt Brennan and linebacker Alfred Fincher in leading students in a series of fitness drills.
"Keep Gym In School" is a program developed by The NFL Network.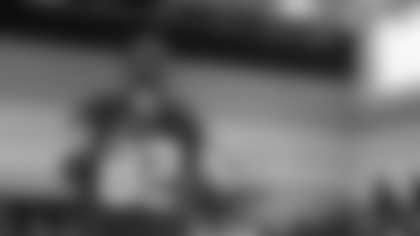 In its first year, "Keep Gym in School" is funding refurbishments for physical education programs and hosting NFL mini-camps to get kids active and assess their fitness levels.
Students will participate in follow-up testing to determine the local performers who will earn trips to a National Honors Event held during the 2009 NFL Draft week.
"Keep Gym in School" has chosen schools to help deliver quality physical education opportunities to all students. Keep Gym in School will refurbish facilities, provide funding for physical education instructors and supply equipment, as needed.
Each adopted school will engage in an "In-School Fitness Challenge" to assess student fitness, motivate students to stay active and allow physical education teachers to monitor student progress throughout the year. The challenges will be kicked off with "mini-camp" events that will be run by the participating NFL players.
NFL teams supporting "Keep Gym in School" in its first year are the Redskins, Kansas City Chiefs, New Orleans Saints and Arizona Cardinals. Participating NFL players include Randle El, Chiefs linebacker Donnie Edwards and former guard Will Shields, Saints running back Deuce McAllister and Cardinals quarterback Kurt Warner.
"Keep Gym in School" has created a series of football-inspired lesson plans and a fitness assessment program in collaboration with the National Association for Sport and Physical Education (NASPE).
The initiative also incorporates the President's Challenge, a physical activity and fitness recognition program of the President's Council on Physical Fitness and Sports (PCPFS).
NFL Network is rolling out the program with Cox Communications in Fairfax County, Virginia.
Randle El was also joined by NFL Network analyst and former NFL defensive back Solomon Wilcots, NFL Network COO Kim Williams, Senior Vice President and General Manager of Cox Communications Janet Barnard and Executive Director Melissa Johnson of the President's Council on Physical Fitness and Sports.