As a professional athlete, Antwaan Randle El makes physical fitness a daily part of his life.
He wants today's youth to put an emphasis on physical fitness in their lives for reasons beyond athletics: good health.
On Tuesday, Nov. 17, Randle El joined 20 boys and girls from Washington, D.C., who have gotten the message on the importance of fitness. He led the children in a series of exercises as part of the American Heart Association's "Recess By the River" program at the Heat Haven center in the Southeast section of the city.
The children in attendance were selected from various Washington, D.C., recreation centers that made a year-long commitment to exercise. The 20 kids have charted their fitness progress since the beginning of the 2009 school year.
To encourage the kids to continue to participate in the program, Randle El and the Redskins partnered with GlaxoSmithKline to reward the children with a FedExField game day experience at the Redskins-Saints game on Sunday, Dec. 6.
"Recess By the River" seeks to effect positive changes in behavior and have a lasting impact on kids' health. The program runs from September to May and offers incentives to encourage children to consistently participate in the program.
Across the United States, nearly 25 million children and teens are overweight or obese. Nearly one out of every three children and adolescents are overweight or obese, making childhood obesity one of our nation's leading health threats.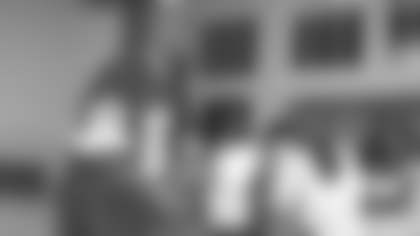 Washington, D.C. has some of the highest levels of childhood obesity in the nation. Young people are facing life-threatening health conditions and a lessened quality of life, and will inherit higher healthcare costs.
The result is an increase in serious health problems early in life. High cholesterol, high blood pressure, stroke, Type 2 diabetes and depression are now part of more and more kids' lives.
In part because they lack access to healthy food and recreation facilities, children living with families with lower incomes are more likely to be overweight or obese. If current trends continue, today's kids could be the first generation to live shorter lives than their parents.
Working in conjunction with D.C. Parks and Recreation, "Recess By the River" brings together partners such as the Redskins, GlaxoSmithKline, the American Heart Association, and many more.