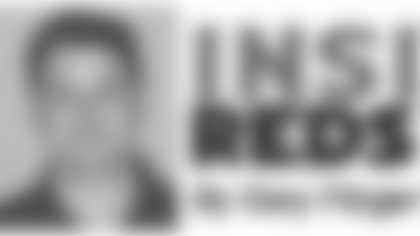 All first half, the Redskins struggled to get into the end zone against a tough Philadelphia defense on Sunday.
Instead, they settled for three field goals.
Down 14-9 in the third quarter, the Redskins knew they would need a touchdown to steal the lead from the Eagles.
They resorted to trickery to get the job done.
And the ever-versatile Antwaan Randle El was the perfect candidate to trick the Eagles' aggressive defense.
Clinton Portis had picked up 28 yards on two carries and Devin Thomas grabbed a 12-yard pass from Jason Campbell to move the Redskins into scoring range.
At the Eagles' 18-yard line, Randle El lined up to the left of Campbell and went in motion. He took a handoff from Campbell on a reverse and drifted toward the right sideline.
He waited for a receiver to get open downfield.
Randle El found Cooley open at the 5-yard line. Cooley grabbed the pass and barreled into the end zone for an 18-yard touchdown catch.
Finally, the Redskins held the lead at 16-14.
They would go on to defeat the Eagles 23-17 for their fourth consecutive victory.
Randle El, of course, is a former college quarterback and he has remarkable versatility as a runner, receiver and passer.
This season, Randle El is 2-of-2 on pass attempts, with both throws going to Cooley on similar plays. He has thrown for 29 yards and one touchdown.
Randle El's touchdown throw to Cooley was the fifth of his seven-year NFL career. (He has thrown four in the regular season and one in the postseason.)
In the regular season, Randle El has completed 19-of-23 passes for 259 yards in his career.
Of course, Randle El's most famous throw came in Super Bowl XL in 2006 as a member of the Pittsburgh Steelers.
Randle El tossed a 43-yard touchdown pass to Hines Ward to help the Steelers defeat the Seattle Seahawks 21-10.
Redskins head coach Jim Zorn was the quarterbacks coach of the Seahawks that year. If anyone on Washington's staff is familiar with Randle El's skills, it's Zorn.