Randy Jordan realized he wanted to be a coach the moment he stopped thinking about just his assignments and began thinking about the complexities associated with each specific play he was running.
"I think when it really hit me that I wanted coach, was when I went from memorizing plays, to wanting to know the why and the how," said Jordan, who is in his first year as the Washington Redskins' running backs coach. "I fell in love with scheme and trying to figure out how you can defeat certain coverages, certain fronts and I was a jack of all trades, but a master of none."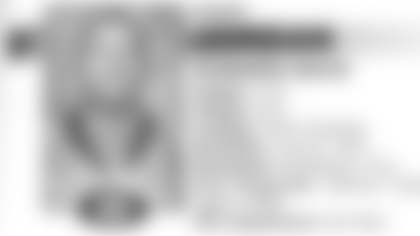 Jordan played in the NFL for nine seasons, splitting his career between the Los Angeles/Oakland Raiders and the Jacksonville Jaguars. Before taking his first official coaching position with the Raiders as a special teams assistant in 2003, Jordan actually followed his running backs coach around to get an idea of what it's like to be on the other side of the player-coach dynamic.
"Right around my sixth year, I was like, 'Okay, it's time to start putting some work in,'" he said. "And I started shadowing my running back coach – Coach Skip Peete – so it was a good deal."
Jordan's first position coaching running backs came at the University of Nebraska under his former head coach with the Raiders, Bill Callahan.
During his four seasons as Nebraska's running backs coach, Jordan learned a valuable lesson in coaching – every player learns differently.
"One thing I did learn while there, was that all people don't learn the same," he said. "In a teaching environment, I learned that quickly. Some people are visual, some people are listeners, some people are note takers, some guys they're rep guys.
"Once I found out, in terms of their personality, how they individually learn, I was able to cater to their specific skill level in terms of teaching them what they need to know every day in terms of getting ready to play."
After his stint with Nebraska, Jordan assumed the same position with Texas A&M and then at the University of North Carolina before being hired as the Redskins' running backs coach on Jan. 26.
Inheriting the likes of Alfred Morris, Roy Helu Jr., Darrel Young and Chris Thompson – while also adding Silas Redd to the mix shortly after the NFL Draft – Jordan said he oversees a very impressionable room that wants to succeed.
"When I got hired, a lot of the coaches said I had the best group in the building with DY and Alfred, and I had coached Roy at Nebraska - I knew what kind of person he was – Chris Thompson, Silas Redd," he said. "They've helped me because I'm the type, I'm always thinking what they're thinking, and one thing I have learned even on the college and pro, guys want to be coached hard. They want to be corrected. They want you to give them the best plan to be successful, and that's what I try to do every week."
Having been in their shoes before, Jordan said he enjoys keeping the player-coach communication line open at all times. "I try to make sure we have dialogue in the room," he said. "I ask questions. It's not just me in a dark room with the film on telling them stuff like, 'This is what you messed up on.' … I ask them 'Where are your eyes are on this given play? Who do you have? What front is this?' I think they've been real receptive."
Helu Jr. said Jordan has been a valuable asset for the Redskins' running backs.
"What I think we admire and appreciate from our running back group is just his passion for the game," Helu Jr. said. "It rubs off on us and it creates a pretty fun and relaxing atmosphere within the room."
So far this season, the Redskins' backs have combined for 837 rushing yards and nine touchdowns. Before and after each game, Jordan will tinker his series of drills to ensure they are always helping his players on the field.
"If a drill is done and can't be done during the course of the game, we're not going to do the drill," he said. "We're not just going to do the drill to do a drill. So I've got to be able to look on the film, look at during the game, and say, 'Hey, that is the reason why we do that drill.'"
One drill in particular that appears to have worked so far this season focuses on the players' balance.
"You're literally on one leg and you're using your off hand to protect yourself from falling," he said. "It was early in the season, Alfred was running down the sideline and he gets clipped like he's going to fall, and he's literally on one leg and uses his off hand to keep himself from falling.
"He gets up and runs for about 20 yards. I use drills like that get to them ready."