When evaluating a team's draft class, NFL pundits usually target Year 3 as the pivotal season for a player to establish himself.
Well, it's the third year for the Redskins' 2008 draft class, and it's shaping up to be a critical one for each of them.
Nine players from that draft class remain on the Redskins' roster. (Sixth-round punter Durant Brooks was cut in October 2008.) Some have emerged as starters, but none have really solidified their long-term standing with the club.
This was billed as a draft class that would provide impact players and quality depth.
Still could turn out that way.
With head coach Mike Shanahan and general manager Bruce Allen leading the player personnel department this year, 2008 draftees must prove themselves as they compete for playing time in training camp.
So they hold their future in their hands.
Here's a look at the prospects of the Redskins' 2008 draft class:
-- DEVIN THOMAS, WR
After a year-and-a-half of learning the NFL game and fine-tuning his skills, Devin Thomas finally emerged as a starter last season. In the first significant playing time of his Redskins career, he posted 25 catches for 325 yards and three touchdowns.
Now Thomas feels the starting job is his to lose. He is expected to compete with veterans Joey Galloway, Bobby Wade and Mike Furrey and young receivers Malcolm Kelly and Terrence Austin.
Thomas has flashed plenty of potential--witness his Week 13 performance vs. New Orleans last year in which he caught seven passes for 100 yards and two touchdowns. If he can develop more consistency and stay healthy, then he could be on the verge of a breakout season.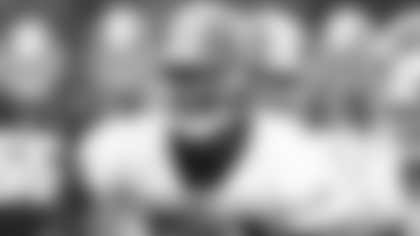 -- FRED DAVIS, TE
Fred Davis was thrust into the Redskins' starting lineup last season after Chris Cooley was sidelined in Week 7 with a fractured ankle. He posted 48 receptions for 509 yards and a team-leading six touchdowns.
Davis proved to be a big target -- at 6-4 and 255 pounds -- with good hands. As he grew more comfortable in the Redskins' offense, his level of play improved. In December of last year, his four touchdown catches were the second-most in the NFL.
One of the question marks heading into training camp is how Davis and Cooley -- who is healthy now -- are going to co-exist in the Redskins' offense. The goal is for them to be on the field at the same time, but given the last two years that is easier said than done.
-- MALCOLM KELLY, WR
Malcolm Kelly answered questions about his durability last year by staying healthy for all 16 games. He said his knee, which bothered him his entire rookie year, felt "real stable, real strong."
Kelly began 2009 as a starter but he struggled to get open consistently and was eventually replaced by Devin Thomas. Kelly finished with 25 catches for 347 yards. He saved his best play for last – an 84-yard catch-and-run in the season finale in San Diego.
Like Thomas, Kelly has shown flashes but he must prove he can be more consistent in his production.
-- CHAD RINEHART, G
Chad Rinehart was finally starting to establish himself at right guard when he suffered a fractured fibula midway through last season. It was a disappointing setback, certainly.
Now that Rinehart is fully healthy, he faces an uphill climb to re-claim the starting job. The Redskins revamped the offensive line during the offseason, adding three prospective starters in Jammal Brown, Artis Hicks and rookie Trent Williams.
It appears Rinehart is in the mix for a backup role with Will Montgomery, Edwin Williams, Kory Lichtensteiger and Erik Cook.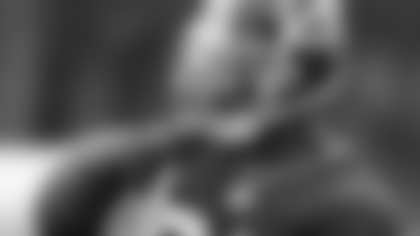 -- JUSTIN TRYON, CB
Justin Tryon made significant strides last year, posting a career-high 30 tackles serving in a reserve role. He also had his first NFL interception -- off of Donovan McNabb in Week 12 in Philadelphia -- and his first NFL sack.
Tryon's speed and quickness aids him in coverage, but his size – 5-9, 179 pounds – could make him a mismatch against taller wide receivers.
With DeAngelo Hall and Carlos Rogers entrenched as starters, Tryon is competing to be a nickel or dime corner. Young corners Kevin Barnes and Byron Westbrook are on his heels, so he must continue to make progress.
-- KAREEM MOORE, S
Each of the last two years, Kareem Moore backed up LaRon Landry at free safety and made strides as a key reserve and special teams standout. In 2009, Moore logged 17 tackles as well as his first career interception.
Can he take the next step? Moore is poised to earn significant playing time in 2010. Landry is expected to play closer to the line of scrimmage, in a strong safety role, and Moore hopes that his athleticism helps him get on the field as the deep safety.
His competition with Reed Doughty and Chris Horton for a starting job opposite Landry promises to be one of the more closely watched training camp battles.
-- COLT BRENNAN, QB
Last year, Colt Brennan was expected to challenge for a backup role, but his season was derailed by hip and hamstring injuries. He was eventually placed on injured reserve.
Brennan spent the 2010 offseason rehabbing the injuries and working out. He said he spent two months "basically reshaping and rebuilding my body."
Will the hard work pay off? Brennan's goal this preseason is to unseat Rex Grossman as Donovan McNabb's primary backup. He also must fend off second-year QB Richard Bartel to be the third quarterback.
-- ROB JACKSON, LB
As a defensive end, Rob Jackson alternated between the roster and practice squad in his first two years in the NFL. This offseason, coaches moved him to outside linebacker from defense end.
It's quite an adjustment. No longer is he in a stance at the line of scrimmage. Instead, he is reading the defense prior to the snap and adjusting to what he sees in the offense's formation.
Jackson dropped 20 pounds to fit in at outside linebacker. With sack leaders Brian Orakpo and Andre Carter ahead of him on the depth chart, he is likely competing for a backup job with Lorenzo Alexander, Chris Wilson and Jeremy Jarmon, among others.
-- CHRIS HORTON, S
Chris Horton made an immediate impact as a rookie in 2008. He started 10 games at strong safety and posted 81 tackles, one sack and three interceptions. He was named NFL Defensive Rookie of the Month for September 2008 and earned a spot on the Pro Football Weekly Rookie All-Pro Team.
Last year, Horton had high expectations, but his season ended abruptly in Week 10 when he suffered a toe ligament injury that required surgery.
Entering his third season, Horton's role is less certain. He missed a lot of off-season work recuperating from surgery. Also, LaRon Landry is expected to play closer to the line of scrimmage, in more of a strong safety role, which could force him to compete at free safety.