The 2020 NFL Draft is inching closer every day, and head coach Ron Rivera will soon have his first opportunity to improve the Redskins' roster with seven new players.
For the next 10 days leading up to Draft Night on April 23, Redskins.com will be breaking down the team's picks in each round with players fans should look out for each time the Redskins are on the clock.
Here are five players the Redskins could target in the first round:
EDGE Chase Young, Ohio State
Widely regarded as the top prospect in this year's draft pool, Chase Young is viewed by most as a lock for the Redskins at No. 2. He has connections to the area (he grew up in Maryland and attended DeMatha Catholic High School) and he is regarded as a generational talent by draft analysts like NFL Network's Daniel Jeremiah.
"He draws so much attention. … He's the best player in this draft class. … The impact that he has, not only is he going to win his one-on-ones when he gets them, but he's going to create so many double and triple teams his way it's going to be able to let the other guys eat a little bit."
Whatever his role, Young is clearly someone who can immediately impact a team, which is what Rivera values in the first five picks of the draft.
"They're going to be guys that you're going to put on the field right away and they're going to play," Rivera told local media in a video conference on April 7. "That's always been my kind of philosophy. … That's what I believe we need. We need a guy just to come in and really change our football team."
CB Jeff Okudah, Ohio State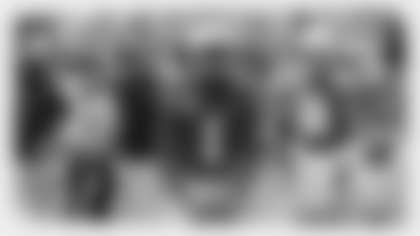 Rivera has insisted since he was hired that all options are on the table when it comes to the No. 2 overall pick, and that includes trading back. If that is the route Rivera and Vice President of Player Personnel Kyle Smith want to take, then there's a good chance Okudah would be available to them.
Okudah is viewed as the top player at his position, and he has certainly earned that distinction based on his performance in 2019. He had three interceptions and nine pass deflections last season, which earned him first-team All-American honors, and he was a finalist for the Jim Thorpe Award for being one of the best defensive backs in college football.
Okudah has drawn comparisons to Patrick Peterson, according to his draft profile. He's smart, aggressive, fast and is not afraid to take on ball carriers. He had 34 tackles last year, which led all Buckeyes cornerbacks and was second among defensive backs.
Drafting Okudah would certainly fulfill a need. The Redskins released Josh Norman and traded away Quinton Dunbar to the Seattle Seahawks and signed Ronald Darby and Kendall Fuller in free agency, but that still leaves the group thin in terms of depth.
Rivera has said he feels like there are several players on their board who can offer an immediate impact to their team. It's likely that Okudah is one of them.
3. LB Isaiah Simmons, Clemson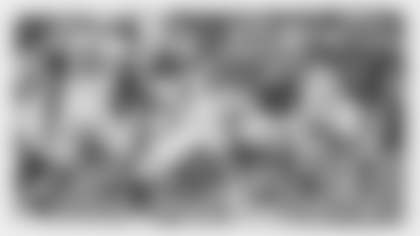 Linebacker is not necessarily an area of need for the Redskins after they signed Thomas Davis Sr. and re-signed Jon Bostic, but there is no denying that Isaiah Simmons has a unique skillset.
"The Redskins trade down and lose out on Chase Young, but Isaiah Simmons isn't a bad consolation prize," Wilson wrote in February. "Simmons can line up just about anywhere on defense and his versatility reminds us of Derwin James."
Simmons' draft stock was only helped by his stellar performance at the NFL Scouting Combine. He recorded a blazing 4.39 40-yard dash, a 39-inch vertical and a 132-inch broad jump.
As Wilson points out, Simmons' biggest asset is his ability to play anywhere on the field. He has the speed to cover receivers, the strength to defend the run and the quickness to beat offensive tackles in pass rush situations. That versatility matters, especially to Rivera and defensive coordinator Jack Del Rio.
"I've got a couple of guys who will tell you I like position flex, I really do," Rivera said at the combine. "I believe in it. If you don't have to rotate a guy off the field, if the guy can stay on the field, you can change your defense, your defensive philosophy and look almost instantaneously."
4. WR Henry Ruggs III, Alabama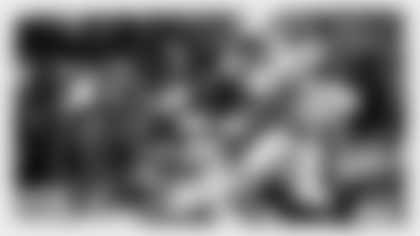 Henry Ruggs III is not viewed as the best prospect of this year's draft class. Many analysts have that honor going to either CeeDee Lamb out of Oklahoma or Jerry Jeudy, who was Ruggs' teammate with the Crimson Tide.
Still, most view him as a top five talent, and according to Wilson's mock draft, he would be the best receiver available for the Redskins as the second part of their trade with the Dolphins.
In addition to the Redskins taking Simmons at No. 5, Wilson has them taking Ruggs at No. 18. Like Okudah, drafting Ruggs would fill an obvious need for more receiver depth. While the Redskins signed Cody Latimer to be a veteran presence for the group, many believe they still need to pair McLaurin with a clear No. 2 option.
Ruggs' biggest advantage is that he is uncommonly fast with a staggering 4.27 40-yard dash time, which leads the entire draft class. And based on his stats at Alabama, he knows how to use it. He had 40 receptions for 746 yards and seven touchdowns, while his 18.6 yards per catch led the team.
"I think he's going to absolutely fly," Jeremiah said in February. "Everybody knows it's coming. He's still going to do it. But he's the closest thing to Tyreek Hill I've seen. It's instant death for corners."
McLaurin ran a 4.35 at his combine, so combining him with Ruggs would make for one of the faster duos in the NFL. And with a quarterback like Haskins, who is known for being able to launch passes deep downfield, that would be the foundation for an explosive vertical offense.
5. T Tristan Wirfs, Iowa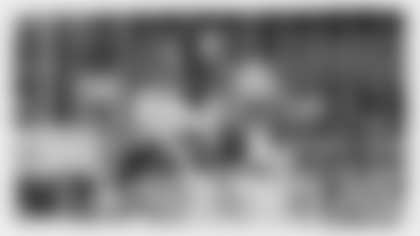 Tristan Wirfs has not been connected to the Redskins in any way throughout the offseason, but he would fill one of the Redskins' most important needs on offense.
Kiper described Wirfs as "a load in the run game and has great feet in pass protection," both of which are attributes the Redskins need at left tackle. His combine numbers back that up, too; He had 24 repetitions on the bench press and a 4.68 20-yard shuttle.
Analysts like NFL.com's Lance Zierlein anticipate Wirfs to remain a right tackle in the NFL, but he does have some experience playing on the left side with three starts at the position in his junior year. That positional versatility is something Rivera values in his offensive line.
"If they can go tackle to guard, guard to center, center to guard, guard to tackle, you've got something special there," he said. "Guys that do give you an option to move guys around, but also you won't have to tip your hand."
The mock drafts that predict the Redskins to trade down still have them staying in the top 10, which is around where Kiper places Wirfs' value. The Redskins could find value in his skills if he is available to them in a potential trade.