Redskins.com breaks down some of the key matchups to keep an eye on during Sunday's Redskins-49ers game at Candlestick Park.
"Redskins-49ers: 4 Keys to the Game" is presented by Papa John's.
Every Monday, fans can order a large cheese pizza for only $9.99, plus for each touchdown that the Redskins score, fans get one free topping. And with a Redskins victory, fans get double the toppings.
Jason Campbell vs. 49ers Pass Rush
For the seventh time this season, the Redskins face off against a defense that uses a 3-4 alignment as its front.
The Redskins are 2-4 against 3-4 defenses, but have lost four straight. And the offense has really struggled, totaling just 36 points in the four losses.
Jason Campbell has dealt with pressure from blitzing linebackers in the 3-4. He has been sacked 37 times this season, 21st most in the league. The low point came in Week 9 when he was sacked seven times by the Pittsburgh Steelers in a 23-6 loss.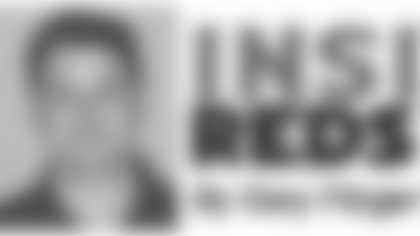 When Campbell has time in the pocket, he has proven to be very effective. If the pocket collapses, he must use his mobility to escape pressure, something he used effectively against Philadelphia last Sunday. Campbell has 43 rushes for 219 yards this season.
The 49ers have a young, emerging pass rusher in Parys Haralson who leads the defense with eight sacks. Overall, the unit is ranked 21st in the NFL in sacks.
Haralson's backup, Roderick Green, has 3.5 sacks as well.
London Fletcher vs. Frank Gore
London Fletcher knows that on Sunday, across the field at Candlestick Park, Patrick Willis is the NFC Pro Bowl starter at middle linebacker.
So Fletcher has something to prove in the season finale. He wants Pro Bowl voters to know they made a mistake by not selecting him to the Pro Bowl.
His best chance to do that is to slow down Frank Gore, the 49ers' top offensive threat.
Fletcher leads the Redskins in tackles with 136 and he moves sideline to sideline making plays. Simply put, he is the Redskins' defensive leader.
When last the Redskins saw Frank Gore, on Oct. 23, 2005, he got loose on a 72-yard touchdown run.
Gore has 229 carries for 978 yards and six touchdowns on the ground. He is equally effective in the passing game, catching 42 passes for 367 yards and two touchdowns.
The 49ers are ranked 15th in the NFL in rushing yards, while the Redskins' defense is ranked eighth overall against the run.
Redskins Kick Coverage vs. Allen Rossum
Kickoff coverage has been one of the strengths of the Redskins all season. The unit is ranked fourth overall in the NFL, allowing just 20.0 yards per return.
Khary Campbell is among special teams standouts. He leads the unit with 27 tackles, followed by James Thrash who has 21 tackles and Mike Sellers who has 20.
Allen Rossum has been among the league's best return specialists for the last decade. He has five career kickoff returns for touchdowns, including a 104-yarder earlier this season for the 49ers.
Rossum has returned 44 kickoffs for a 27.0-yard average this season. He also serves on punt returns and has a 13.8-yard average on 13 returns this season.
Rossum has blazing speed and maneuverability, making him tough to bring down. The Redskins must maintain lanes and slow him down early so that he doesn't get a
Shawn Springs vs. Isaac Bruce
Shawn Springs is back at full health after struggling with a calf injury most of the season. When healthy, he is at the top of his game as an elite cover cornerback.
Springs has 30 tackles this season, along with one sack, one interception and seven passes defended.
Bruce just surpassed 1,000 receptions in his remarkable 15-year career. This season, Bruce has a team-high 59 catches for 827 yards and seven touchdowns.
Springs and Bruce know each other's moves inside and out, dating back to their days with the NFC West's Seahawks and Rams, respectively. Their matchup is sure to be a cat-and-mouse game.
The Redskins' secondary is ranked sixth against the pass and has been solid all season. LaRon Landry aids cornerbacks with an intimidating presence on deep routes.