The Redskins added to their wide receiver corps on Thursday by signing free agents Joey Galloway and Bobby Wade.
The team also signed a pair of undrafted rookies, tight end Logan Paulsen of UCLA and running back Keiland Williams of LSU.
Galloway and Wade add experience to a team that has one wide receiever with more than four years of experience. Galloway, 38, has played in the NFL since 1995 and Wade is an 8-year veteran.
In 16 seasons with five NFL teams, Galloway has caught 689 career receptions, 31st most in NFL history. He has posted 10,777 yards--an impressive 15.9 yards per catch--and 63 touchdowns.
Included in Galloway's receiving yardage total are six seasons of at least 1,000 yards, most recently in 2007 as a member of the Tampa Bay Buccaneers. That capped a three-year stretch where he accumulated 202 catches for 3,358 yards and 23 touchdowns.
He began his career with the Seattle Seahawks as a first-round draft pick in 1995, but he was traded to the Dallas Cowboys in 2000.
Four years later, Galloway signed on with the Buccaneers. Bruce Allen, currently the general manager of the Redskins, was the general manager of the Bucs at the time.
Galloway, 5-11 and 197 pounds, produced a career-best season in 2005 when he caught 83 passes for 1,287 yards and 10 touchdowns.
Galloway played last season with New England and Pittsburgh, appearing in three games, all with the Patriots, and recording seven catches for 67 yards.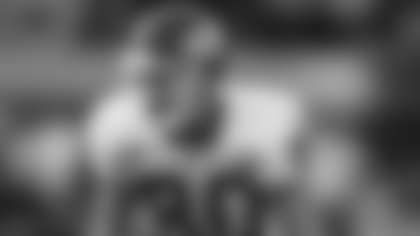 Galloway also has experience as a punt returner, but he has not served full-time in that role since 2004. He has a career 9.6-yard punt return average with five touchdowns.
Wade, 5-10 and 186 pounds, has played for the Chicago Bears, Tennessee Titans, Minnesota Vikings and Kansas City Chiefs in his career.
He has posted 244 career catches for 2,858 yards and nine touchdowns.
Wade entered the league as a fifth-round draft pick in 2003 with the Bears. Playing for the Minnesota Vikings from 2007-08, he has experience in a West Coast offense.
With the Chiefs last year, Wade played in 12 games, with six starts, and caught 36 passes for 367 yards and two touchdowns.
Like Galloway, Wade has experience on kick returns.
He has returned 78 career punt returns for an 8.5-yard average and he posted a 73-yard punt return for a touchdown against Detroit in 2005. He has returned 50 kickoffs for a 23.9-yard average.
Paulsen, 6-5 and 264 pounds, played college football at UCLA, where he totaled 71 career catches for 888 yards (12.5 avg.) and one touchdown. As a senior, Paulsen caught 29 passes for 362 yards.
Williams, 5-11 and 223 pounds, played in 47 career games at LSU, with three starts. He rushed for 1,699 yards and 17 touchdowns on 299 carries, a 5.7 yards-per-carry average, and caught 28 passes for 273 yards (9.8 avg.) and two touchdowns.