The Redskins have agreed to contract terms with top draft pick Brian Orakpo.
Orakpo is expected to join the team at training camp on Friday.
He also celebrates his 23rd birthday on Friday.
The 6-4, 260-pound Orakpo, a linebacker/defensive end, was absent on the first day of Redskins training camp on Thursday as the team and his agent ironed out the contract. Orakpo missed two practices, one in the morning and one in the afternoon.
Reached in Austin, Tex., late on Thursday night, Orakpo said he was "relieved" to know his contract situation was resolved.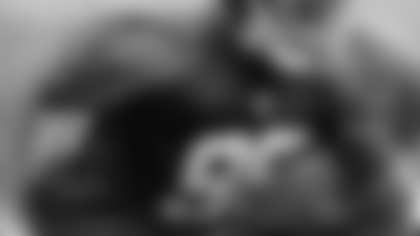 "This was more nerve-wracking than actually being drafted," Orakpo said. "You really want to get in because you know your teammates are there working and you want to get in to get started to have a miraculous season.
"Finally I am back. The whole roster is there, the whole roster is working and everybody can all be on the same page and make this run."
Orakpo was having dinner with his fiance Bitura at a sushi resturant when he heard the news that the deal was done.
"I'm very excited," Orakpo said. "Obviously, I want to get in as fast as I can because I am learning a new position as the strong-side linebacker and I'm very optimistic about the whole process. During OTAs and mini-camps, I thought I did pretty well.
"The coaches were very impressed with what I brought to the table. At the same time, I'm able to do what I do best and that's getting out on the edge whenever the different package allows me to do that. I am very excited about the opportunity."
Orakpo was the Redskins' first-round draft pick (13th overall) last April. At the University of Texas, he was widely regarded as one of the top defensive ends in college football.
Orakpo, playing primarily defensive end, posted 23 career sacks at the University of Texas, including 11 last year.
His sterling senior season included winning the Nagurski Trophy given to college football's top defensive player, the Lombardi Award given to the top defensive lineman and the Hendricks Award given to the top defensive end.
Orakpo also earned All-American first-team and Big 12 Defensive Player of the Year honors last year.