The game clock was winding down mid-Sunday afternoon, and players started hearing the chant.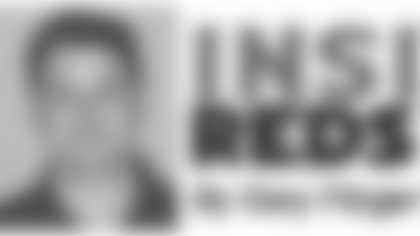 "We Want Dallas! We Want Dallas!"
The Redskins had just beaten the Arizona Cardinals 24-17 to improve to 2-1, and in the post-game locker room, questions were asked about the Dallas Cowboys.
So it goes for the Redskins.
Fans often say that games against the Cowboys, the Redskins' long-time NFC East rival, make or break a season.
On Monday at Redskins Park, players were forced to put the Cardinals win in the rear-view mirror quickly and turn attention to this Sunday's game against the 3-0 Cowboys at Texas Stadium.
"The Dallas-Washington rivalry is like none other in the National Football League," London Fletcher said. "I've been a part of a couple rivalries when I played for other teams, but those don't compare. I know guys are extremely excited about this game coming up. For us, it's a great challenge to see where we're at."
Added Jason Campbell, who has played against Dallas just once so far in his four-year career: "It's a rivalry week. It's a division game. They're a good team, and I think everyone knows that. They're hot on offense and their defense has a lot of spectacular players. It's going to be a challenge.
"We need to stick together and stay focused when we go into that hostile environment. We need to continue to stay focused, play with a tempo, and play with an attitude and a mindset that we've got to do everything right. Teams like that can capitalize on all of your mistakes."
Several players echoed Campbell in saying that beating the Cowboys--and their 11 Pro Bowlers--would require a near-perfect performance.
The Cowboys are widely predicted to represent the NFC in the Super Bowl this year.
Tony Romo, Marion "The Barbarian" Barber, hot-shot rookie Felix Jones, Jason Witten and T.O. are on offense.
DeMarcus Ware, Greg Ellis, Tank Johnson, Terence Newman, Adam "Pacman" Jones and Ken Hamlin are on defense.
There's a reason why the Cowboys seem to be on national television every week.
"It's going to be tough for us to go into Dallas with all the talent they have," Clinton Portis said. "We have to go in there knowing that we can't make any mistakes, and we have to be ready for battle."
Keep the game close, especially at raucous Texas Stadium, to give yourself a chance, Pete Kendall said.
"You can't let them dictate the game to us because that's a disaster waiting to happen," he said.
After a tough, season-opening loss to the New York Giants, the Redskins return to NFC East play with two consecutive wins under their belts.
That gives coaches and players some confidence heading into the Dallas matchup.
"The two back-to-back wins give us some re-assurance that this is working, but this week is a big test for us," Casey Rabach said.
Veteran Redskins like Rock Cartwright know what's at stake when the Redskins play the Cowboys.
Cartwright seems to revel in the hype, while also maintaining perspective.
"They're America's Team, but they're also another football team on our schedule right now," Cartwright said. "That's how we want to approach it."
America's Team? So you're giving them the title, Rock?
"I don't know any other team that plays on national television every week," Cartwright said, smiling. "I guess that's America's team."