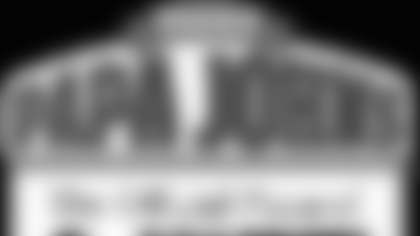 ](/news/article-1/papa-john-s-redskins-touchdown-special/048A1EB7-6061-49FD-958A-DAA6B0CAE730)
Every Monday, fans can order a large Cheese Pizza for only $8.99, plus for each TD that the Redskins score, fans get one free topping. And with a Redskins victory, fans get double the toppings!
Redskins.com breaks down key matchups to keep an eye on during Sunday's Redskins-Bears game at FedExField:
OFFENSE
Offensive Line vs. Bears Front Seven
The Redskins' offensive line will be tested on Thursday night against a Bears defense that includes four Pro Bowlers in the front seven: Adewale Ogunleye, Tommie Harris, Lance Briggs and Brian Urlacher.
In last week's loss to Buffalo, Jason Campbell was sacked three times, fumbling once. Clinton Portis rushed for just 50 yards on 25 carries. So the offensive line and pass protection units must step up against Chicago.
It will help that right guard Randy Thomas could be back in the lineup. Thomas is returning from a triceps injury. It's possible that Jason Fabini could draw the start, allowing the Redskins to ease Thomas back into the lineup.
Harris is a dominating force inside, so the Redskins' interior offensive line will have to be stout. Harris has seven sacks this season and often draws double teams. Ogunleye, who lines up next to Harris, leads the Bears with nine sacks.
DEFENSE
Redskins Pass Rush vs. Rex Grossman
The Bears have had inconsistency at the quarterback position this year, alternating between Rex Grossman and Brian Griese. It's Grossman this week, and he'll be facing the Redskins for the first time.
Grossman has been solid as a passer, completing 67 percent of his passes. But he has four touchdowns and seven interceptions in seven games. A lot of that has to do with pressure, and Grossman has been sacked 25 times.
It's no secret that Grossman has a penchant for making mistakes throwing the ball--he was picked off 20 times in 2006--so the Redskins' need to get after him early and often.
The Redskins' pass rush is led by Andre Carter, who has a team-high eight sacks and a team-high 19 QB pressures. He matches up against left tackle John Tait, who he has faced twice in his career.
Phillip Daniels, who played four seasons at Chicago earlier in his career, has three sacks. He goes against veteran right tackle Fred Miller.
After being slowed by a hamstring injury earlier this season, Marcus Washington is starting to be more aggressive as a pass rusher. He has four sacks.
SPECIAL TEAMS
Redskins kick coverage units vs. Devin Hester
Oh, the Redskins know all about Devin Hester. For his career, he has averaged a touchdown every 13.5 kick return, the best ratio in NFL history.
Hester averages 15.1 yards per punt return and 24.7 yards per kickoff return. (He actually trails Rock Cartwright, who averages 27.3 yards per return.)
Meantime, the Redskins have been in the top five in kick return coverage all season long, yielding just 5.6 yards per punt return and 25.3 yards per kick return. They have allowed one kick return for a touchdown, an 86-yarder to Leon Washington of the New York Jets.
Shaun Suisham and Derrick Frost may not even kick in his direction. That decision could have an impact on the game as well.
1-ON-1
Fred Smoot vs. Muhsin Muhammad
Muhsin Muhammad has been a thorn in the Redskins' side since the late 1990s. In his last six games against Washington--five with Carolina--Muhammad has averaged six catches for 98 yards.
Muhammad has never caught a touchdown against the Redskins, but he has been able to stretch the field against the Redskins' defense. His 6-2, 215-pound frame is a challenge for the 5-11, 190-pound Smoot.
Smoot played impassioned football against the Bills last Sunday in the wake of Sean Taylor's passing. He has battled Muhammad as a Redskin and a Viking, and the matchup of these two solid pros remains a good one to watch.