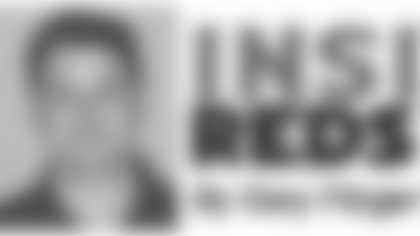 As the Redskins' new head coach this season, Jim Zorn has brought in a new approach and a new attitude that has certainly helped the team get off to a 4-1 start.
Could the same thing happen with the St. Louis Rams?
On Sept. 29, the Rams fired head coach Scott Linehan and replaced him with Jim Haslett, formerly the team's defensive coordinator.
The Redskins expect Haslett to instill a new approach and a new attitude in the team.
Haslett was branded a fiery, tough coach leading the New Orleans Saints from 2000-05. He has 45 career wins as a head coach.
Now he leads the Rams for the first time.
Said Haslett after his promotion: "We'll try to get my personality into them as fast as we can. I do like guys who are tough and hard-nosed and love to play the game."
Most franchises that make in-season coaching changes struggle in the short term.
One example: In 2000, the Redskins fired Norv Turner in Week 14, replacing him with Terry Robiskie. They were routed in their first two games, 32-13 at Dallas and 24-3 at Pittsburgh.
Still, the Redskins figure the Rams could buck that trend given the talent they have on both sides of the ball.
Quarterback Marc Bulger and running back Steven Jackson are Pro Bowl-caliber players. Left tackle Orlando Pace and wide receiver Steven Jackson are Hall of Fame-caliber players.
Defensive end Leonard Little has 77 career sacks. He is paired with the Rams' top draft choice, Chris Long out of the University of Virginia, who has two sacks in his first four NFL games.
What's more, the Rams are coming off a bye, so they have had time off and two weeks to prepare for the Redskins.
"If they put some continuity together, they'll be tough," Zorn said. "And I think they will. I think Jim Haslett is an excellent football coach. He is probably making some changes and installing a different attitude.
"Just the idea of change--not to disrespect the job done by Scott Linehan--will help their outlook. It can happen."
Greg Blache echoed those sentiments on Thursday.
He expects Bulger, who has been re-inserted as the starting quarterback after he was benched in Week 4, to play with something to prove.
"This is a football team that's coming in here and has a new life," Blache said. "They feel like this is their chance. They're only four games into the season. They still could go 12-4. This is not a team to write off. This is not a team to take lightly."
Redskins players have gotten the message.
For the first time this season, they are regarded as favorites to win.
"We were [considered] underdogs in our last couple of ball games, so where do we have room to be overconfident," London Fletcher said. "We know what underdogs are capable of doing because we've been underdogs so many times before. I don't think we're going to have any problem getting ready for this game."
Added Jon Jansen: "Being the favorite doesn't change anything. I think that we have set ourselves up to have a very good season, but if you don't perform every week, all of a sudden people are on the other side of the fence.
"I look at our team and I think that we could be a good team and go deep in the playoffs, but we have to perform against the teams that we are supposed to beat and not supposed to beat. We are 4-1, but our next goal is to be 5-1."