Redskins.com breaks down some of the key matchups to keep an eye on during Sunday's Redskins-Bengals game at Paul Brown Stadium.
"Redskins-Bengals: 4 Keys to the Game" is presented by Papa John's.
Every Monday, fans can order a large cheese pizza for only $9.99, plus for each TD that the Redskins score, fans get one free topping. And with a Redskins victory, fans get double the toppings.
Clinton Portis vs. Bengals Run Defense
Controversy followed Clinton Portis this week. How will he respond?
For the first time in several weeks, Portis is not listed on the Redskins' injury report, so he should get the bulk of carries on Sunday in Cincinnati.
He has posted 1,260 rushing yards on 266 carries, 4.7 yards per carry average, and seven touchdowns.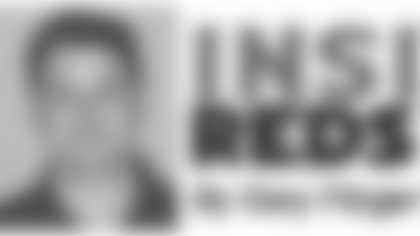 The Redskins are 6-1 when Portis rushes for 96 or more yards in a game. In the Redskins' four losses in the last five games, Portis averaged just 43.2 yards per game and 3.4 yards per carry.
Cincinnati has struggled in run defense this year, especially after the team lost middle linebacker Keith Rivers and safety Dexter Jackson to injury earlier this season.
The Bengals allow 125.8 rushing yards per game, 23rd in the league.
It's a chance for the Redskins' injury plagued offensive line to re-establish itself. The unit was dominant early in the season, but has faded a bit against aggressive, physical defenses in recent weeks.
Redskins Pass Rush vs. Ryan Fitzpatrick
The Redskins are familiar with Harvard-bred Fitzpatrick. In December 2005, he made his first NFL start against the Redskins when he was with the St. Louis Rams.
Now Fitzpatrick has taken over for the injured Carson Palmer in Cincinnati. He has completed 59.9 percent of his passes for 1,512 yards, six touchdowns and nine interceptions.
The Bengals' passing offense is ranked 30th in the NFL.
They have been slowed by sacks. Bengals quarterbacks have been sacked 48 times, third-worst in the league, with Fitzpatrick absorbing 35 of those sacks in his nine starts.
The Redskins have just 19 sacks this year, ranking them 29th in the league in that category.
Demetric Evans leads with 3.5 sacks, followed by Andre Carter who has three.
Greg Blache has praised his defense for getting enough pressure on quarterbacks while providing strong coverage in the secondary.
Getting pressure on Fitzpatrick is key because he has a pair of playmakers—wide receivers T.J. Houshmandzadeh and Chad Ocho Cinco—who can make an impact if given the chance.
Shaun Suisham vs. Shayne Graham
When the calendar turns to December and wind is more of a factor, field goal kicking becomes an integral part of the game.
In the last month, Shaun Suisham has struggled from 40 yards or more. He had missed four consecutive from that range before connecting on a 43-yarder in the fourth quarter last week against Baltimore.
Overall, Suisham has hit on 22-of-31 field goals this season, the worst conversion percentage in the NFL.
Shayne Graham hails from Radford, Va., and attended Virginia Tech.
Graham, in his eighth NFL season, has missed just two field goals this season. He has converted 16-of-18 field goal attempts this season, tied for seventh-best in the league.
Carlos Rogers vs. T.J. Houshmandzadeh
Carlos Rogers has had a strong season, providing strong coverage against some of the league's best receivers.
He had one gaffe last week when veteran Derrick Mason beat him for a 28-yard touchdown pass in the Redskins' 24-10 loss to the Baltimore Ravens.
T.J. Houshmandzadeh may be his toughest challenge of the season. The last two seasons, Houshmandzadeh has emerged as an elite receiver.
He posted 112 receptions for 1,143 yards and 12 touchdowns last year. Through 13 games this year, he has a league-best 89 catches for 885 yards, along with four touchdowns.