Jim Zorn's frustrated voice boomed across the Redskins Park practice field.
"Run it again! Ones versus ones!"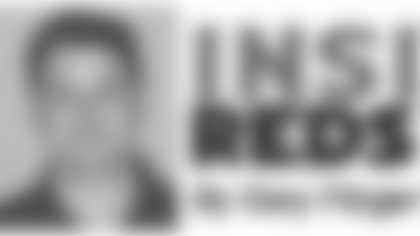 The Redskins' first-team offense and first-team hurried to line up on the field.
"Come on, men! Pay attention! Let's go!" Zorn shouted.
On the snap, Rock Cartwright took a handoff and broke to the outside, gaining a few yards before being pushed out of bounds.
It was the last day of Redskins training camp, and Zorn wanted players to push through the team's 38th and 39th practices.
Andre Carter got inside of Andrew Crummey to pressure Colt Brennan on a pass play.
Cornerbacks-secondary coach Jerry Gray shouted out, "Tempo, tempo, tempo," getting a word in ahead of the always talkative Fred Smoot.
Carlos Rogers came up to stop Rock Cartwright on a pass in the flat. "There you go, ?Los," Gray said.
On another play, Clinton Portis charged up the middle, behind strong blocking, but he slipped in front of London Fletcher and fell to the ground. "Keep your feet, Tadpole," Smoot yelled.
It was a high-energy camp, plenty of chirping by players on the field.
It's just what Zorn wanted.
"Our training camp has been very good," Zorn said after Thursday morning's practice. "We have had very few days where we have lost all concentration and fumbled around. Guys have given great effort."
"Overall, we have accomplished a lot and given our players the experiences they needed to rehearse before we get to our regular season. We're on our way."
Players have been housed at the National Conference Center in nearby Lansdowne, Va., since July 19. Some veterans packed up and left NCC on Wednesday night. The rest will be out of the facility by Thursday's end, save a few rookies.
After this Saturday's game against the New York Jets, the Redskins resume practice on Monday.
Gone are the 2-a-days. Instead, the work day will include one afternoon practice and time spent in meeting rooms.
"Guys are ready to break training camp and start getting into our regular mode," Jason Campbell said.
Most offensive players welcomed the practice time because they need to work on Zorn's new offense.
"We got caught up to speed with a new offense in a lot of ways," he said. "We're still working on things, and we'll continue to keep pressing on. It's tough to come out here and grind everyday with 2-a-days.
"At the same time it's about attitude and mindset. We worked through it, and now on Sundays, we'll be confident and ready to roll."
Even Clinton Portis, never a fan of a heavy preseason workload, was encouraged by what he saw of the team during training camp.
"We've had 39 training camp practices, so I think this is a pretty tough team mentally and physically," he said. "Nobody went AWOL--not even me. You have guys buying into it, and hopefully it'll pay off in the end."