](/news/article-1/papa-john-s-redskins-touchdown-special/048A1EB7-6061-49FD-958A-DAA6B0CAE730)
Redskins.com breaks down some of the key matchups to keep an eye on during Sunday's Redskins-Browns game at FedExField.
"Redskins-Browns: 4 Keys To the Game" is presented by Papa John's.
Every Monday, fans can order a large cheese pizza for only $9.99, plus for each TD that the Redskins score, fans get one free topping. And with a Redskins victory, fans get double the toppings.
Clinton Portis vs. Browns Run Defense
Clinton Portis is on a roll. He has rushed for 100 yards each of the last three games and has emerged as the league's leading rusher with 643 yards.
Credit goes to the run blocking, which has been dominant up front.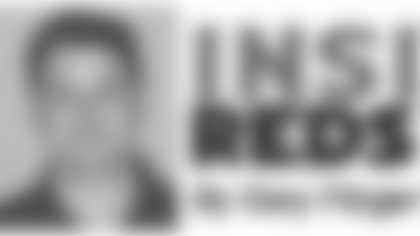 The Redskins have the NFL's third-ranked ground game. They go up against the Cleveland Browns' 25th-ranked run defense.
The Browns, who run a 3-4 defensive alignment, yielded 181 rushing yards to the New York Giants last week.
Like the Giants, the Redskins are physical in run blocking and try to wear down opponents in the second half.
Mike Sellers and Chris Cooley will play key roles in blocking out linebackers who try to fill the gaps along the defensive line.
Redskins' Pass Defense vs. Braylon Edwards
Braylon Edwards competes against the Redskins for the first time. He emerged as an elite wide receiver last year, when he caught 80 passes for 1,269 yards and 16 touchdowns.
Last week, Edwards beat the New York Giants' secondary for five catches 154 yards and one touchdown.
At 6-3 and 215 pounds, Edwards should be a handful.
Coverage has been key to the Redskins' defense this year. The unit is ranked 13th in the NFL through Week 6.
Whether it's Shawn Springs, Carlos Rogers or Fred Smoot, the Redskins' cornerbacks have excelled against big, rangy receivers, including Anquan Boldin and Terrell Owens.
They like to use their physicality to disrupt pass routes. LaRon Landry is an imposing presence at free safety and he needs to be in the mix as well.
Springs, Rogers and Smoot have been slowed by injuries, though. Springs and Rogers have calf injuries while Smoot has a groin injury.
Leigh Torrence and rookie J.T. Tryon could be called into action.
Redskins Kick Coverage vs. Josh Cribbs
Josh Cribbs is the AFC's own Devin Hester.
Cribbs had a 30.7-yard kickoff return average and a 13.5 punt return average last year. He posted three touchdowns on kick returns and earned a Pro Bowl berth for his efforts.
Cleveland is ranked last in kickoff returns, but that stat does not include Cribbs, who has been slowed by shoulder and ankle injuries. He has six kick returns for a 23.3-yard average and 10 punt returns for a 8.1-yard average.
For the Redskins, the assignment is simple: containment. Stay in lanes and don't let Cribbs get past the first wave of tacklers.
The Redskins' kickoff coverage unit are ranked second in the NFL, while the punt coverage unit is ranked 31st. They have had two punts returned for touchdowns this season.
Santana Moss vs. Brandon McDonald
After exploding for 27 catches for 421 yards and three touchdowns in the first four games, Santana Moss was quiet the last two games as defenses rolled coverage in his direction.
Moss competes against Brandon McDonald, a second-year cornerback who, at 5-10 and 185 pounds, has a similar size and stature.
So far this year, McDonald has one interception. He is part of a Browns pass defense that is ranked 11th in the league.
Moss should have an edge in experience over McDonald, who is in his first year as a full-time starter.