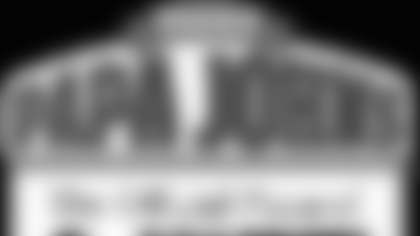 ](/news/article-1/papa-john-s-redskins-touchdown-special/048A1EB7-6061-49FD-958A-DAA6B0CAE730)
Every Monday, fans can order a large Cheese Pizza for only $8.99, plus for each TD that the Redskins score, fans get one free topping. And with a Redskins victory, fans get double the toppings!
Redskins.com breaks down key matchups to keep an eye on during Sunday's Redskins-Buccaneers game at Raymond James Stadium:
OFFENSE
Clinton Portis vs. Buccaneers Run Defense
Clinton Portis rushed for a combined 333 yards on 66 carries in games against the New York Jets and Philadelphia Eagles. Last week against Dallas, the focus of the Redskins' offense was on the passing game, and Portis rushed for 36 yards on 12 carries.
The focus should go back to Portis this week--as the Redskins could look to grind out a tough road win.
Tampa Bay's defense is ranked 18th against the run. Both of the Bucs' starting defensive tackles, Jovan Haye and Chris Hovan, weigh less than 300 pounds, so running up the middle could prove effective.
For the season, Portis has 802 rushing yards and six touchdowns on 193 carries.
It was around this time a year ago that Ladell Betts began to emerge as a 1,000-yard runner. He has just 59 carries for 212 yards this season, so he should be fresh for the stretch run.
Tampa Bay's famous Cover 2 pass defense is ranked third in the NFL, and Jason Campbell may have to rely on the short passing game to move the ball downfield.
DEFENSE
Redskins Pass Defense vs. Joey Galloway
With Sean Taylor sidelined with a knee injury, the Redskins' pass defense struggled with breakdowns and miscommunication in last Sunday's 28-23 loss to Dallas.
For the second week in a row, the Redskins' secondary faces off against a speed threat at wide receiver in Joey Galloway, who has 40 catches for 711 yards, a lofty 17.8 yards-per-catch average, and six touchdowns.
Cornerbacks Shawn Springs and Fred Smoot will need to disrupt Galloway's routes at the line of scrimmage. Safeties LaRon Landry, Reed Doughty and Pierson Prioleau will need to keep Galloway in front of them.
The Redskins' defense is predicated on strong coverage in the secondary. If receivers are well covered, then that should give the front seven time to get to quarterback Jeff Garcia, who has completed 64.7 percent of his passes this season and he been sacked just 14 times.
SPECIAL TEAMS
Rock Cartwright vs. Buccaneers Kick Coverage
Will Rock Cartwright meet his match in Tampa Bay? Cartwright has proven to be among the top kickoff return specialists in the NFL, recording 27.8 yards per return on 34 attempts.
The Buccaneers have the NFL's second-ranked kick coverage unit.
Cartwright may not be the fastest return specialist, but he is adept at charging through holes and breaking loose for long gains. His skills have been instrumental in helping the Redskins' offense post the
Cartwright is ranked third in the NFL and first in the NFC in kick return average. He may not be the fastest returner, but he is adept at charging through holes and breaking loose.
His skills have been key in helping the Redskins' offense post the league's fifth-best average drive starting field position. The Redskins' average starting field position following a kickoff return is the 30.8 yard line.
1-ON-1
Chris Samuels vs. Kevin Carter
When Chris Samuels entered the NFL in 2000, defensive end Kevin Carter was in his prime.
Playing for the St. Louis Rams, Carter logged two sacks against Washington in a 2000 game. Two years later, Carter had another sack against the Redskins as a member of the Tennessee Titans.
This Sunday is just the third time that Carter, now with Tampa Bay, will face the Redskins.
In his 13-year career, Carter has 99.5 sacks. Will he get past 100 on Sunday?
Stopping him will be up to four-time Pro Bowler Samuels, who has been steady all season but struggled last week against DeMarcus Ware and the Cowboys.
For years, Samuels had Simeon Rice to worry about when facing the Buccaneers. This season, Carter has 32 tackles and two sacks.