](/news/article-1/papa-john-s-redskins-touchdown-special/048A1EB7-6061-49FD-958A-DAA6B0CAE730)
Redskins.com breaks down some of the key matchups to keep an eye on during Sunday's Redskins-Cardinals game at FedExField.
"Redskins-Saints: 4 Keys To the Game" is presented by Papa John's.
Every Monday, fans can order a large cheese pizza for only $9.99, plus for each TD that the Redskins score, fans get one free topping. And with a Redskins victory, fans get double the toppings.
Clinton Portis vs. Cardinals Run Defense
What's the best way to keep the high-powered Arizona Cardinals offense off the field? The Redskins could turn to a ball-control, power running game.
That means Clinton Portis--and Ladell Betts--should be relied on early and often. In two games, Portis has 44 carries for 180 yards and two touchdowns.
The Cardinals have a defensive line that Jim Zorn says is underrated. The group includes fifth-year defensive tackle Darnell Dockett, an emerging talent who had 75 tackles and nine sacks last year.
Defensive ends Travis LaBoy and Chike Okeafor, who also play some linebacker, bring speed around the edge to make an impact in the ground game.
Arizona is ranked 10th in the NFL in run defense, yielding an average of 90 yards per game so far this season.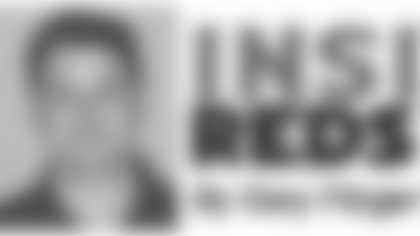 Portis struggled on the ground in last year's game against Arizona. He had just 43 yards on 18 carries, although he did score two touchdowns.
To his credit, Zorn has not gotten away from running the ball despite falling behind in the Redskins' first two games.
If the Redskins struggle running the ball early, then it will be important for Zorn to stay with it into the second half.
Redskins Pass Rush vs. Kurt Warner
Kurt Warner is not the most mobile of quarterbacks, so he must rely on a strong pocket to get the ball off to his Pro Bowl wide receivers Anquan Boldin and Larry Fitzgerald.
For the Redskins, pressure is a must.
Warner has been sacked five times already this season. Last year, the Cardinals allowed just 24 sacks, their lowest total since 1978.
The Redskins' defensive line has 3.5 sacks in two games. The unit has speed around the edge with Jason Taylor and Andre Carter.
Carter beat left tackle Mike Gandy on a sack last year, while Taylor faces second-year right tackle Levi Brown for the first time.
In pass-rushing situations, Erasmus James and Chris Wilson could line up at defensive tackle to get more speed up the middle.
And Greg Blache has shown that he likes to bring the occasional safety blitz with LaRon Landry or Reed Doughty. Landry has a half-sack so far this season.
Durant Brooks vs. Cardinals Punt Return Unit
For Durant Books, this could be a make-or-break game.
Brooks struggled mightily last Sunday, with a 33.0-yard punting average. One of his kicks was short and wobbly, and Reggie Bush returned it 55 yards for a score.
In two games, Brooks is ranked last in the NFL in punting.
The Cardinals have a dynamic, speedy punt returner in Steve Breaston. In three returns so far this season, he has an 11.7-yard average, with a long of 35.
Brooks must improve on hang time to give the Redskins' punt coverage units a chance to stop Breaston.
Shawn Springs vs. Anquan Boldin
It should be a marquee matchup, two of the best at their positions going head to head.
Springs, the 12-year veteran, was limited in last year's Redskins-Cardinals game because he spent the previous week in Dallas with his ailing father.
Boldin, playing against both Fred Smoot and Springs, led the Cardinals with eight catches and two touchdowns in last year's game. Oddly enough, he totaled just 29 yards.
Boldin, 6-1 and 217 pounds, is a physical receiver. Springs, 6-0 and 204 pounds, is a physical corner.
Cornerbacks will try to disrupt pass routes at the line of scrimmage. If Springs can lock down Boldin, then Carlos Rogers can get some safety help as he covers Larry Fitzgerald.
Springs is rounding into form after missing Week 1 due to a calf injury. He limited Saints wide receiver Devery Henderson to just two catches for six yards last week.